Ah yes, (almost) everyone's favorite whale wants people to share their Steem stories. I definitely have seen cases where Steemians' lives have changed. Some of them are developers. Some of them are "community leaders". Some of them are early adopters who did very well for themselves.
          What about random users? The ones who populate the platform? How has Steem impacted them? How has Steem impacted me since I see myself as another average network user?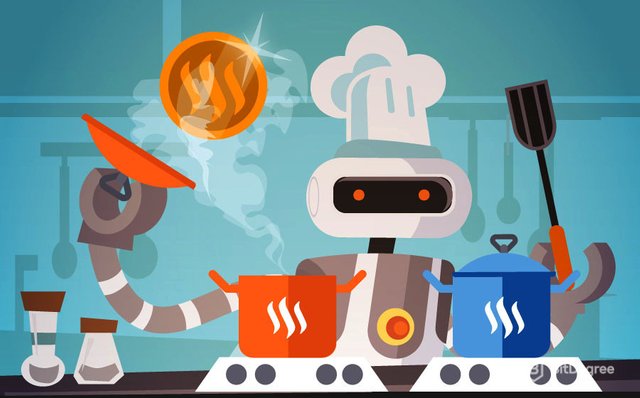 Blessed are those who are still cooking despite the customers are still waiting for their food.
The How and Why
          I have already disclosed that while responding to @midlet's survey. To recap, I heard about Steem from a top witness and decided to give it a shot. At the time, I had long removed my presence from social media save for Discord.
          A lot of the why goes to reinventing my online persona. How did it feel to start from scratch in an unfamiliar place? How does one decide what to do in this place? It's almost becoming an interesting case study. It's like moving into a new neighborhood where you have no connections. In addition, almost nobody knows about you or your history.
          In a twisted sense, it's like a RPG with real implications.
The Impact
          In all honesty, the only notable impact Steem has on me is that I added it to my list of hobbies. I'm not hardcore enough to make my endeavors here a reliable source of income. I'm like the random old person you see working PRN at a library. Not even part-time, but there when convenient.
          A better example might be coupon clipping. I'm not hardcore enough to make it cover most of my grocery expenses. But, I don't mind having some money returned from time to time. As I have mentioned elsewhere before, I see Steem as a productive hobby.
          I have seen the stress from people doing their Steem adventures full-time. It didn't seem pleasant and I'm not about to put myself in that bucket.
My Recommendation
          The answer is not yet. Steem is on the top of my list. Until the frontends have better functionalities, I cannot bring friends along. I don't want to bring people over and have them decide that this place is boring and lame. Then, they would never return even if Steem transcends its issues.
          Until crypto becomes a much more user friendly experience, I cannot ask those who are close to me to come over. Do you know how many steps it takes to get Steem? More than enough of a hassle.
The Future
          I commend those who have built things (Splinterlands, 3Speak, etc.) to draw in the crowd. However, the ultimate survival comes from the overall evolution of the network. Steem cannot go on at a snail's pace when it comes to development. A reminder that SMTs and community features should have been out years ago.
          It's happening, but it's not going to be enough. I'm not trying to downplay the hours of work people put into their projects. But, Steem is playing catch up right now. It's not the most favorable position to be in.
          People need to remember that Steem hasn't achieved much yet. It's still tumbling near the starting line. Being complacent will not make the platform competitive. In fact, it may be the cause for becoming obsolete.
          Why the doom and gloom? It's not. It's being realistic. Whatever the "builders" or stakeholders have in mind, they better execute it quick. Time is not on Steem's side. Worse, there's not much room left for errors.
For Me?
I think it's popcorn time!
---
Posted via Steemleo | A Decentralized Community for Investors