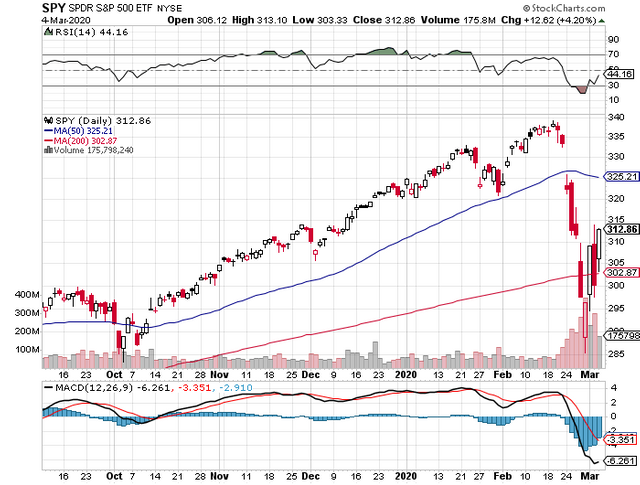 Obviously with high volatility there is greater movement in price. For the past 5 trade sessions the SPY has move more than 10 points. Whether it was down on Thursday and Friday and then up on Monday and down again on Tuesday and then up on Wednesday one thing is for sure, tomorrow's session will be interesting to watch. Buyers are in control as they were able to set a higher low and have RSI and MACD sloping up. However the 200 day moving average currently sitting on 302.87 seems to be a battle ground as both bulls and bears have been trying to break out of.

The Fears of Coronavirus
There has been more cases outside of China. Specifically in the US Los Angeles has now call out state of emergency while Seattle logs in its 10th death from the Virus. US is on the cusp of having 100 cases confirmed, but it has gotten worse in Japan, South Korea, Italy, and Iran. Neighboring countries are starting to sprout with their own cases and as time passes it seems the Virus will continue to spread. China and Japan has already shutdown schools, but now Italy has done the same. It seems not too long from now US will likely have similar actions taking place. The oddity to this is the World Health Organization has yet to declare this virus is a pandemic. Holding out this announcement will likely make it worse for global markets once WHO acknowledges its a pandemic.
Trade Plan Going Forward?
Leaning bearish but no major bets. Bonds - TLT had a decline of more than 1% and almost 3% from all time highs made yesterday. It seems bonds maybe ready for a decline from here. That is a bullish sign for stocks hence no bets. Furthermore VIX has drop but still above 30. It will be interesting to watch how SPY reacts to 310. If it rises above today's close it may likely continue upward to fill open gap around 325-330. Yet given the real reason for the currently SPY pull back it is really based on global economy slowing down and the effects of the virus. Stay nimble and trade in smaller bids to mitigate risk since price swings are this big.