If you haven't heard about crypto.com or its MCO token before, you can read a post I wrote previously that outlines how you can earn interest on your crypto with the Crypto Earn program. You can earn up to 12% PA on stable coins such as USDT and PAX, 6% on Bitcoin, and 8% on BNB and LINK. That's pretty good in my opinion.
Well, the other feature that I have been looking forward to since I first heard about crypto.com, even when they were still called Monico, was their innovative crypto.com card where you can earn cash back on purchases, up to 5% of your spending. How cool is that?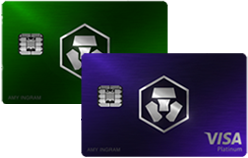 So since I first heard about this, I signed up and have been on the waiting list for more than a year. And two days ago I finally received an email to verify my address. Nothing has been officially announced yet, but I'm thinking that I might finally get to have my crypto.com card in Australia very soon.
If you are interested too, you can reserve your card. There are a few different cards to choose from, with different benefits and differing MCO staking requirements. I decided to go for the Jade Green, with a 500 MCO stake requirement. Which gives you rebate on Spotify and Netflicks purchases, 3% cashback on crypto.com card purchases, and a higher Crypto Earn interest rate.
You can sign up for Crypto.com and receive $50 when you stake 50 MCO.
---
Binance, the best exchange to buy and sell Steem and other cryptocurrencies
---