Things move fast in the Cryptoverse. Just yesterday, this Forbes news item by Michael del Castillo hit like a bombshell. The People's Bank of China (PBoC) announced that it would be releasing its central bank digital currency (CBDC) much faster than almost anyone had anticipated. Well, not this guy, but that's beside the point.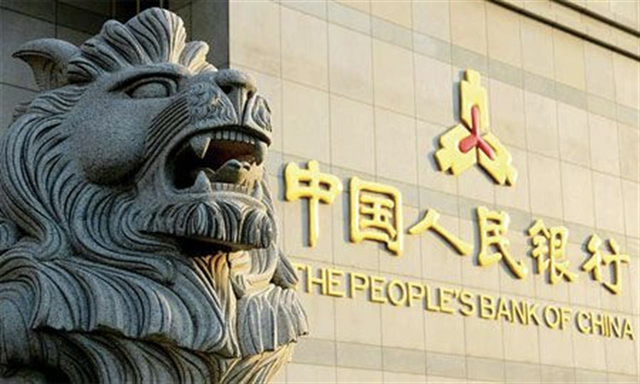 photo from this article
You see, the whole reason i got into this crypto-blockchain-fintech-digital assets thing in the first place is that I was doing research on my PhD dissertation on Chinese monetary policy and ran across the interesting nugget that, in fact, PBoC had founded a Digital Currency Research Institute in Beijing way back in 2014. I thought, "Well hey, if Zhou Xiaochuan thinks this whole bitcoin thing is worth doing some deep-dive research on, then probably I need to be doing that too!"
And down the rabbit hole I went.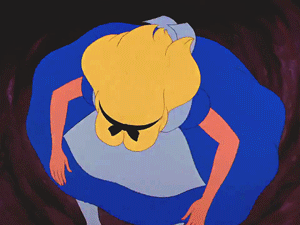 The PBoC has been preparing for this moment for the past five years. This long period of dedicated research explains why the PBoC's DCEP token, which stands for "digital currency electronic payment," already has the capacity to leave Facebook's Libra token in the dust. According to a report by Changpeng Zhao's (I believe he might have a long forgotten account here @cpzhao) Binance Research unit, the DCEP can already achieve performance "of at least 300,000 transactions per second."
Yeah, I know, we are comparing "centralized pieces of trash" here (to use a maximalist figure of speech) but come on, y'all, these institutions are trying to get people to actually use this coin for something more than just speculation!
Seriously, if you're interested in the topic of CBDC's (they are the future after all) then I encourage you to read Binance's recently issued excellent report. It truly is an absolutely brilliant and comprehensive research piece about the impending issuance of CBDC in China.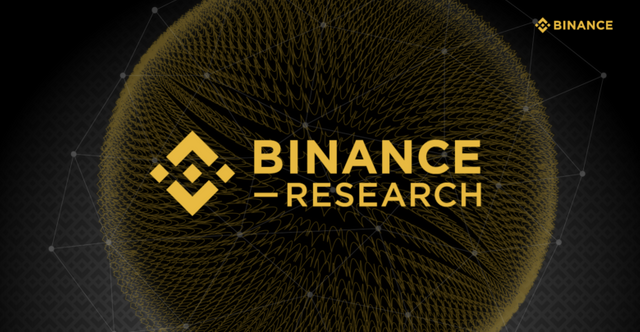 You may ask why in the heck is this electronic currency called DCEP and not CNYT or something similar. But it all makes a little more sense when you find out that there are 8 institutions that will first have access to distributing this currency. These 8 include the Big 4 Banks, UnionPay, Alibaba, Tencent and a mystery 8th party.
I am not surprised at the inclusion of the commercial banks in the initial rollout phase. They are what is known in China as the "4 Big Banks" (四大银行 si da yinhang) which are all state-owned enterprise (SOE) banks controlled by the government.

Nor is it surprising that UnionPay is included here, either. It is the payment processor for all Chinese bank cards and ATMs. It was started by the PBoC and these 4 big banks back in 2002 and is now the biggest such interbank network in the world. Yes, UnionPay is bigger than MasterCard or Visa. By some metrics, it is bigger than those two COMBINED!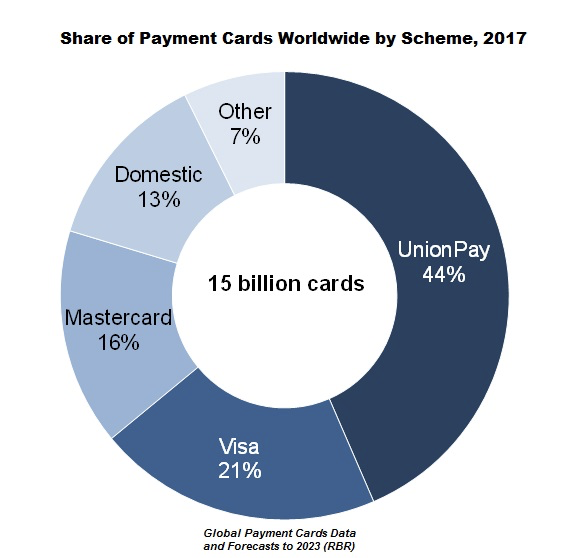 What did surprise a lot of people yesterday was that Alibaba and Tencent were also included in the initial rollout phase. I think that speaks to two things
the rapid extent to which Chinese society is becoming cashless is primarily due to the ease of use and ubiquity of the Alipay and WeChat Pay apps, and
AliTen work very closely with the government, which is maybe something that Western observers don't fully comprehend. But you don't get to become as big as those 2 unless you are willing to accommodate the concerns of the Chinese government. When you play ball, sometimes you get treats! That is the case here.
As in almost every other digital industry in China, it will be a case of Alibaba v. Tencent when it comes to the distribution of DCEP to Chinese consumers.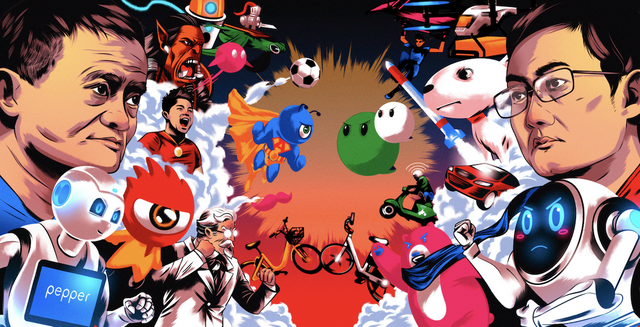 photo from this article
The real mystery that remains is: Who is going to be the 8th member of this unit? The Forbes article linked to above hints at an 8th member to be announced soon. My guess is that #8 will be either the insurance company Ping An, telephone provider Huawei, or - my darkhorse candidate - Bytedance, who owns the hyper-growing viral video app, TikTok.
Certainly, there are interesting times ahead for us in the Land of Crypto. Libra, DCEP, whatever it is that this down 10% market swoon means today. Every single day is a new item to research, a new technology to understand, and a new set of rules to figure out how to learn and abide by...
I just hope to keep my head on straight.
Till next time!
PEACE ✌🏼