Recently I came across a couple of things that made me have a look at the trending page the other day. First was a post that @joshman had dropped in a Discord chat that he was encouraging people to boost into trending. The aim was to try and get something other than @sbdpotato into trending and I unfortunately missed the window. Then I saw this post from @slobberchops, about the need to get people on board who might not be tech and crypto savvy, but have other interests instead.
Trending's not something I've looked at for probably two years, but since the bidbots' hold has been broken it must be a better representative of what's doing well. This is what the top of the trending page looked like: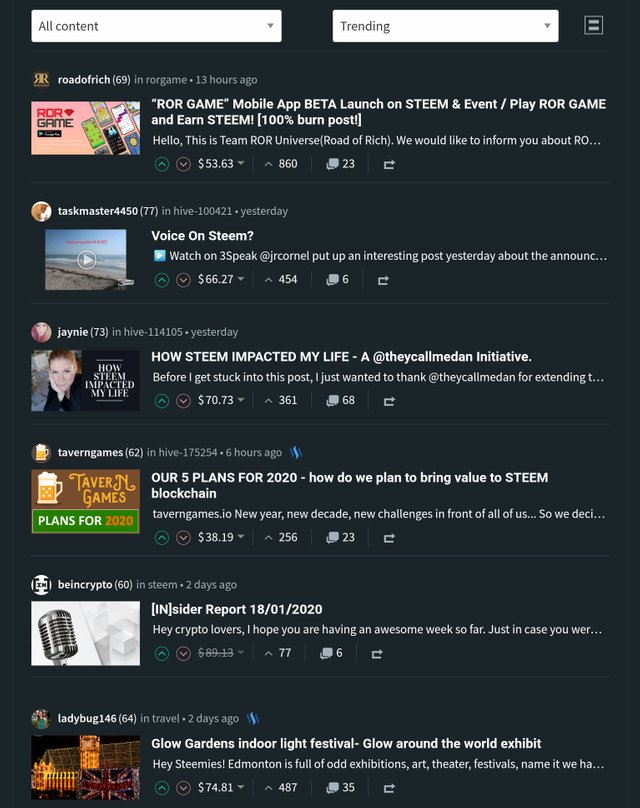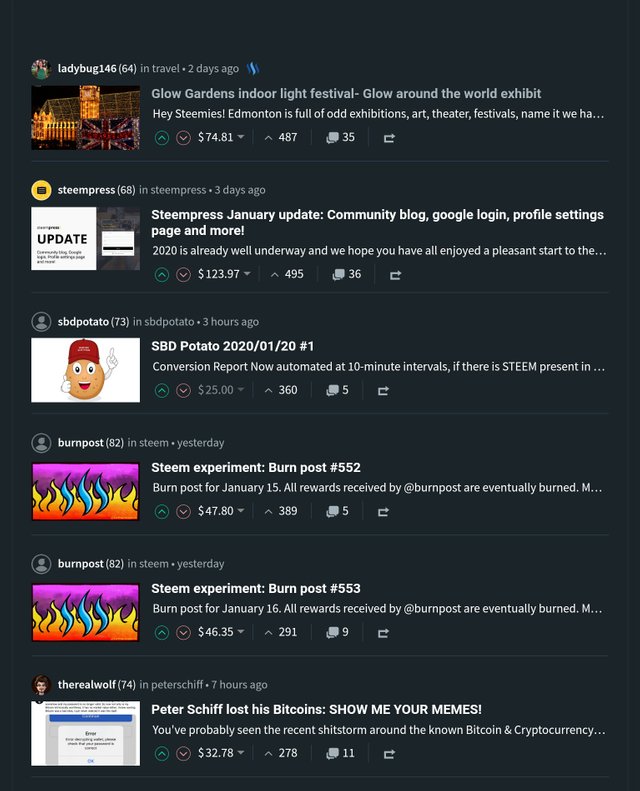 The top four are about Steem related things. In 5th position we have something for "crypto lovers." Then we have a travel post, followed by four more Steem related posts. Then there's a post on how Peter Schiff lost his bitcoin! Gulp!
As @slobberchops brings up in his post, a lot of people are already wary of crypto, it's something I've encountered when talking about Steem too. If you're not into crypto and you land on this page as a blogger or content producer of anything non crypto related, would this be appealing or daunting? If you're not someone who knows enough to write about Steem, then you might think that your content will have no appeal, so what's the point in joining up.
I get why the steem posts are up there; the big accounts voting for them are invested in Steem and are encouraging the promotion of it. In fact, @jaynie's post is a great one to see up there, because it's about how Steem has impacted her, but it's a bit like we're preaching to the choir when we only promote what's going on in Steem.
It's promising to see the travel post up there, so it gives me hope that we can get other content on the front page, but can we get more up there and if so, how?
Could we select posts to boost to the trending page, which are non Steem or crypto related? We may not be large accounts, but could, or would, communities come to help? What if we could select posts and share them in the community Discords, could we rally together to get some of the posts we love so much into trending? The post values would probably need to be upwards of $40 to make it up there.
What do you think, can we make a trending page with a more representative variety? Are there any other ideas you think could work? Do you think your communities would like to get on board with this? Perhaps a post from each community each day could be selected to target and this could give a good representation of each of the communities.
~○♤○~