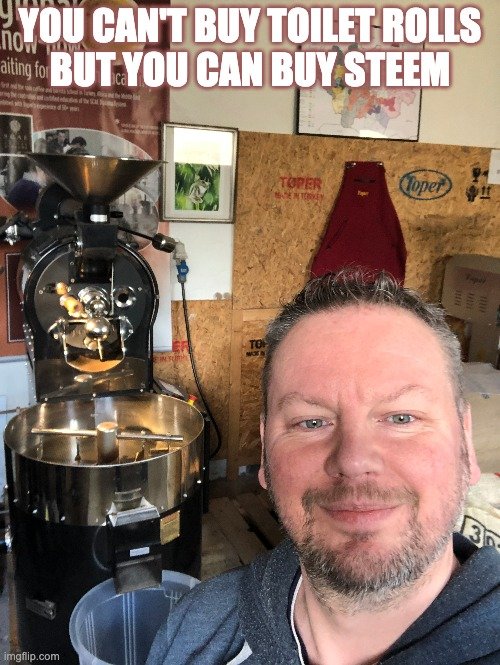 Well it's looking like a marathon not a sprint, over a week since goodguy24, nicetry001 and their buddies propelled themselves to the top of the Witness list using "borrowed" exchange funds. But we still have 9 of our existing Top Twenty Witnesses keeping a deadlock so at present we are holding strong that the Steem Blockchain will not see any random forks to suit nefarious intentions.
But nobody could anticipate just how deep Steem can dig, we've seen the most Witness voting activity since the start of the chain four years ago, the votes have moved all round and ensured our Steem Blockchain remains decentralised. It's incredible to see so many of our stakeholders motivated and ready to defend their Blockchain. And of course all our top Witnesses have been working tirelessly in talks, meetings, looking for answers and solutions - they deserve all our respect and appreciation for the work that has been put in.
And we can all do our little bit, I bought in a little more Steem to power up and help add to our DPOS Witness voting power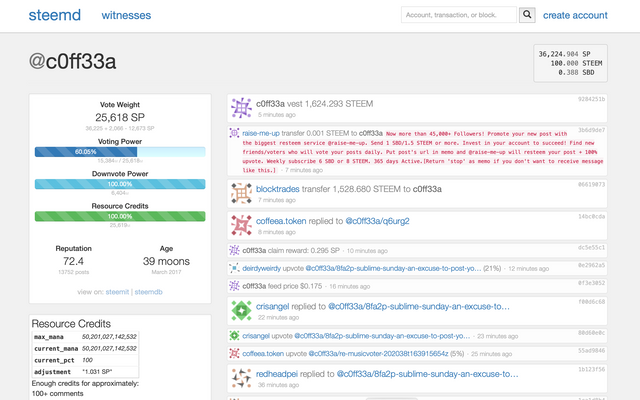 And it's taken me to 36,224 Steem Power, I know it's small on the grand scheme of things but I have put a great deal of time and effort into Steem myself - and I want it to stay as our community.
One thing we can not ignore is that the value of Steem is on the rise again, all this media attention - plus an incredibly active Twitter campaign from so many of our active Steemians, Witnesses and big stake holders has made Steem the most talked about Crypto - and while stock markets crash and other crypto's follow Steem is managing to climb - although that could just be down to the amount being bought to keep the sock puppet Witnesses near the top and allow exchanges that tied up all their liquid Steem provide a few of their customers exchange out their property.
Meanwhile I'm trying my best to get used to moving my front end usage, after three years of using steemit.com it's a hard habit to break so to speak. But given the new owners track record I'm not very happy with the idea of passing any information through Steemit Inc controlled domains. So I'm composing posts on steempeak.com now when on desktop, it's taken a while to get used to but I quite like the split screen with raw post on the left and how it will look when posted on the right. For mobile I'm using esteem app for iOS and that works well, although it needs to be closed in task manager to ensure the latest refresh. I'm also using these to upvote, resteem and comment on posts.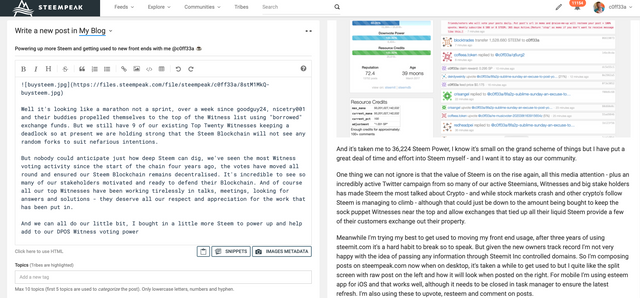 Keep Steeming on, power up if you can and keep voting for your Witnesses. Together we are strong, and as a community together we will prevail.
Right now we have to be more on top of our Witness Voting more then ever, to ensure we keep our decentralised Top Twenty in position. If you do not have the time to keep checking and changing your Witness votes please set me as your Witness Proxy -
https://steemconnect.com/sign/account-witness-proxy?proxy=c0ff33a
Last Confirmed Block Number 41,535,769 Last Aslot 41,675,737

Steemd v0.22.4444

Kind thanks to Witness
@enginewitty
for employing his Ninja graphic design skills and producing this 🔥 banner
If you enjoyed my post don't forget to leave an Upvote, feel free to comment on what you liked or where I can do better even. Follow @c0ff33a for regular and varied posts, photography, my weekly VLOG, posts on coffee roasting and brewing - just follow and see.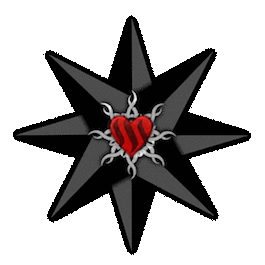 #thealliance
To grow your presence and following on Steemit, be active in the community Discords that offer the chance to learn, network, share and be found. The #TheRamble discord https://discord.gg/HZYzEry hosts a range of shows where you can join in and get your name shown, every Thursday there are two Pimp My Post Thursdays which are hugely popular and give you an opportunity to get your posts seen.

All photos are my own, taken with my iPhone. All my Steem posted pictures can be freely used by other Steem users in their own blog posts - all I ask is that you follow me and credit @c0ff33a linking to my post you took it from. You can also follow me on Twitter
You can view my current Witness Statistics using this tool produced by Witness @justyy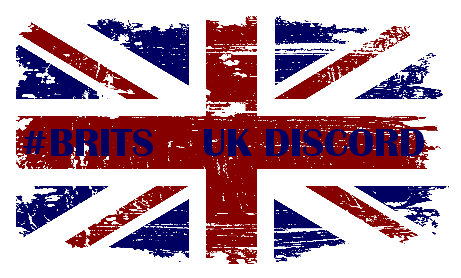 Visit #BRITS Discord Channel
Keep up with the United Kingdom of Steem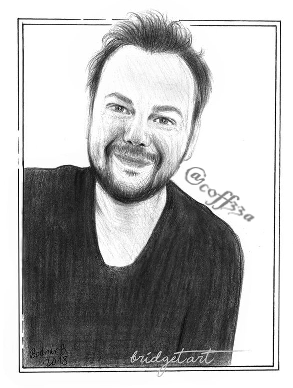 👆🏼 Me ☕️
The picture to the right kindly sketched by the wonderful @bridget.art , be sure to check her incredible art out https://steemit.com/@bridget.art
The greatest challenge we face on Steem blockchain is getting our posts seen, I have always believed the simplest and best value way of doing this is by commenting on the blog posts of others, the more you engage people and interact with them the greater the chance they will visit your own blog and return the favour. Other then spending all my free time commenting on Steem blockchain posts, I also distribute coffee roasting machines and also espresso coffee machines and roast my own Speciality Coffee Range. being one of the premium coffee suppliers Yorkshire including a wide range of filter coffee sachets. Finally I have a dedicated website to my Artisan small batch roasted coffee featuring roast and post packs and super easy coffee subscriptions

Proud sponsor with @derangedcontests of @brosino , free to play and cash out Steem rewards, head to Brosino Website now and start playing.
!steemitworldmap 53.766547 lat -1.801500 long Bradford, West Yorkshire, United Kingdom. d3scr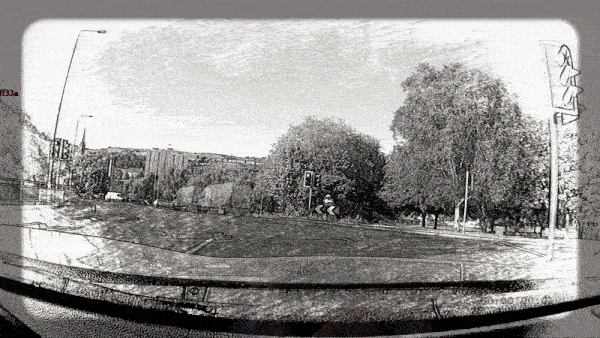 This awesome animated Banner has been kindly been created by the wonderful @snook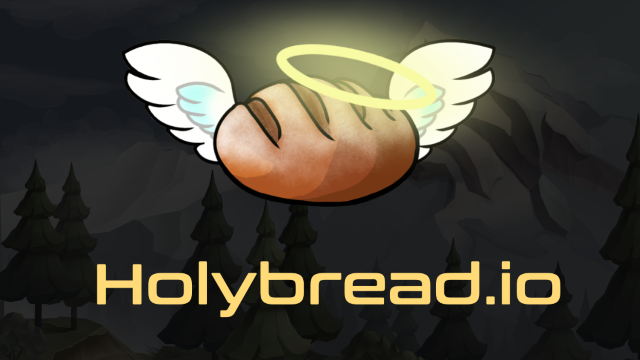 The Coffee Break Discord Voice Chat Show, in @thealliance Mondays 10pm UTC hosted by @c0ff33a and @enginewitty
Don't forget to vote for Witnesses https://steemit.com/~witnesses
You can vote for the Witness team c0ff33a and @derangedvisions if you like what we are doing for people and communities throughout the Steem blockchain - click vote for c0ff33a Witness
If you are uncertain about Witnesses and who to vote for you can vote for c0ff33a as your Witness Proxy and you will vote for the same Witnesses as I do.
If you have spare Witness votes, support other active Witnesses like @thekitchenfairy , @enginewitty and @jackmiller
@untersatz

2017 blogging, 2018 Witness, 2019 COFFEEA TOKEN