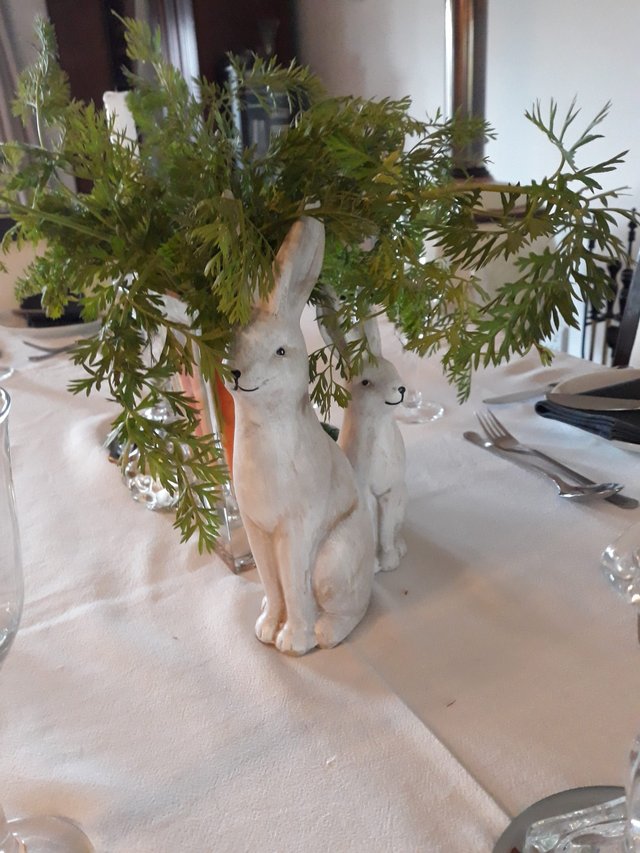 Our soil is rocky and very clayey. Certain root vegetables grow, but very differently from what one would expect. Short and stubby or a bit twisted, so they're right at home!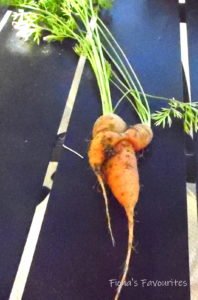 One of our earlier harvests - around 2104
However, working the garden the last eight or so years, has improved the soil quality: fewer stones helped along with our own compost and locally sourced manure. Of course, crop rotation - a necessity - also helps. Carrots are a crop we can grow all year round - with patience. They are a slow crop. They are also versatile because they are great for eating raw and cooked; hot or cold; in salads and as sides.
Let me nail my colours to the mast. Again. I am not a fan of the local traditional carrot salad which is just too sweet, or the salad of finely shredded carrots with pineapple and raisins. They are in the same category as coleslaw - with slightly less vehemence.
As happens when there are two of you, and a crop is ready to harvest, the choice of accompaniments for meals becomes somewhat restricted. So it is at the moment: we have a wonderful (and ongoing) crop of carrots, but there is a limit to the number of carrot sticks one can eat.
But -
I can get quite creative with carrots an love growing heirloom ones of different colours. A sowing of black ones is hopefully germinating to be pulled in about three months' time.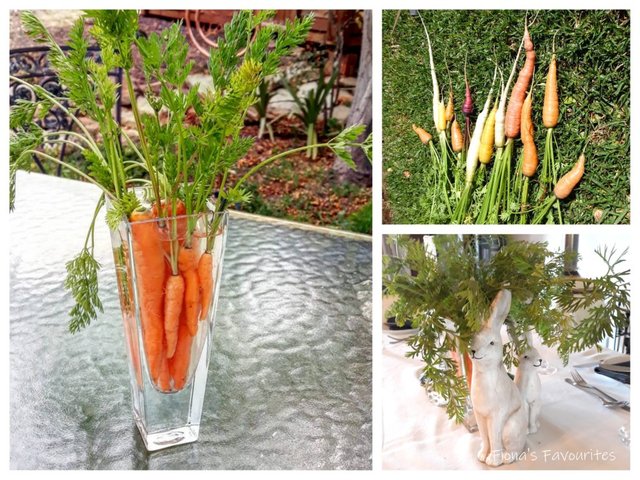 Carrots make great table decor. Especially with my bunnies which often grace the Sunday Supper table.
I definitely don't do boiled carrots. I had too many of them as a child - boiled to death, they were.
A few years' ago, thanks to celebrity chef, Jamie Oliver, I learned about finishing carrots off in the oven. I subsequently found the recipe by which time the practice of parboiling* and finishing off in the oven has become a Fiona SOP. I have to agree with his sentiment that the practice makes the carrots "meatier"; it certainly does intensify the flavours and it's become my favourite way of preparing carrots - whether they have Oliver's treatment or not.
I have also adapted his recipe with a number of variations - with or without the oranges and herbs, using my spicy plum jam as a glaze and with blue cheese and served top of a bed of rocket (arugula).

Rocket and me
Contrary to popular opinion, I'm not overly fond of hot, peppery stuff and for years I really didn't like rocket in anything other as
one
of the leaves in a green salad. When it was the vogue to have rocket with everything, I was often found to be picking it out of my salad or asking for an alternative. Yes, I can be
that
customer, and if it can't be done, I'll find an alternative
restaurant
dish.
Then, a few years ag,o we visited Babylonstoren and toured the garden. I left with their book which is less about recipes than it is about ingredients and combinations that work.
Among these was beetroot with rocket and goat's cheese (chevin to be precise), which I tried, and about which I shall write when our current crop matures - it's become another favourite. The sweetness of the beetroot works really well with the pepperiness of the rocket, rounded off with the saltiness of the creamy blue cheese.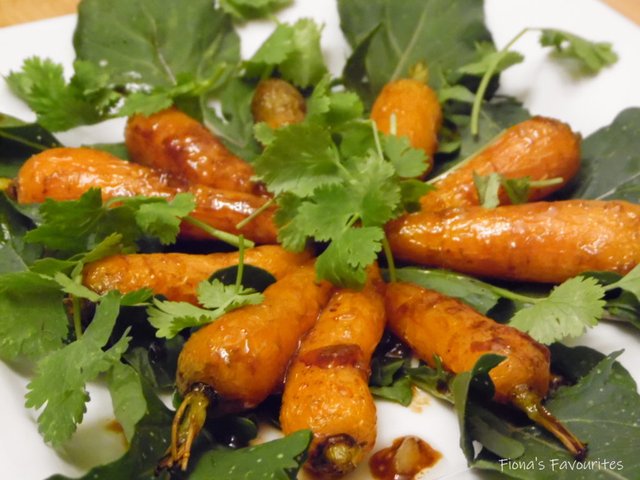 That combination gave me the idea of trying carrot with rocket as I did for this dish - and with the saltiness of blue cheese.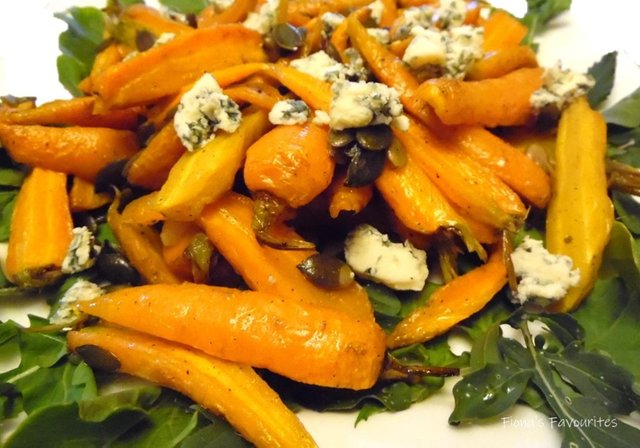 I am now a whole lot more adventurous open to recipes that include rocket and even have a mini plantation emerging in the garden. Now we have water.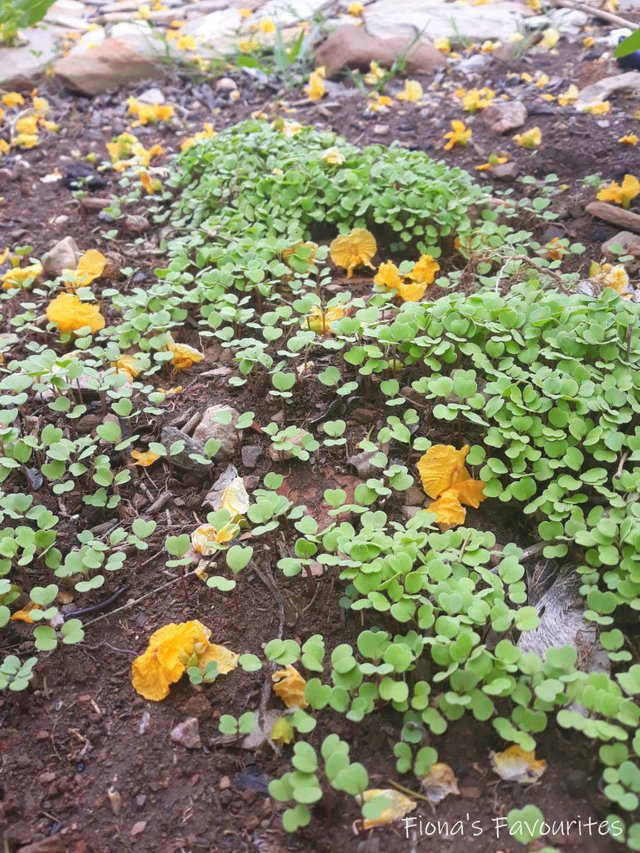 Which brings me back to carrots.
Going back some five or so years, I have stash of carrot recipes, many of which I'd rejected or not tried. Because, well, just because. Now, though, because of Sunday Suppers, and because I keep an eye open for dishes that are vegan and vegetarian-friendly, I have a somewhat different lens. Among the recipes Is one with almonds, olives and cranberries. Yes, you guessed right, it is served on a bed of rocket.
I gave it a go. It's a winner and a current favourite.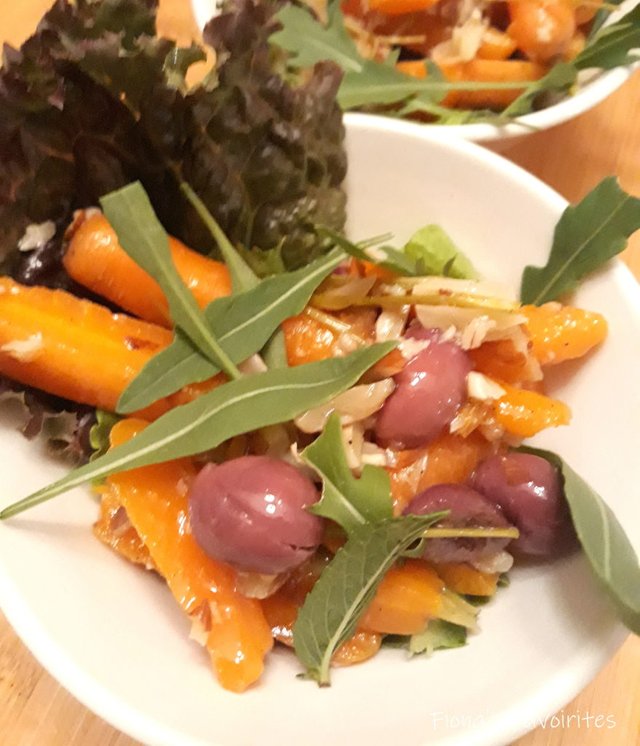 Carrot salad with rocket, almonds and olives
Best of all, it's versatile and with various additions or subtractions, it can form a main course for either vegetarians or vegans.
The full, recipes are available to download here
save and freeze the water you drain off - for gravy or vegetable stock


Post script:


This is a new and improved version of the "original" carrot post first published in March 2015. There are a couple of other carrot recipes lurking in the wings for another occasion.


Until next time
Fiona
The Sandbag House
McGregor, South Africa




Photo: Selma


Post Script


In addition to WordPress I blog on a number of platforms:
Steemit - a crypto, social network and blogging platform, to which I post from WordPress using the SteemPress plugin.
If you'd also like to use your WordPress blog to earn crypto, join us on SteemPress.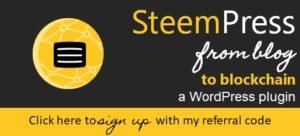 My WordPress site is hosted by fellow Steemian, @gmuxx, with fees paid in crypto currency: Steem Based Dollars. If you want more information, join the Steemblogs Club on Discord
Should you join the Steem platform, you are welcome to contact me on Discord on be sure to look out for the Steem Terminal - a dynamic team of folk who will happily guide you through the apparent quagmire of blogging on blockchain.



Instagram is a mostly visual platform where I post microblogs about fluff: usually food and the cats as well as posts that sometimes promise hint about future WordPress posts.
---
Posted from my blog with SteemPress : https://www.fionasfavourites.net/2015/12/17/cool-carrots/
---