Welcome to #SublimeSunday , a tag presenting you with the unique opportunity to post something a bit different, wacky, crazy or just whatever takes your fancy and instigated by me @c0ff33a ☕️
First up though is a #beautifulsunday (hosted by @ace108) photo with a #funkyedit (hosted by @krazypoet) with Saturation to the Max.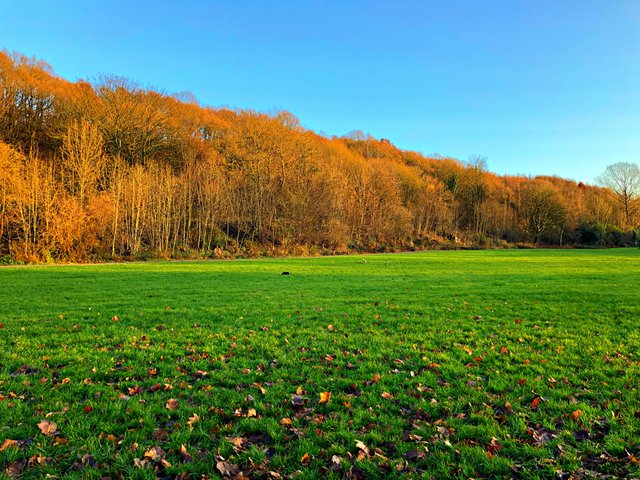 A mysterious yellow glowing orb appeared in the sky this weekend, and despite it being freezing cold I was compelled to head out to yet another park after a spot of food shopping.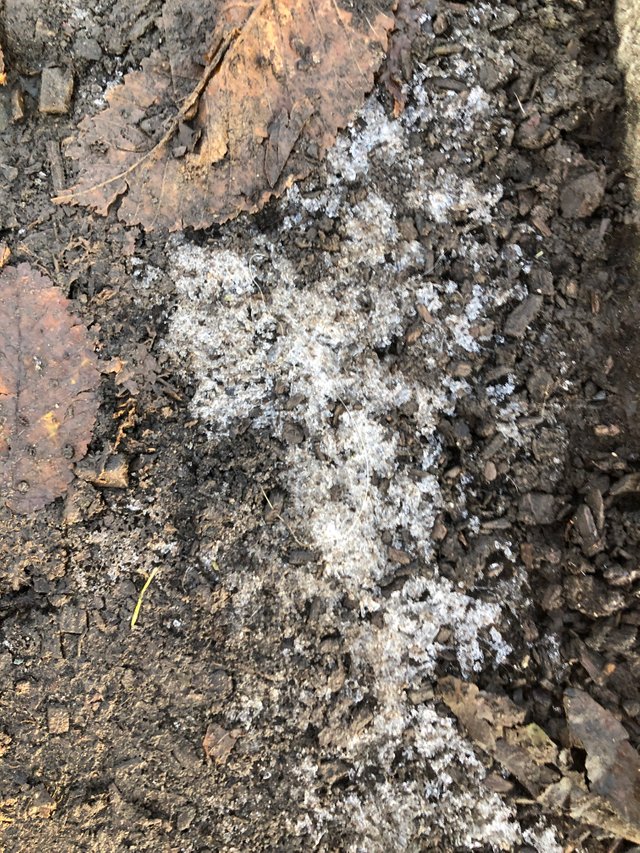 Proof of cold - actual ice along the footpath. This weeks park is Wellhome Park in Brighouse - I wasn't visiting my Dad this weekend as he is away, but did visit his house to move the post and put his bins in.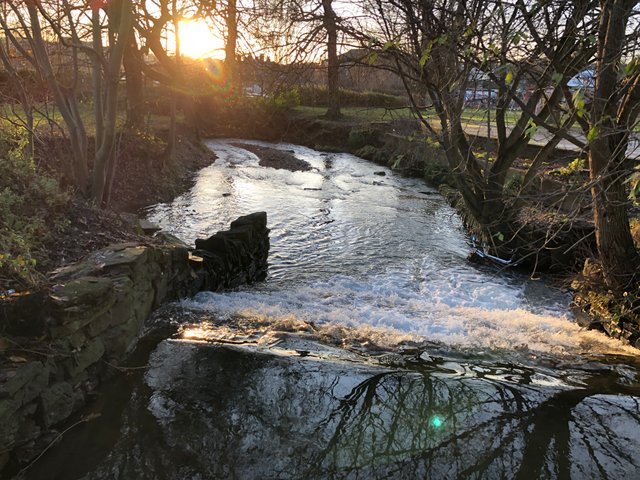 All the rain we have had has swelled the little beck through the park considerably.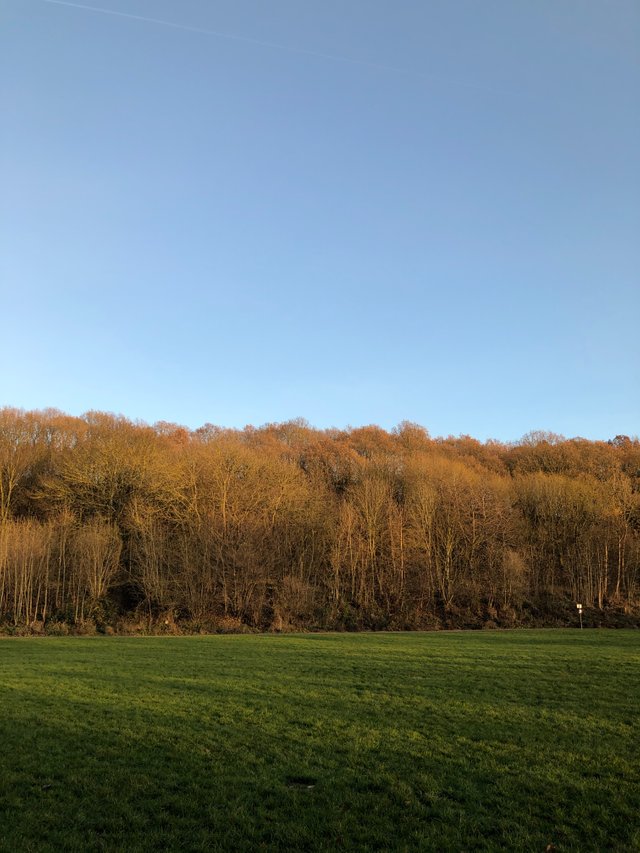 All the leaves are brown...as the song goes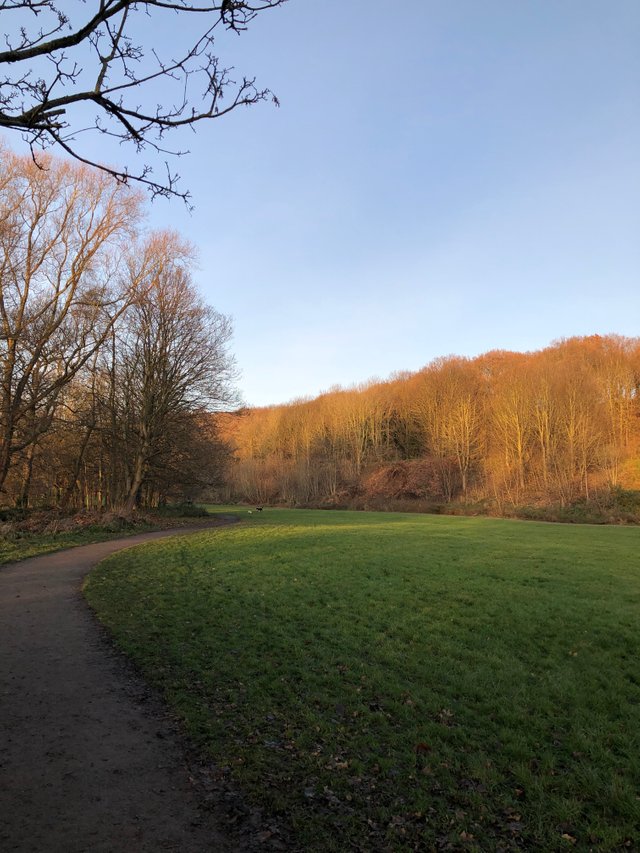 This park has a good solid path to walk around the grass to avoid getting muddy, and the dogs love running around on the muddy grass bit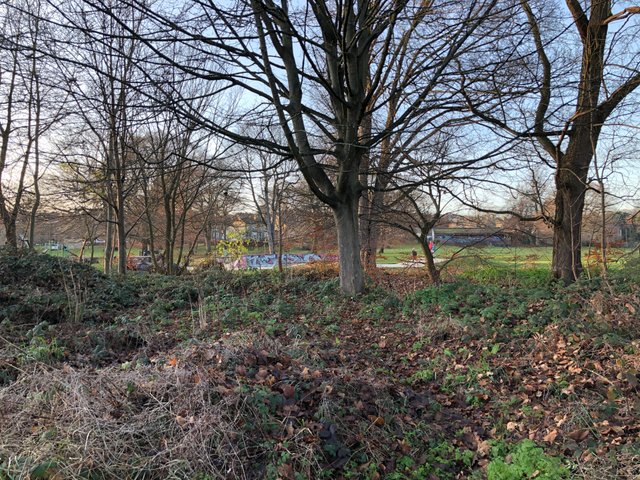 The skate park through the trees, we are on the far side of the beck from it - I have already covered the park ramps and graffiti before.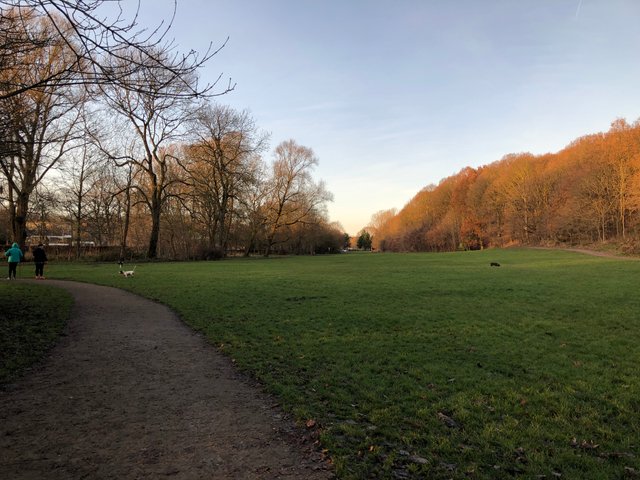 Blue skies, brown trees and happy dogs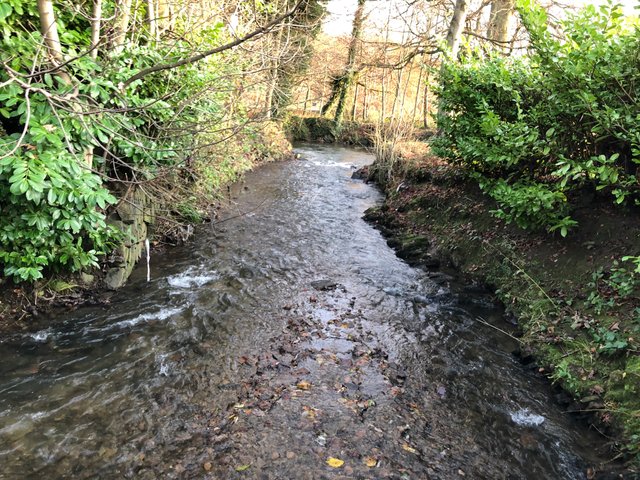 View from the next bridge along, because running water is always nice to look at.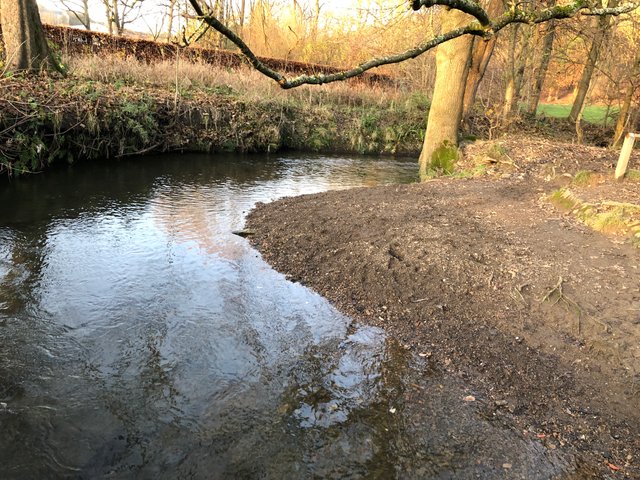 It looks much calmer on the opposite side of the bridge some how.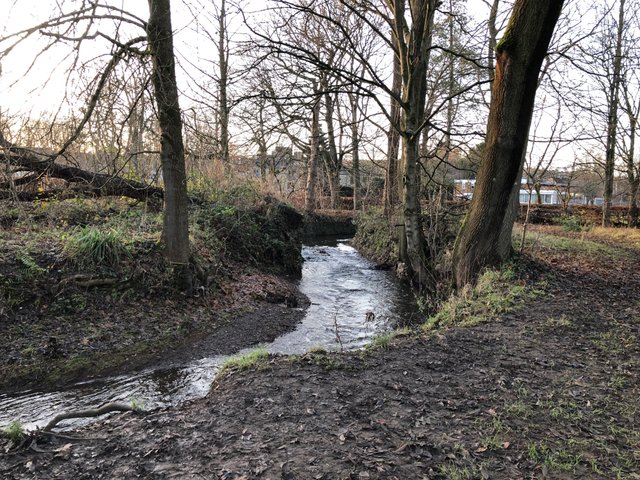 I'm milking the beck a little here, but it's quite photogenic.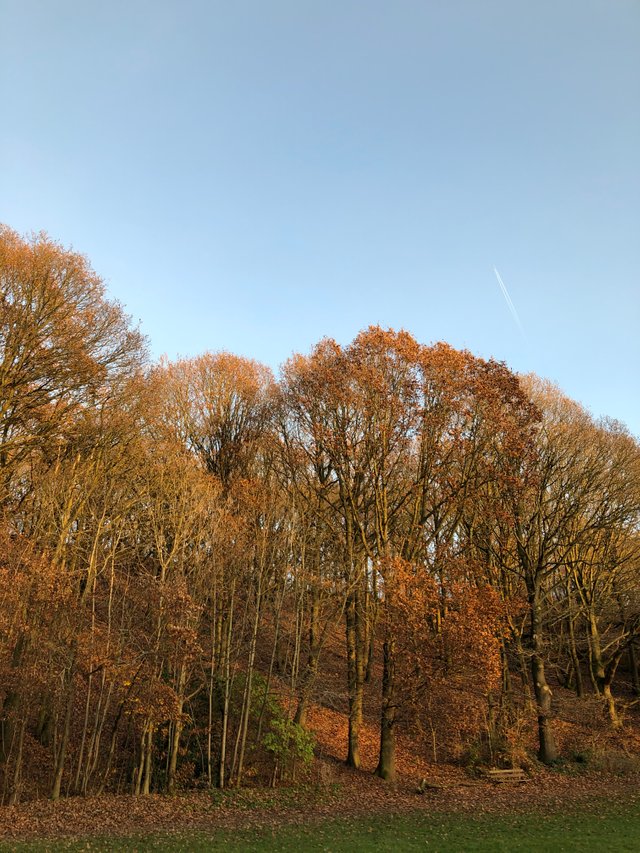 This is not a bad photo for me, some lovely colours in the trees and check out the aircraft vapour trial.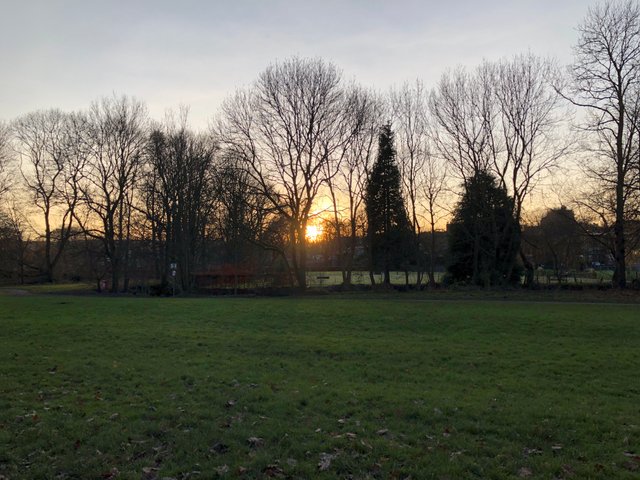 Don't let the sun go down on me.....my photos are very musical this week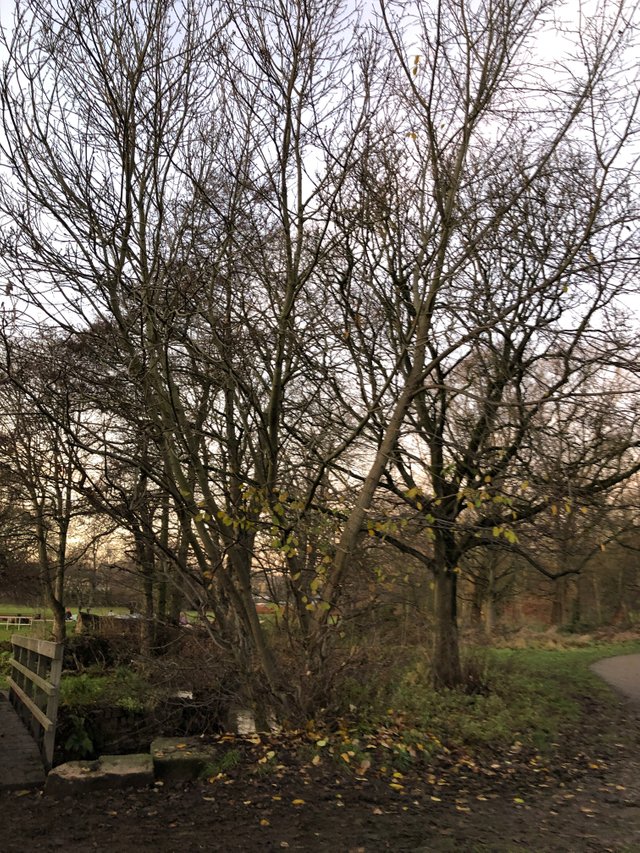 Back at the bridge I started at already, that was quick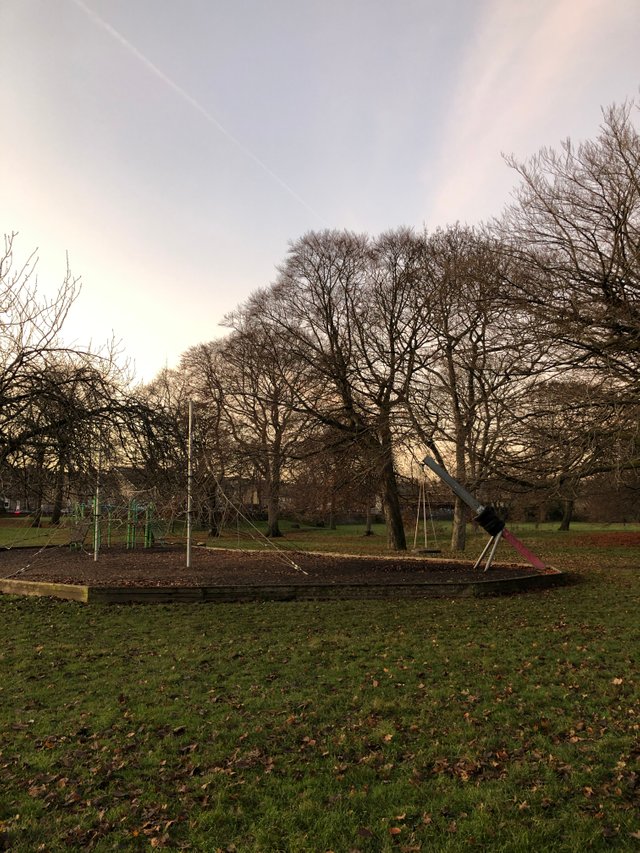 And the climbing ropes in the play park...but wait that's not the end - because on this little trip to the park I also took out the Drone I bought back in July (I know tell me about it) - thanks to being just super busy I did manage to open, charge it and put an SD card in to record video - but never got around to taking it outdoors. But today was the opportunity, clear skies, no wind or rain - perfect to try the drone out.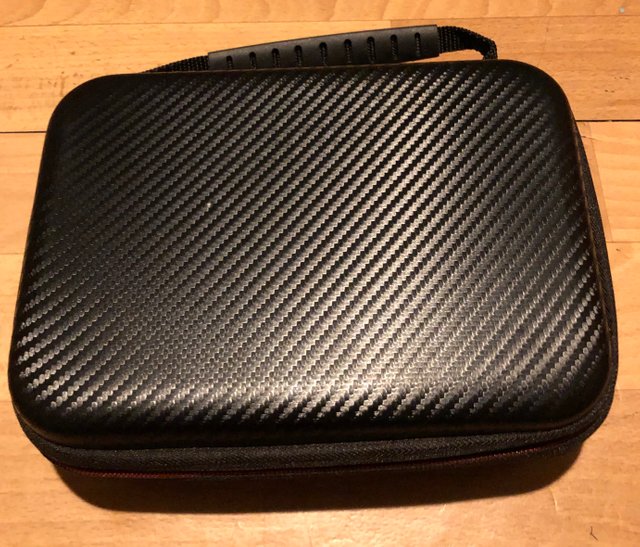 Now when I say Drone - this is not one of those ludicrously expensive high end devices. In fact you have probably been spam e-mailed about it - Drone X Pro ring a bell? You can read the specs and low down on this entirely biased Drone X Review page - it's cheap and really I just wanted something to mess with and maybe get some half decent pictures and video every now and again.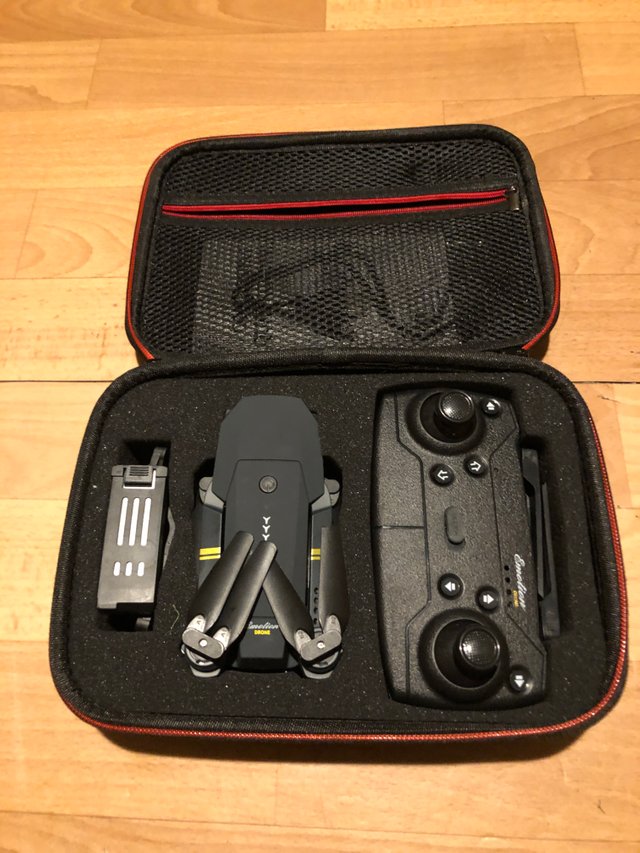 It does come with it's own carbon fibre effect case, with good internal padding to keep the drone, controller and accessories safe.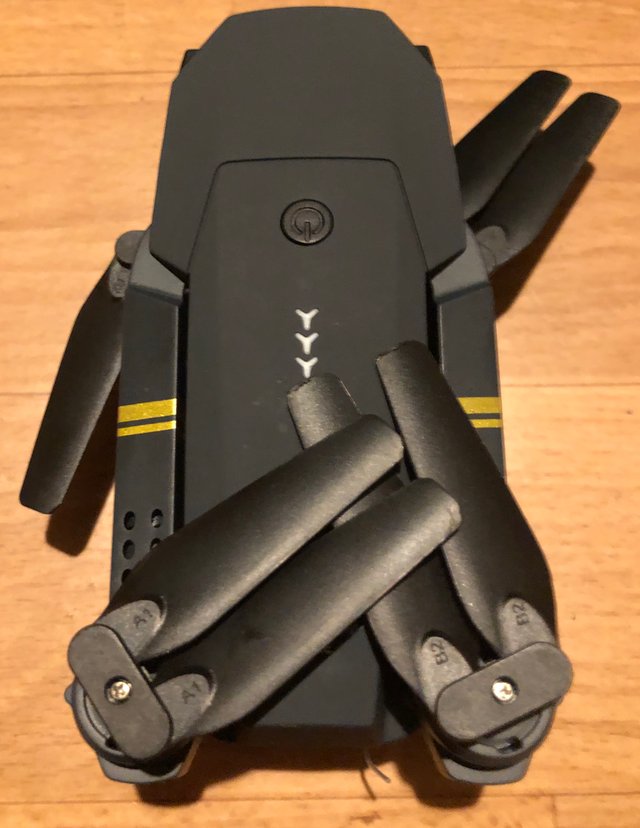 The drone itself folds up to make it small and easy to carry, this is of course a copy of a better known manufacturer - but they have done a good job - the arms swing out and hold position perfectly.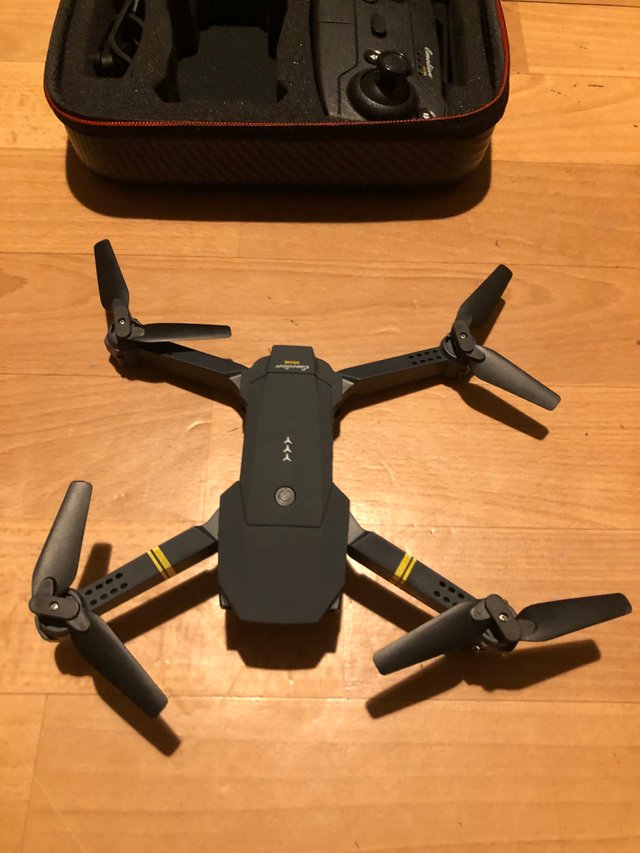 Folded out, it now resembles a Drone as you would imagine.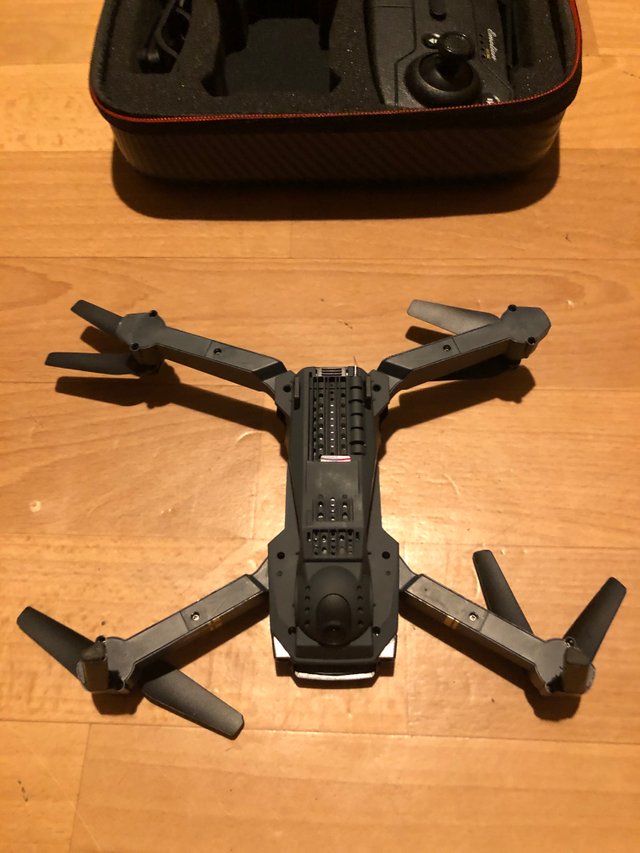 On the underside you can see the Camera, SD Card poking out of it's slot (the SD Card is to buy separately) and at the back the battery pack pushes in and out. The Camera moves position as you can tell from it's slot, when I received it the camera was pointing down. I assumed it would move about with the device or you could control it - wrong. It's a manual position you can push adjust it from down to horizontal and grades in between. Because of this error all my test flights today were of the park grass lol.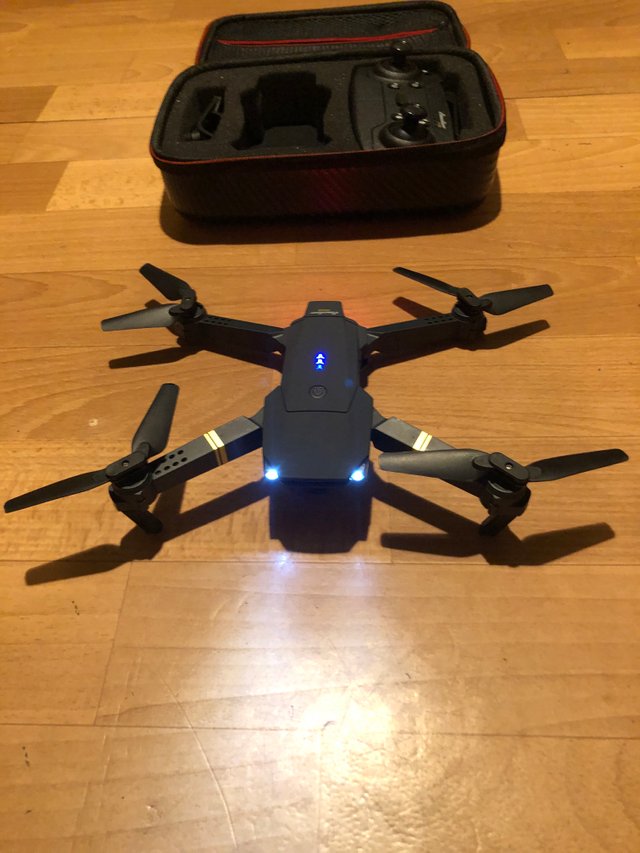 Power it up and you get two led front lights, the connection indicator arrows along the top.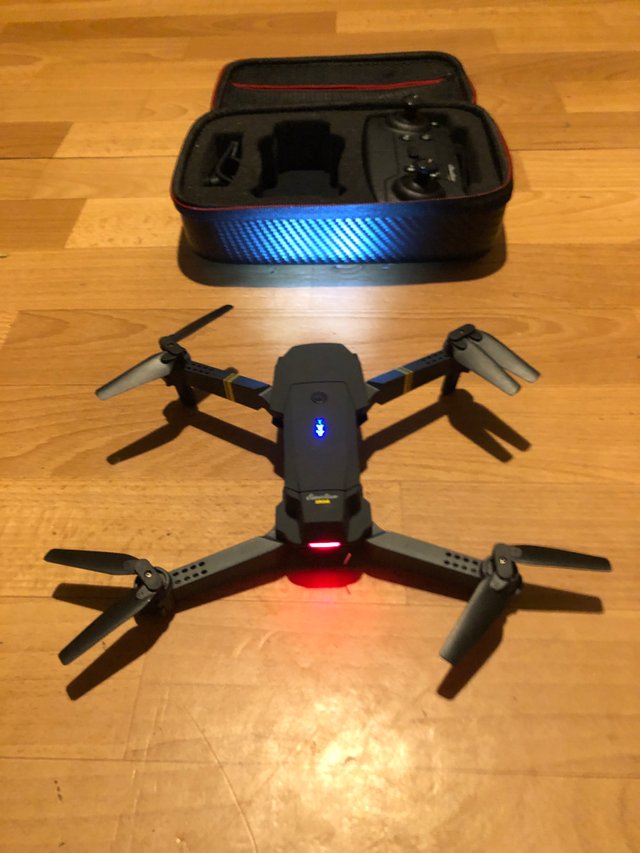 And at the back a red led strip so you can see it disappearing into the night.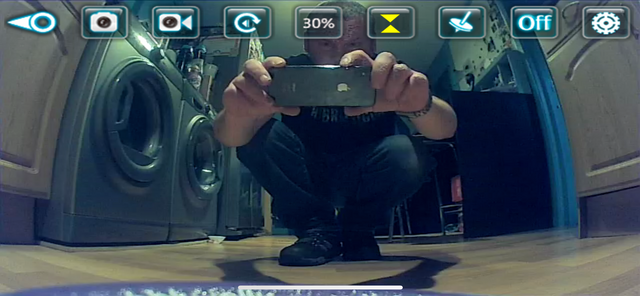 Controlling it you have the pictured bundled handset, but it also has it's own on board WiFi connection you can connect your mobile phone to, and then running the app for the device you can view the video feed from it - and yes that is me in the kitchen lol.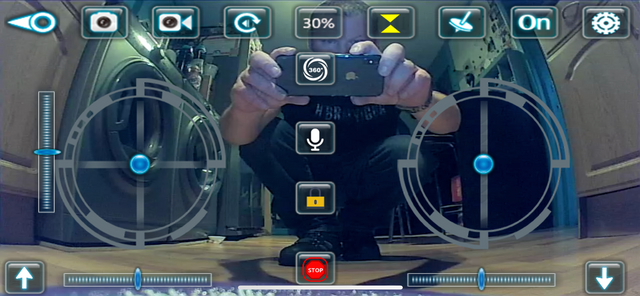 Connected with the phone app, you can overlay the video with the controls - and totally fly the drone without even using the handset if you wish. The up arrow on the left instigates the drone self lift off - this is actually really awesome because when you press it the drone takes off under it's own control - reaches a stable hovering height and waits for you to totally muck everything up by moving the control sticks. Left stick sends the drone forward when pushed up, backward when pulled down, rotates left or right with respective stick movement. Right stick increases height when you push forward, reduces height when you pull back. Banks left or right when you push left or right.
The down arrow bottom right is your best friend though - press this and the drone goes into automatic landing mode - stabilises it's current position and makes a controlled landing. This is perfect, because once you get it up in the air and start getting it moving somewhere inevitably you get confused - start sending it somewhere you don't want it to be and need to bail out - this is the bail out button press it and the drone pretty much stops dead in the air and then lands.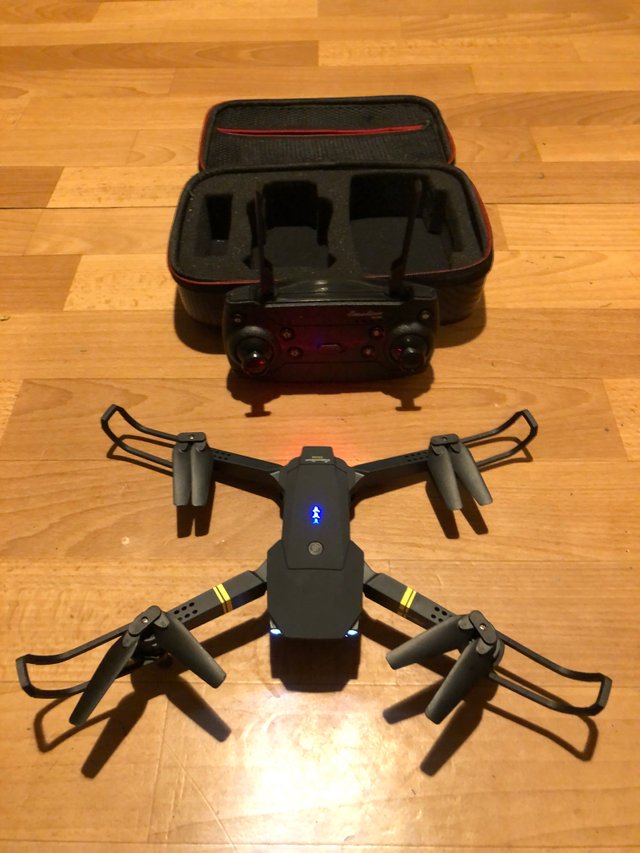 A big bonus is it comes with these clip on blade defenders, so if you are hopeless like me and fly it against something solid the blades have some protection instead of smashing instantly. You do get spare blades in the pack, and they are widely available to buy if you look in the right places - so it should be a relatively long lived toy.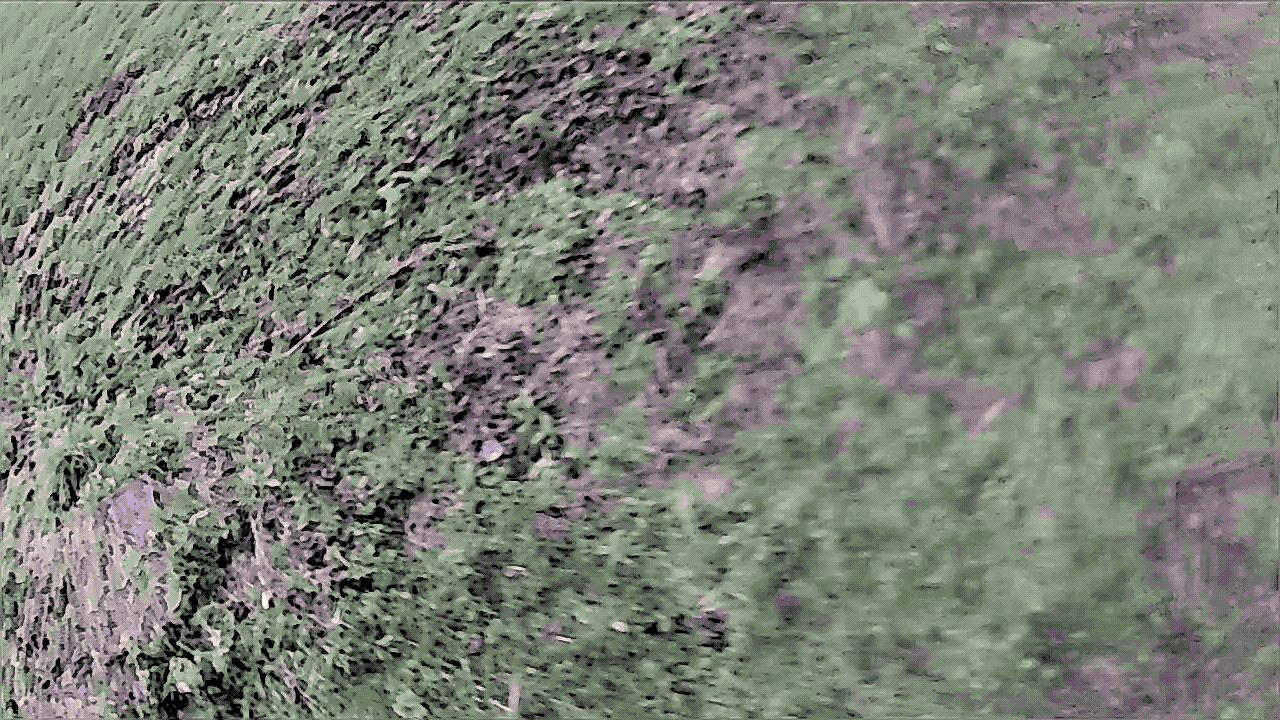 The not exactly stellar video had to be considerably reduced for the gif above, visit this link for a bigger gif file having mostly mastered some of the movement - this run it pulled left even more then previous times and by the time I had hit the land button it had already drifted to the edge of a tree - a quick bounce off the branches it still managed to land safely unscathed.
If you have a burning desire to see various videos of park grass I turned my test runs into gifs, but they are too big to embed so you have to visit Drone Gif 1, Drone Gif 2, Drone Gif 3, Drone Gif 4 and finally Drone Gif 5
Once I master controlling it, hopefully I will get a decent length video for @dtube of some nice scenery. That is weather and location pending, I'm going to keep the drone handy in my car charged and ready to run - really it is so tiny and compact it's ideal for some off the cuff view footage - if I can find somewhere with wide open space!
Overall it's a fun toy, the video footage is pretty poor quality - it claims 720p and maybe if I keep the lens clean and master smooth steady movement of it could be reasonable - but you get what you pay for and it is really cheap. The battery is claimed to do about 15 minutes of solid fly time, I managed around 8 runs of a few minutes so that feels about right. you can get extra batteries, but it is super easy to charge remove the battery pack, plug in the micro usb cable provided with it - a red light comes on and when it is out the battery is charged again. Charge time is around 1 hour using any standard usb charger.
Anyway, I had fun with my toy, I might do a full review post if I get around to it - and hopefully can produce some half decent video for @dtube.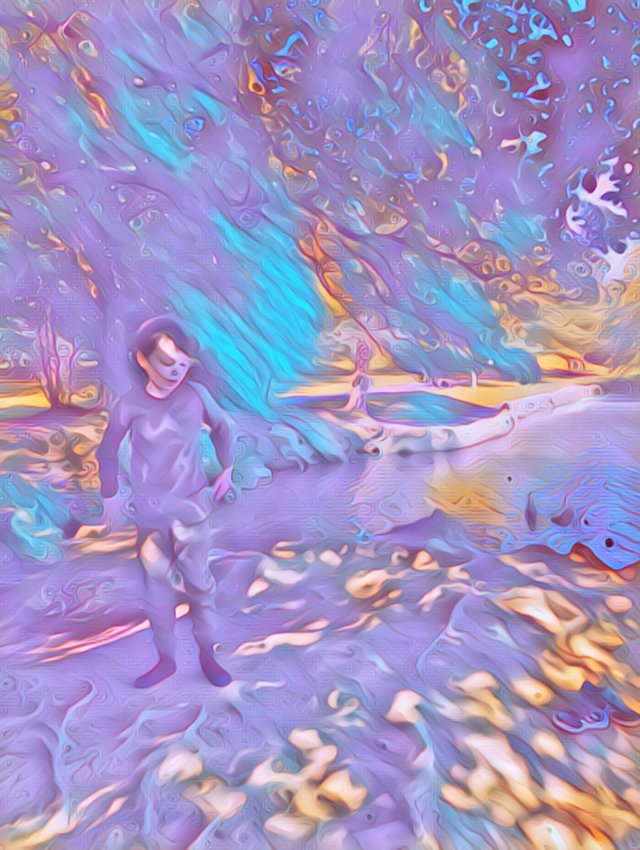 And a #funkyedit to close, next to a park lake with my boy.
Don't forget to power up your steem for #SPUD #SPUD8 - I'm going to be powering some up now I have finished this post!
Last Confirmed Block Number 38,666,462 Last Aslot 38,799,756

Steemd v0.22.1

Kind thanks to Witness
@enginewitty
for employing his Ninja graphic design skills and producing this 🔥 banner
If you enjoyed my post don't forget to leave an Upvote, feel free to comment on what you liked or where I can do better even. Follow @c0ff33a for regular and varied posts, photography, my weekly VLOG, posts on coffee roasting and brewing - just follow and see.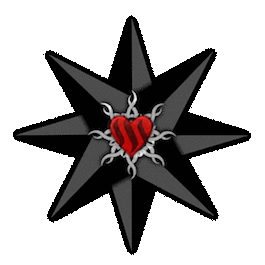 #thealliance
To grow your presence and following on Steemit, be active in the community Discords that offer the chance to learn, network, share and be found. The #TheRamble discord https://discord.gg/HZYzEry hosts a range of shows where you can join in and get your name shown, every Thursday there are two Pimp My Post Thursdays which are hugely popular and give you an opportunity to get your posts seen.

All photos are my own, taken with my iPhone. All my Steem posted pictures can be freely used by other Steem users in their own blog posts - all I ask is that you follow me and credit @c0ff33a linking to my post you took it from. You can also follow me on Twitter
You can view my current Witness Statistics using this tool produced by Witness @justyy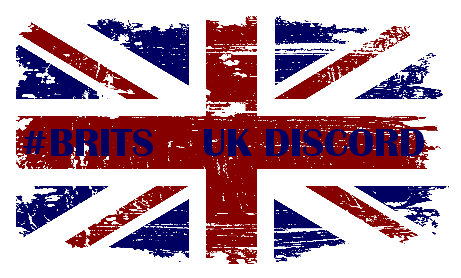 Visit #BRITS Discord Channel
Keep up with the United Kingdom of Steem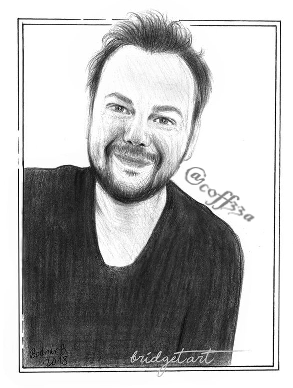 👆🏼 Me ☕️
The picture to the right kindly sketched by the wonderful @bridget.art , be sure to check her incredible art out https://steemit.com/@bridget.art
The greatest challenge we face on Steem blockchain is getting our posts seen, I have always believed the simplest and best value way of doing this is by commenting on the blog posts of others, the more you engage people and interact with them the greater the chance they will visit your own blog and return the favour. Other then spending all my free time commenting on Steem blockchain posts, I also distribute coffee roasting machines and also espresso coffee machines and roast my own Speciality Coffee Range. being one of the premium coffee suppliers Yorkshire including a wide range of filter coffee sachets. Finally I have a dedicated website to my Artisan small batch roasted coffee featuring roast and post packs and super easy coffee subscriptions

Proud sponsor with @derangedcontests of @brosino , free to play and cash out Steem rewards, head to Brosino Website now and start playing.
!steemitworldmap 53.766547 lat -1.801500 long Bradford, West Yorkshire, United Kingdom. d3scr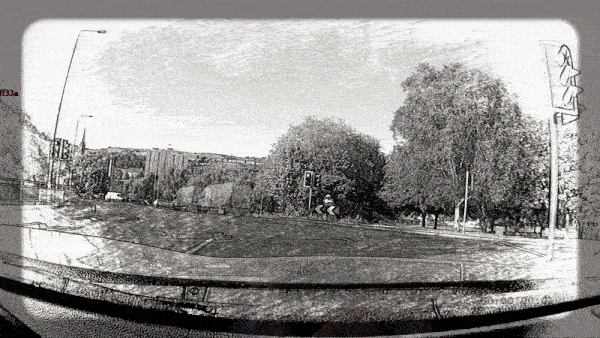 This awesome animated Banner has been kindly been created by the wonderful @snook


The Coffee Break Discord Voice Chat Show, in @thealliance Mondays 10pm UTC hosted by @c0ff33a and @enginewitty
Don't forget to vote for Witnesses https://steemit.com/~witnesses
You can vote for the Witness team c0ff33a and @derangedvisions if you like what we are doing for people and communities throughout the Steem blockchain - click vote for c0ff33a Witness
If you are uncertain about Witnesses and who to vote for you can vote for c0ff33a as your Witness Proxy and you will vote for the same Witnesses as I do.
If you have spare Witness votes, support other active Witnesses like @thekitchenfairy , @enginewitty and @jackmiller
@untersatz
2017 blogging, 2018 Witness, 2019 COFFEEA TOKEN