Hello guys, hope you are doing great. So I am going to be sharing with you my time in the kitchen while preparing dinner. Yeah! honestly some food are just hard work lol. Sometimes after cooking, I just end up not being able to eat much, well maybe because of the stress from cooking...or from taking in all the aroma from cooking the meal according to hearsay lol.
So the food I am going to show you guys is what is known as "Black Soup"...I know you are thinking "oh my! She eats "Black" soup hehehe. Well not to worry, the soup is not black as the word implies...well I have no idea why is called that. Black soup is a native meal from the south south people of Nigeria....it is particular to the Edo people. To the ingredients for the soup...
Ingredients for black soup
Uziza leaves (As much as you want the soup to be because this is a major leaf used in it's preparation).
Utazi leaves (Bush buck leaves) - This one is a bitter, so you might want to reduce how much of it you want in the soup...depends on your taste.
Bitter leaves - This can be used in place of utazi, individual preference...or if you cannot get the utazi leaves, it is bitter so be careful.
Scent leaves - This is another major ingredient in the soup and as it's name implies it has a very nice scent and it is also medicinal too. You can use as much as you want your soup to be also.
Palm kernel - The amount also depends on you but it should be more than the leaves.
Pepper and Spices (Maggi)
P.S - All the leaves listed here are medicinal and have good effects in the body.
Okay, am not so good in giving measurement on what you are going to use in the preparation because you may not actually get the exact quantity I used so it would largely depend on how you want it.
Let's get to work....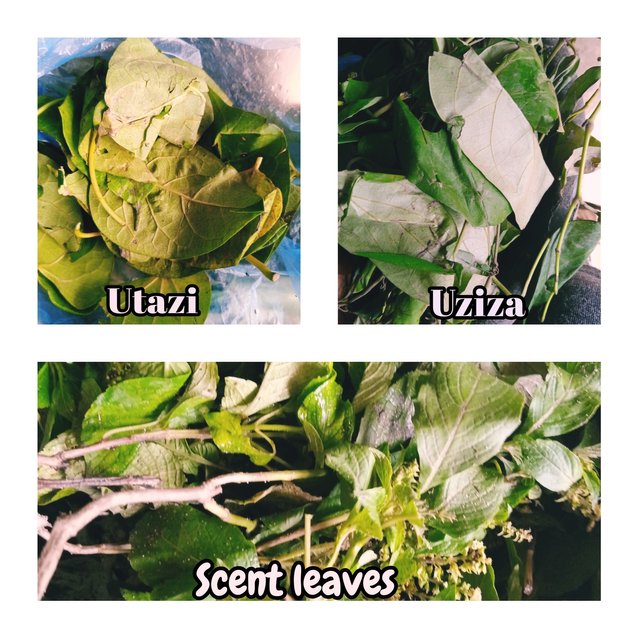 Here I have the leaves listed above, except the bitter leaf which I would not be using tonight since I already have my "Utazi leaves" which serves almost the same purpose as the bitter leaf. So first thing you do is to pick or pluck the leaves from the sticks....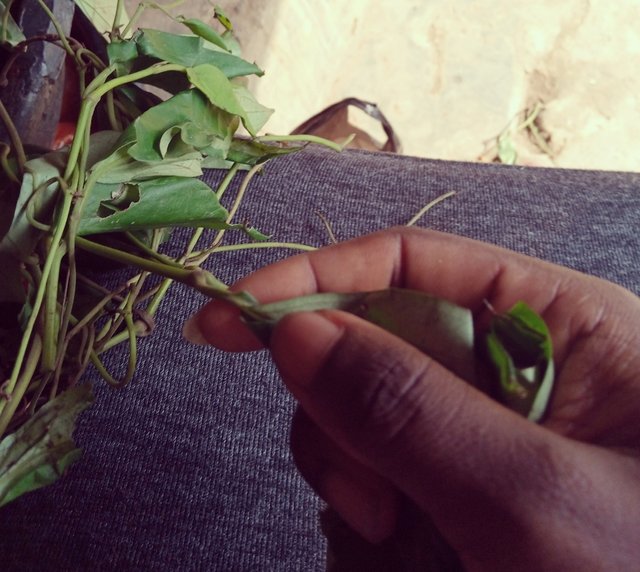 After taking time to pluck the leaves....you put them together in a bowl, add lots of water in it and rinse thoroughly incase of dirt.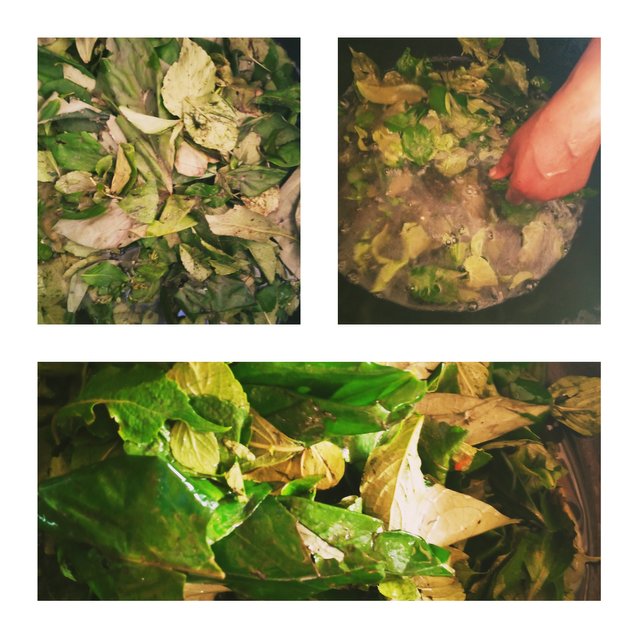 Now the leaves are clean, so the next thing to do is to blend them. Well, since I got the leaves in the market, I decided to do some of the work there which includes the blending or grinding of the leaves....for that I made use of the grinding machine at the market. After blending, it comes out like this.....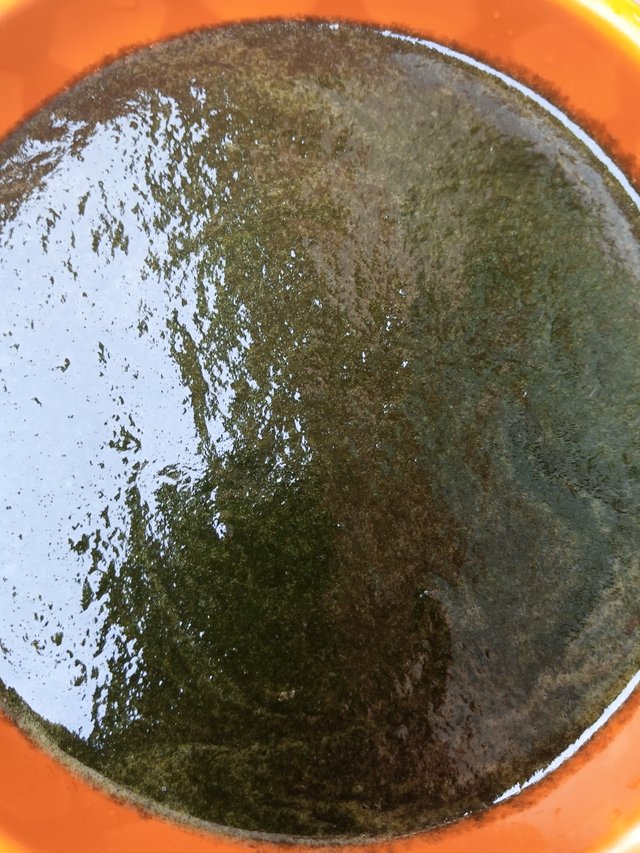 Okay...that been done, you move to the next ingredient which is the palm kernel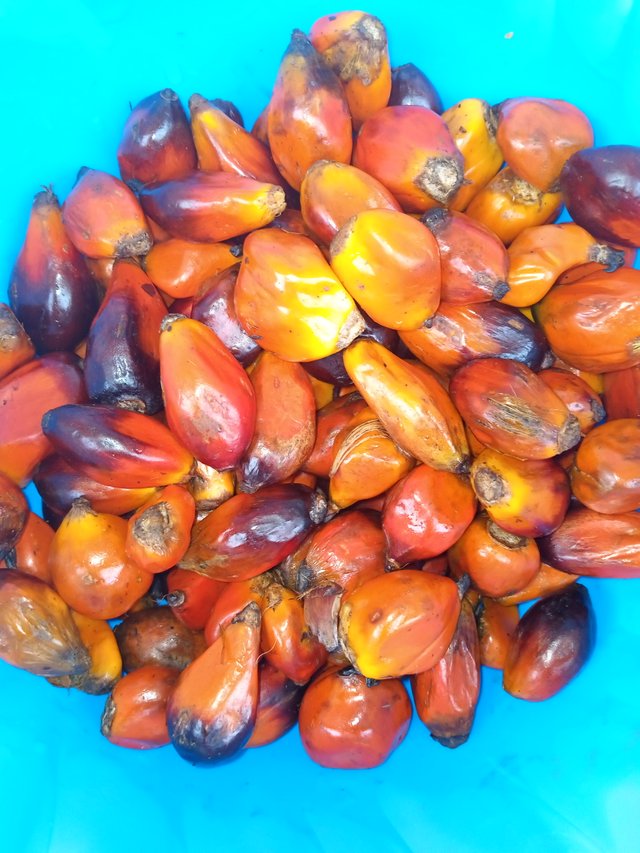 What is needed from this is the oil...you don't use the regular red oil for it but the oil extracted from these palm kernels. So in order to extract the oil you need them to be soft, as it is usually strong.
First you wash the palm kernels.

Put it in the pot and add water just to be a little more than the quantity of the palm kernels.
Let it boil till it becomes soft when touched, this should take about 15-20mins.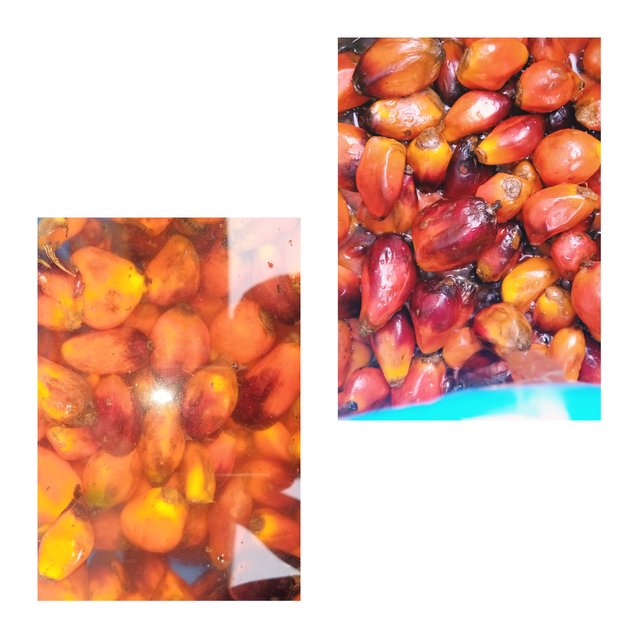 20mins later, the palm kernel is soft....so you extract the oil. In this process, people make use of either the "mortar and pestle", "turning stick" and even hands. Well, I used both hand and turning stick (for mashing it).
In doing this you make sure you get all the oil out....which gives you this...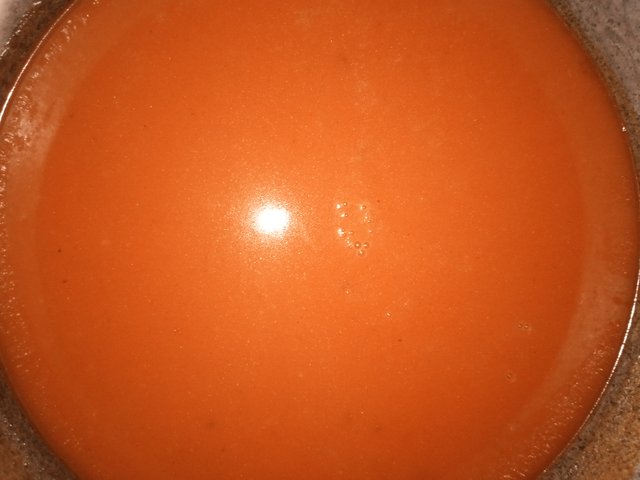 Now that the oil is ready, you then add your meat (already rinsed), fish, pepper,grinded crayfish and any spice of your choice....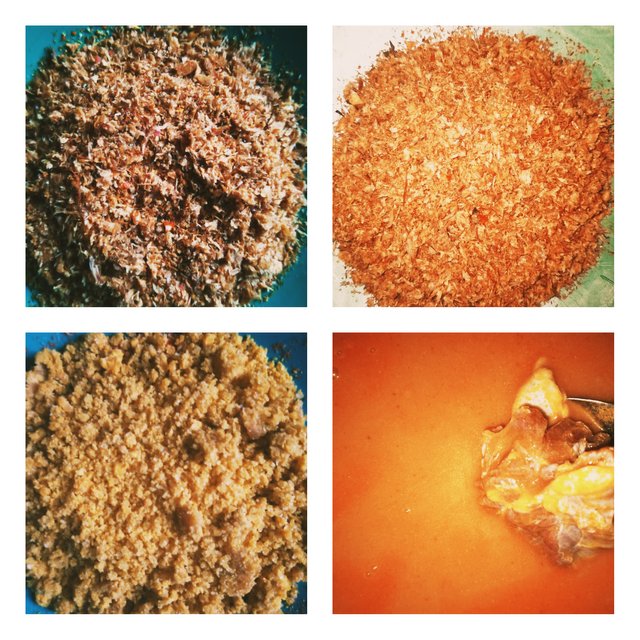 ....then you allow it steam for about 10mins after which you add your blended leaves...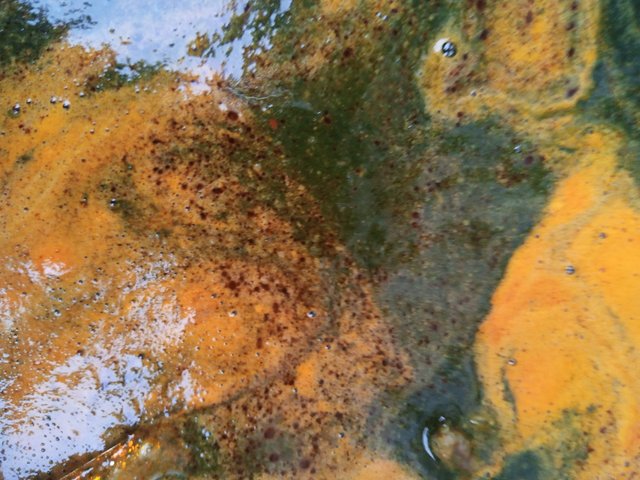 Now you allow it steam for about 20-25mins, till it get a little thick and it is good to go!!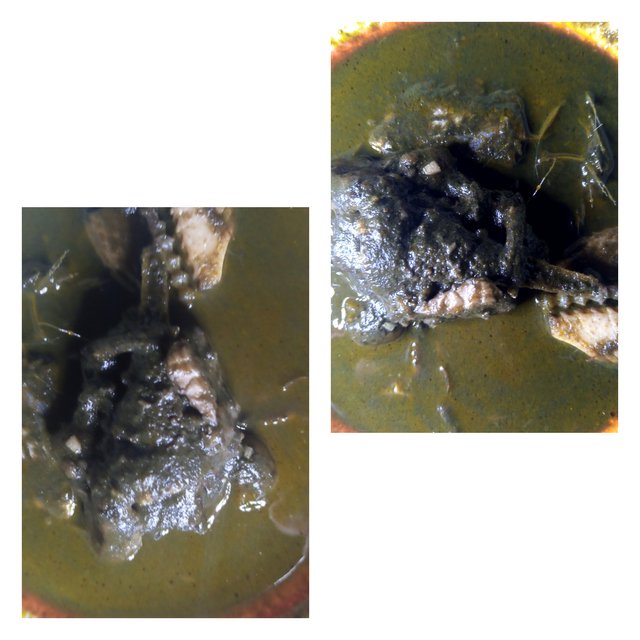 So you have the soup served and ready to be eaten...the soup can be taken with what we popularly refer to as swallow here, rice, yam and it can also be taken just like that without anything.
Wow....now I do not know which is more difficult, cooking the meal itself or writing about it lol....😬
So that's it guys, thanks for reading....do have a lovely day!!