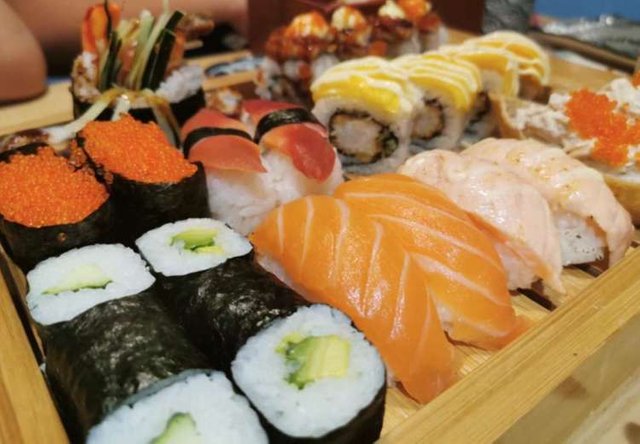 Our family likes sushi best. We have opened a new sushi restaurant near our home and come here with our family on weekends.
我们一家人都最喜欢吃寿司,在家里附近新开了一家寿司店,周末和家人一起来到这里!--村!
上一屋,名字很特别,听起来是很不错的地方。
As soon as you walk in, you can see that the decoration here is very special, with wooden shelves covered with cherry blossoms! Under the soft light, as if into the cherry blossom forest.
There are two floors, the kitchen and cash register are downstairs, and there are also several tables for two people. They walk up the stairs. The second floor is very spacious. A table for four and a table for six are both suitable.
一走进来就能看到这里的装饰很特别,用了木制的架子,上面铺满了樱花!柔和的灯光下,仿佛走进了樱花的森林。
一共有两层,楼下是厨房和收银,也有几张二人坐的桌子,走上楼梯,二楼很宽敞,四人桌和六人坐都很合适。
The tableware here is also very exquisite. We have five people here.
First came some snacks, mashed potatoes and tender tofu.
这里的餐具也很精致,我们一共5个人来到这里,首先来了一些小吃,土豆泥和嫩豆腐。
Eel rice is also very delicious for children. The lights here are very good, and the photos taken all look appetizing!
鳗鱼饭孩子们也觉得特别好吃,这里灯光很好,拍的照片看起来都很有食欲!

Salad is also rich in materials, including avocado, which I like to eat, and it tastes good with fish seeds.
沙拉的材料也丰富,有我爱吃的牛油果,加了鱼籽口感很不错。
There are many delicious sushi. The sushi here is different from other places. The materials used in it are good-looking and delicious! And the material is very fresh! Looks good, doesn't it?
有很多好吃的寿司,这里的寿司和其他地方不一样,里面用的材料好看又好吃!而且材料很新鲜!看起来不错吧!
There are many kinds of set meals here, which are very suitable for 2 people or 4 people to have dinner together. The environment is also very good. We spent a total of US$ 60 on the day we came here, with discounts. The taste here is also very good. We recommend you to come here.
这里的套餐很多样,很适合2人,或者4人一起来这里聚餐。环境也很好,我们来的这天一共消费了不到400元人民币,还有折扣,这里的味道也非常好,推荐大家来到这里。
---
Restaurant Information

村上一屋



Carrianna Shopping Plaza, Luohu, Shenzhen, Guangdong, China
---
Delicious sushi-美味寿司-村上一屋
This post participated in the Tasteem contest Made in Japan