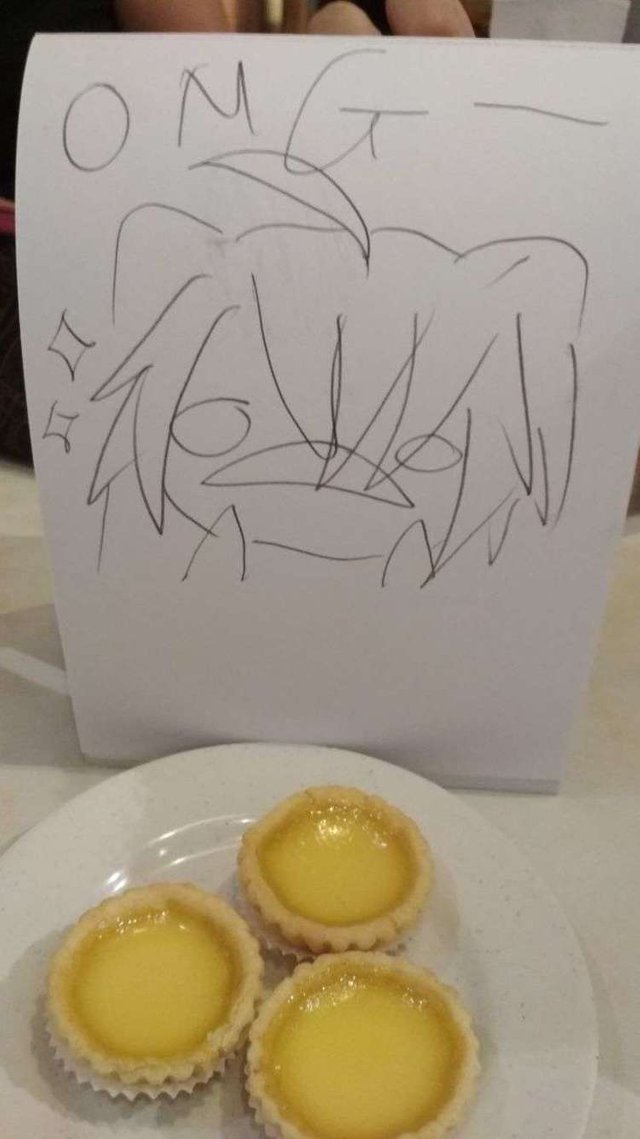 Don't get confused by the thumbnail photo. It was a clear instruction from junior that they liked the egg tart so much, but at teenage, you know how it is. No photograph! So, the drawing represent its all. Tagging @annabellenoelle and thanks for the drawing!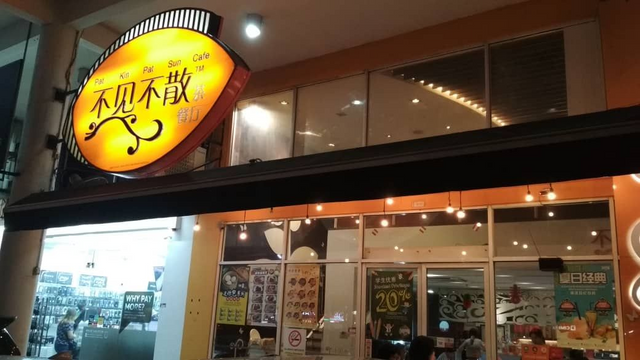 Take you off for a short tour for whatever is happening to me visiting this place, was due to my hard drive is acting up. I'm foreseeing pretty soon I will have a bad sector on it, so now I better prepare a copy of legal operating system. Seller have no transport, so agreed to meet at PV128 business park for cash on delivery. We did searched for whole stretch of shop houses, and finally towards the last shop, came this PAT KIN PAT SUN CAFE(literally romanized wording of Chinese 不见不散). The meaning is, "it's a date".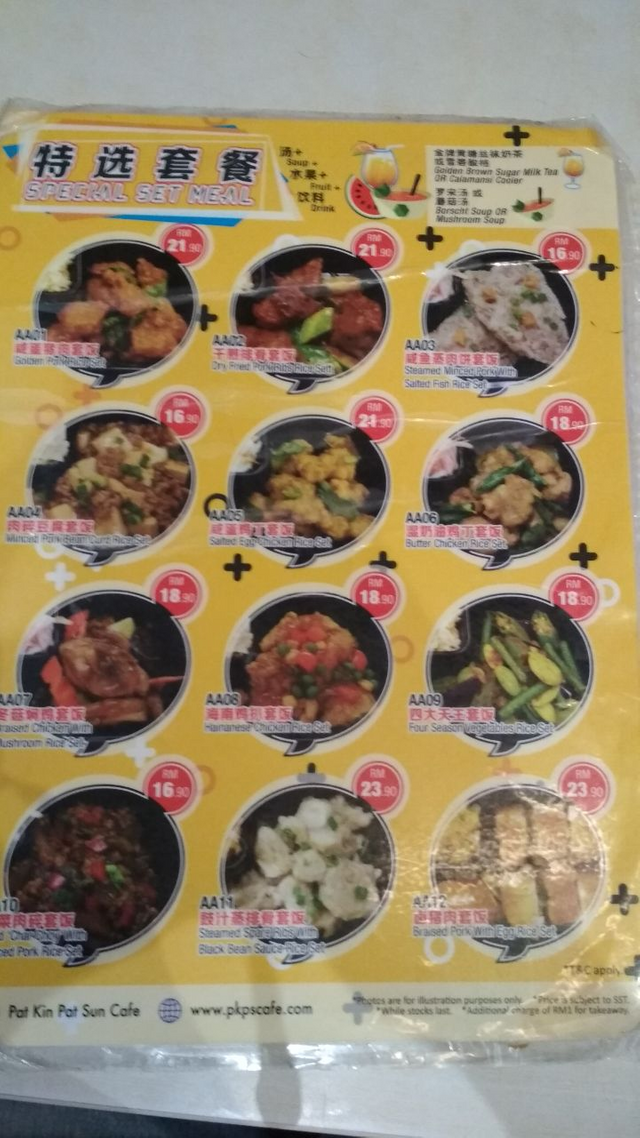 Much variety on the set menu that came with soup and drinks. Price is ofcourse not on the cheap side, but that's generally how much it cost to buy a set lunch/dinner at airconditioned restaurant.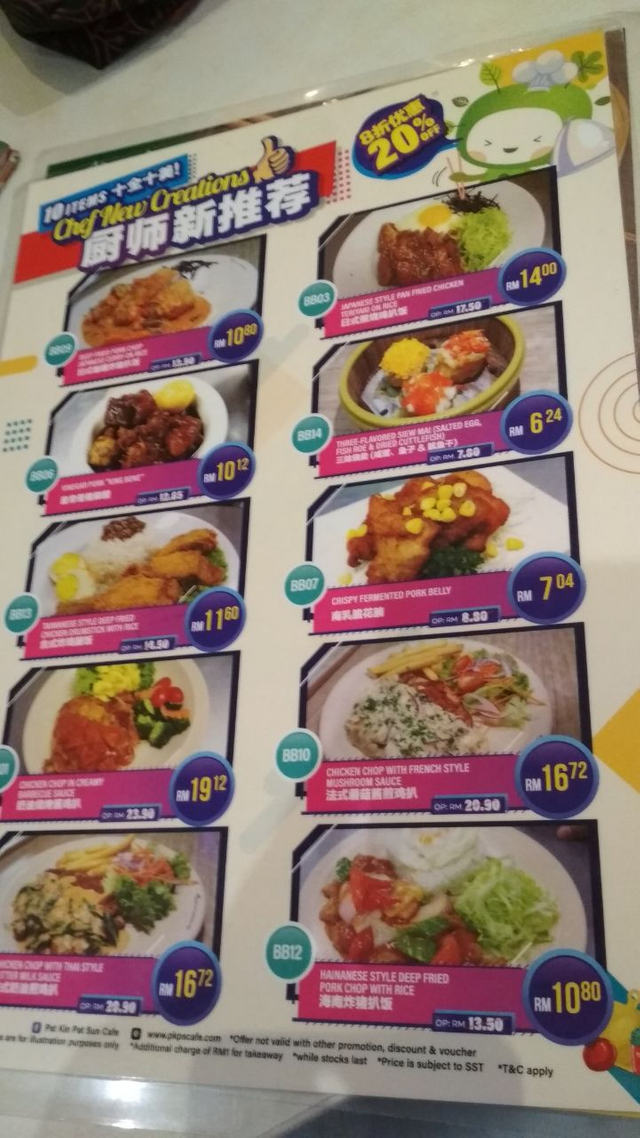 This is the significant dishes highly recommended by the chef. Also, 20% discount on all these promotional item. Other than that, 10days before and after birthday are entitled for up to 20% discounts for member, and even non-member are allowed 10% discount!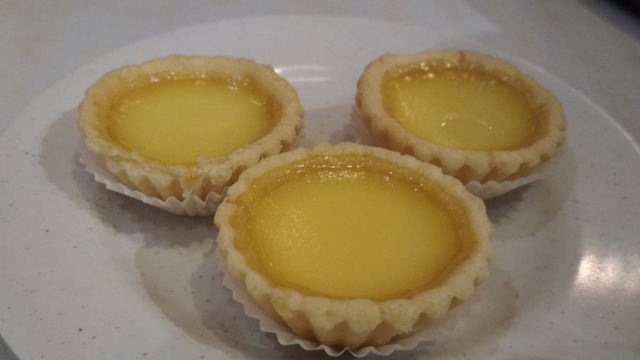 Egg tart patry is very smooth and tasty. The pastry skin crumpled right away as soon as you take a bite. The egg fillings is not too sweet, and has the very significant egg smell to it.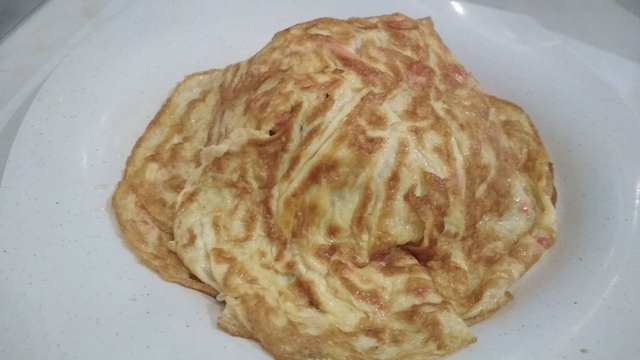 Teenage girl order this plate of stuff. Do you wanna guess what is it?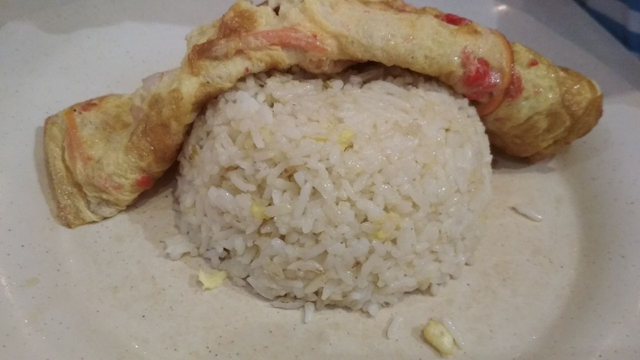 There you go, it's omelet egg covered on egg fried rice. The fried rice itself is already very soft and smell really good with garlic and egg in it. Topped with a piece of omelet, it just taste extremely marvelous.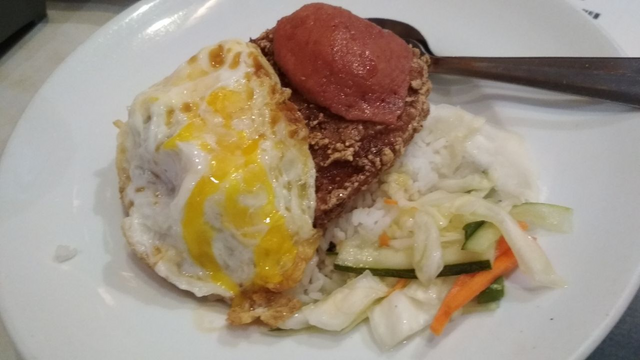 I ordered a Hong Kong style pork chop rice set, came with a piece of very high quality luncheon meat, almost feels like a slice of cooked ham. The piece of fried pork chop reminds me of the old days when street hawker selling fried chicken by the road side. Note that there's some greens on the side, those were vinegar pickled cucumber slices, carrot slices and cabbage in Chili Padi. If you didn't see Chili, there is this piece beneath the orange carrot slice that looks really green but not as green as the cucumber skin, that's a piece of tongue burning fryer.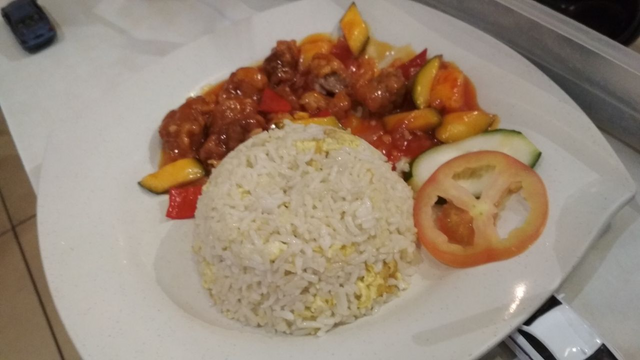 The little boy ordered another set of sweet sour chicken and fried rice set. The chicken is a little too hard to chew, I think probably they over fried it. However, the tomato gravy is marvelously nice to go down with that egg fried rice. Absolutely marvelous.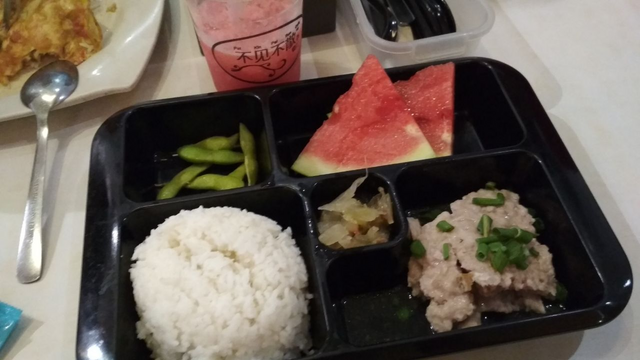 LazyMom ordered this bento set. Supposedly, it's Japanese style, but the ultimate meat portion, has been replaced by a piece of very well seasoned, and fragrant pork paste. I know it's a little too fusion, but trust me this thing taste extremely fantastic.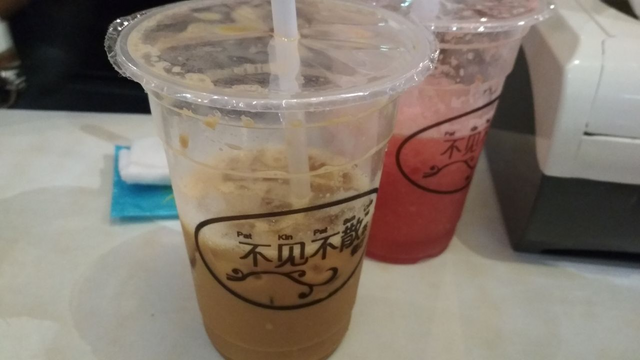 Iced milk tea was a little disappointing though. It's not like it's not nice, but the taste of the tea somehow makes me think this thing were pour out from a batch mixed. However, the watermelon juice at the background is a highly recommended drink. They blend the watermelon and added with lycee into it, makes it totally stand out, and refreshing. Oh God, what am I talking about. Ok. standup and swing your hair, that's how outstanding it was. Standup and refreshing!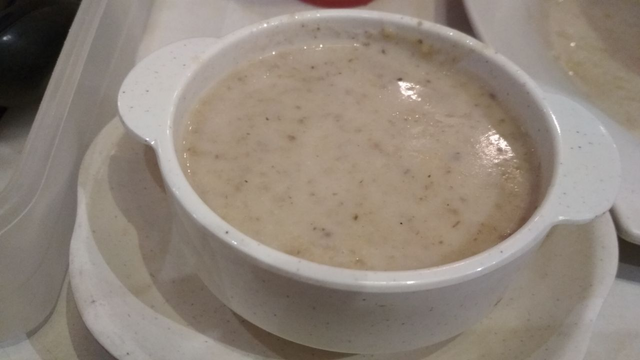 Mushroom soup they prepared is very rich. If you try to swallow this very quickly, you'll probably feel really itchy in your throat due to the amount of chopped mushroom in it.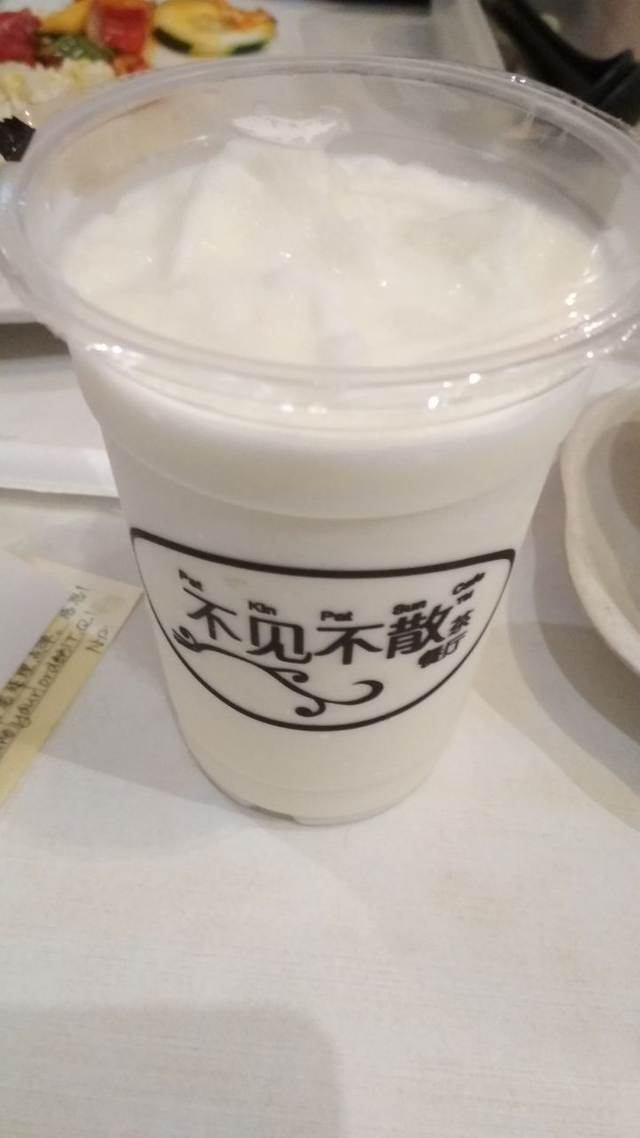 Junior ordered a cup of vanilla milk shake. It looks ok, but it doesn't taste that much of a real vanilla milkshake. It looks more like putting a scoop of vanilla ice cream, mixed it with bunch of ice, crush them and blend them to made up this cup of smoothie. Not great, but it's not bad.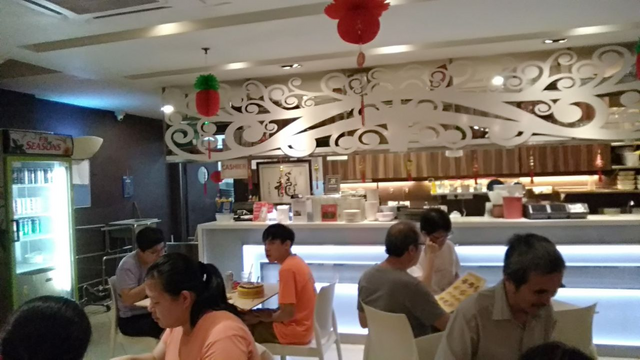 Generally, it's very clean and looks really welcoming. However, one thing need to improve, which is the huge dump can were left at the kitchen entrance. Come on man, I know it supposed to be holding "fresh" rubbish and leftovers within that few hours. But still, I would prefer them to hide it, rather than getting question up down left right center.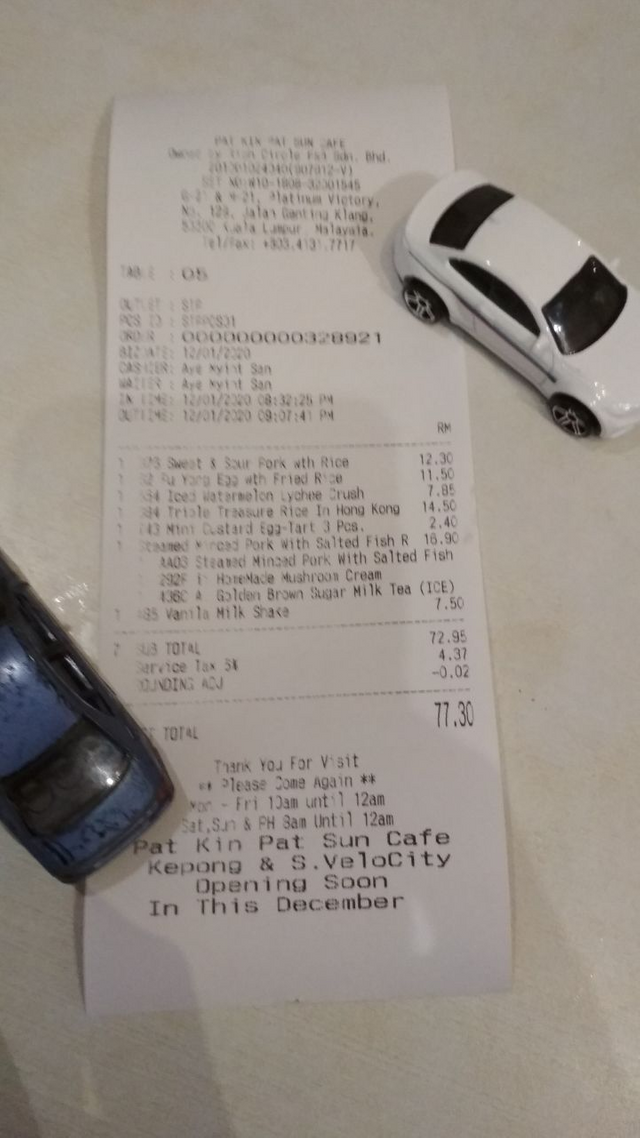 And the final bill came, 77.30 is not cheap, but I think many can afford it. I do, and I'm looking forward to come back here to enjoy other food in the menu.
---
Restaurant Information

Pat Kin Pat Sun Cafe 不见不散



G-21 & M-21, Platinum PV128, 128, Jalan Genting Kelang, Danau Kota, 53300 Kuala Lumpur, Federal Territory of Kuala Lumpur, Malaysia
---
No see no leave 不见不散
This post participated in the Tasteem contest Your weekly choice