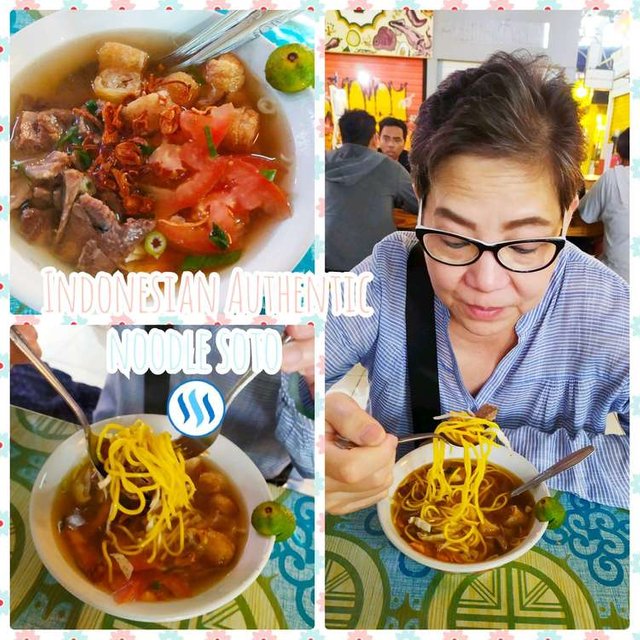 Hello, foodies!
Today i would like to share about our foodie experience.
Remember about my last trip to Santa Market, there i ate burger but mom chose a Jakarta special dish, soto mie or in English soto noodle.
The food court had a quite large dining area without air conditioner.

The food stall was located not far from the entry gate of the foodcourt on 1st floor.


Many customers ordered soto mie, and mom also loves soto mie, so she also ordered here.
The Service
Mom waited for 15 minutes to get it ready. The seller was nice and he came from Bogor, a small city in West Java, where soto mie also came from. He was nice and polite.
Here was the soto mie

It tasted savory, a bit sweet from the sweet soy sauce and spicy, cause mom added a chilli paste there. The soto mie contains noodle (usually the yellow and rice noodle, but mom only loved the yellow one), risoles (rice noodle wrapped in dumpling's skin then fried), tomatoes, cabbage, boiled potato and also beef. The beef he used was soft and tender, with the soup that non oily which was great and healthy. Actually, soto mie had the sour flavour from vinegar or squeezed lime, but it was optional, both mom and i, tnever put the vinegar on soto mie.
Mom also bought a fried chip (the big curly one) to eat with the soto mie.
The Price
It costed 20,000 IDR with the fried chip, so it was around 1.45 USD.
I invite you to try the authentic Soto Mie
Soto Mie Bogor & Soto Betawi
1st floor Santa Modern Market
South Jakarta
open 10.30am-14.00pm
---
Restaurant Information
Soto Mie Bogor & Soto Betawi



Santa Modern Market, Jl. Cipaku I No.1, RT.5/RW.4, Petogogan, Kec. Kby. Baru, Kota Jakarta Selatan, Daerah Khusus Ibukota Jakarta 12170, Indonesia
---
Authentic Indonesian Noodle Soto (Soto Mie)
This post participated in the Tasteem contest All about noodles