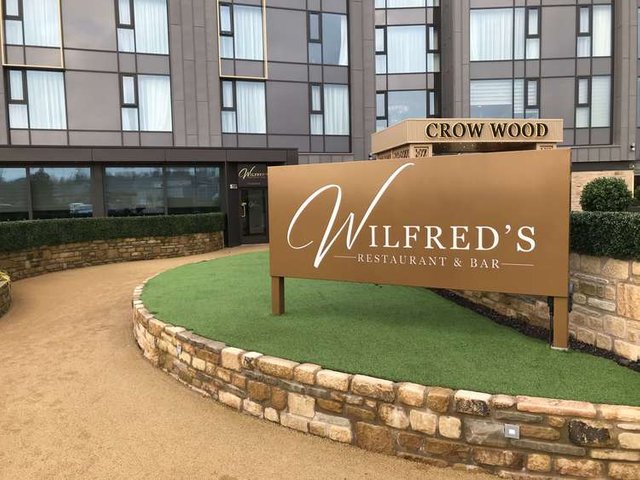 Where else to take your Valentine but somewhere very posh looking like Wilfred's Restaurant and Bar?
This very new building is attached to the Crow Wood gym, Betrams Restaurant as well as the 'other' restaurant below Bertrams which so far I have not reviewed.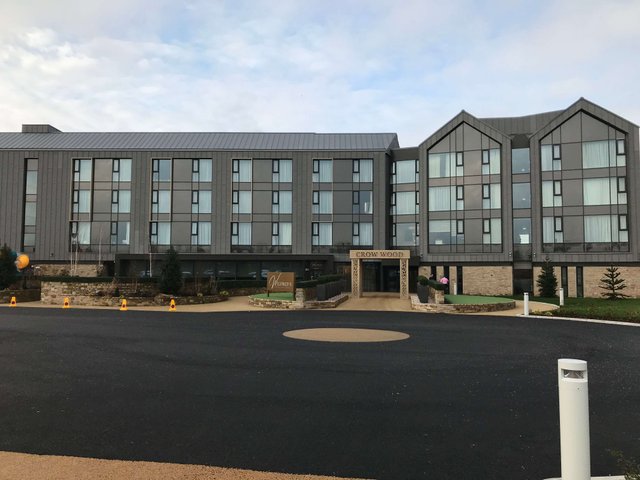 Why they chose to build THREE restaurants in such proximity is quite beyond me.
Bertrams used to be highly rated, but please read my review before stepping in there.
Besides the gym, this complex is in the middle of nowhere. I guess after a hard session you have some culinary choices.
It was @bingbabe's idea to visit Wilfred's and her impression of it is not in accordance with my views.
My opinion of the building is modern but quite drab. Perhaps it's because I loathe the colour of grey.
It reminds me of the English skies, which are predominantly painted in this colour.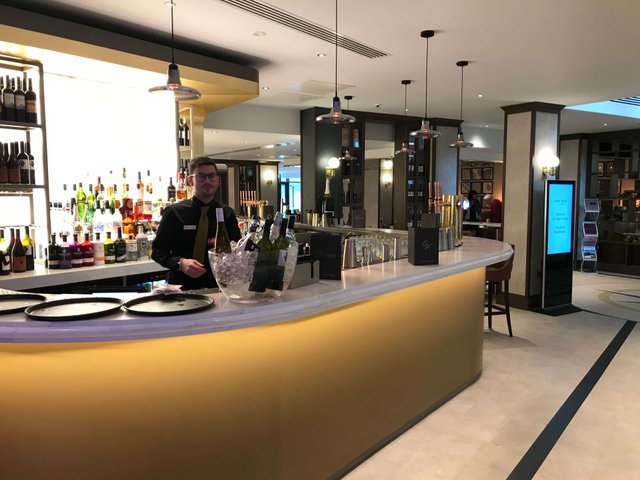 Inside is as plush as I expected, the barman looking up just as I took this photograph. He seemed a little shocked but took it well.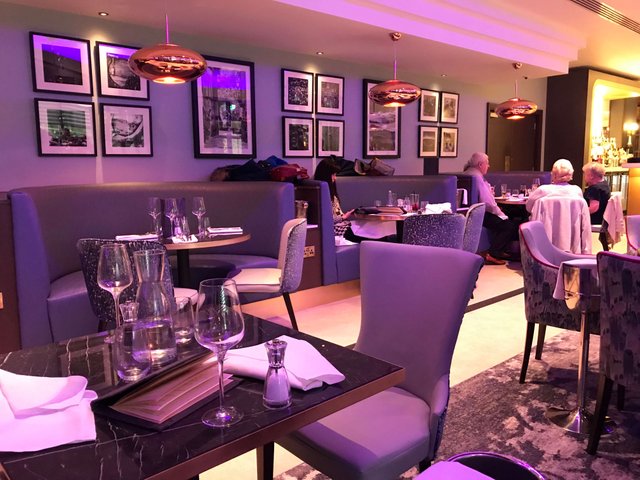 After being offered some seats I noticed everything was pink, or it is purple. That depends on your eyes I suppose.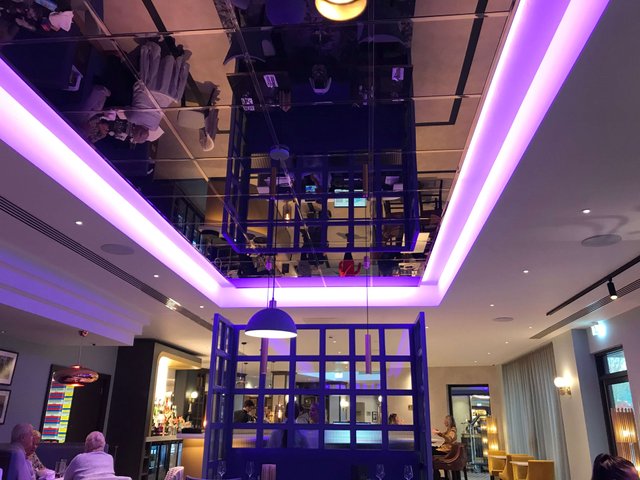 This rectangular huge long skinny light was giving off the hue and I wasn't so keen. Maybe this would be good for Valentine's if you can think 'pink'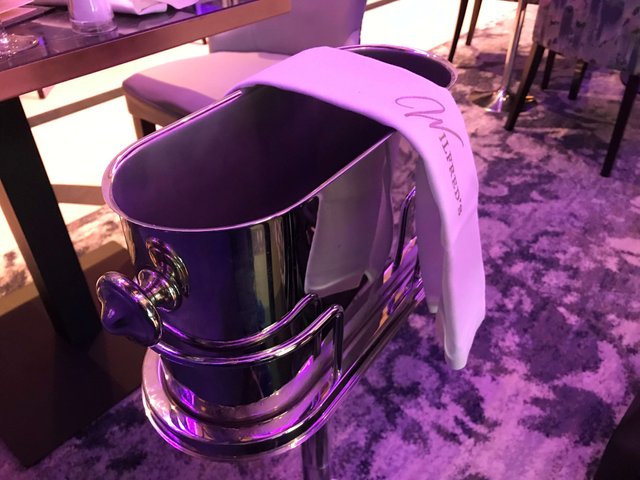 Now all my photographs would be pink; Pink Menus, Pink Food, Pink Tables and Chairs, bah!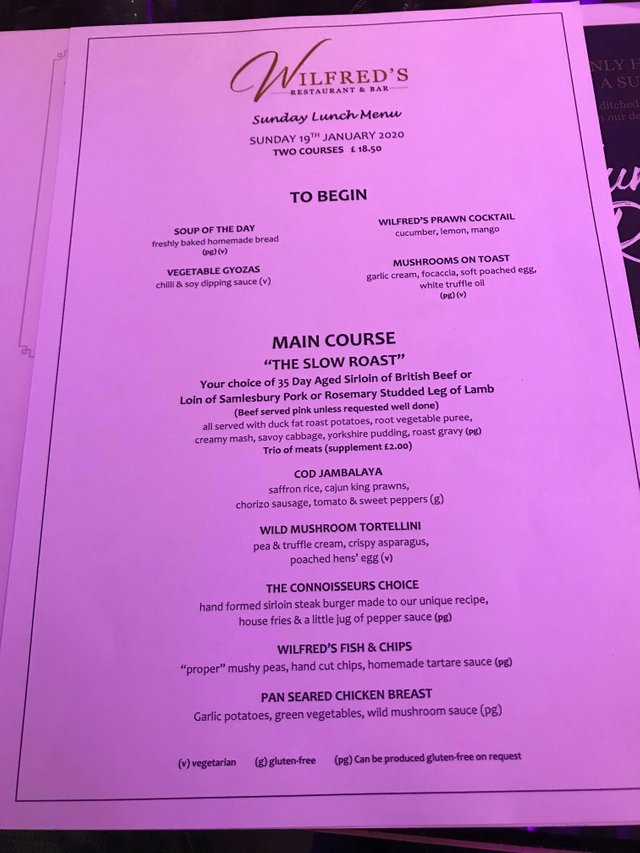 I took the pink menu and had a look, deciding on a Hot Sandwich, 'Steak and Caramelised Onion' at £12.95, @bingbabe ordered a 'Spaghetti Gambas Pil Pil' at £13.50 with a side of Sweet Potato Fries.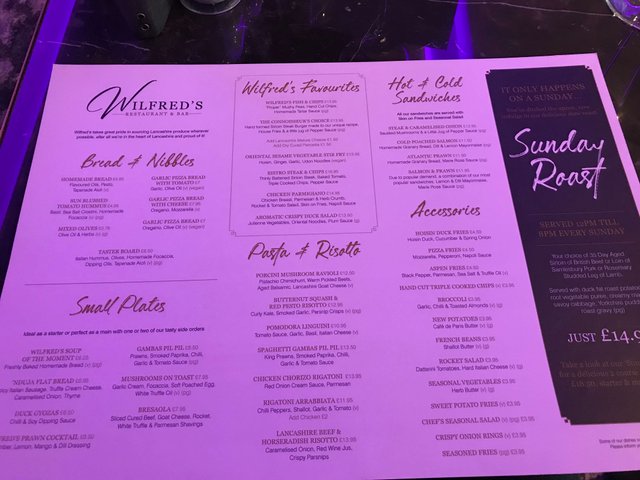 We felt a shared starter might go down well and the Duck Gyoza's fitted the bill at £6.50, not exactly cheap for a starter.
I cannot fault the service at Wilfred's, it was exemplary, punctual and quick.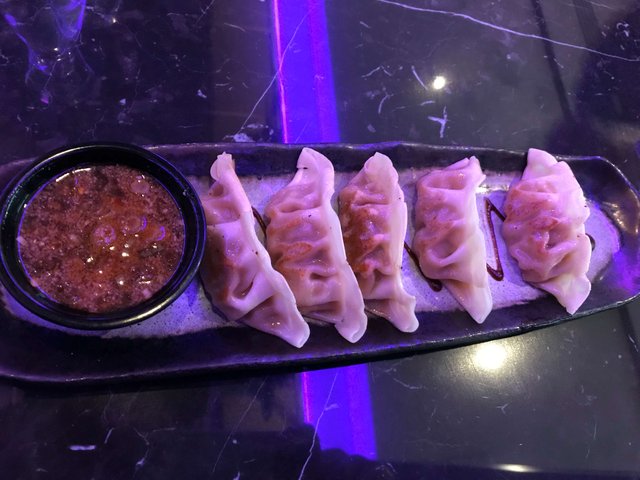 The Gyoza's arrived first, all five of them and I calculated this to be more than £1 per bite as they are mouthful sized.
Was this sweet chilli sauce? The blurb states chilli and soy.
To be fair they were quite decent but a little squishy and reminded me of soggy pasta shells with some meat inside.
After vanishing from the plate in the space of mere minutes we waited for the main courses.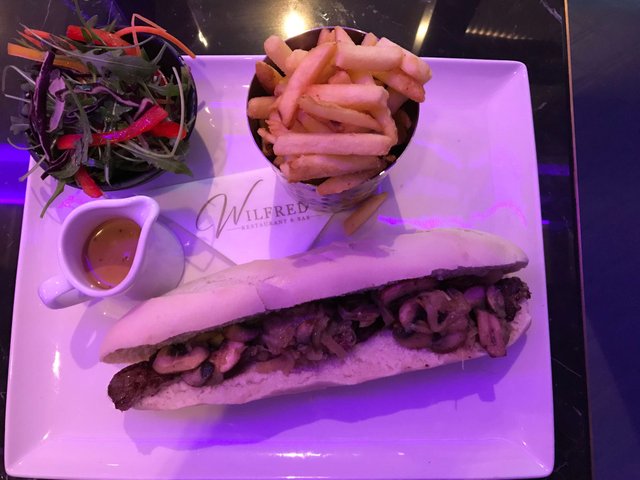 My steak sandwich looked the part and the first few bites were palatable.
Sometimes this happens with food, it kind of fools you into whispering, 'I'm good' when it's really not so good.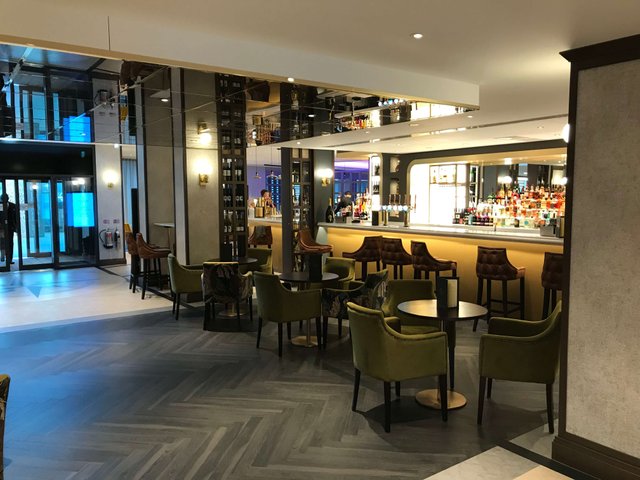 ...'a walk to the bathroom afforded me a non-pink photograph, hallelujah!'...
I found this 'Steak and Caramelised Onion' sandwich to be one of these charlatans.
The chips were decent enough but I struggled to finish the sandwich leaving around 25% on the plate.
I can't describe it any better than simply... boring.
What's with the gravy? Pouring gravy on bread leaves a sticky mess. I used it to dunk my chips; at least it had some use.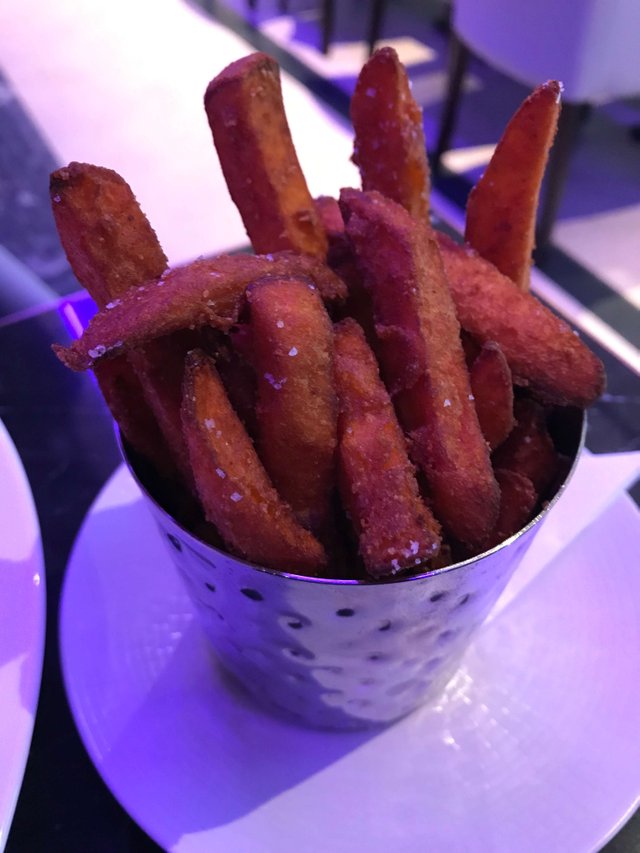 …'the salt shows up very well under… wait, is this ultra-violet light?'…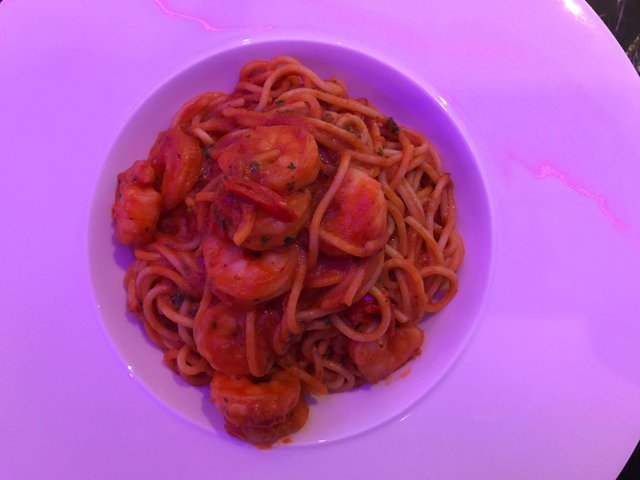 Meanwhile, @bingbabe was loving her 'Spaghetti Gambas Pil Pil a la' pink' (where do they get these names from) and finished the lot.
I can't say I tried it on this occasion so I will need to take her word that it was as good as she says.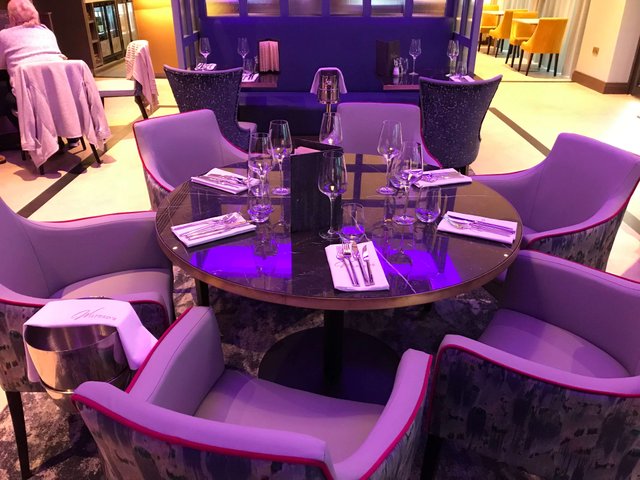 On leaving I was pissed. Almost £49 for 'ropey' food doesn't amuse me much.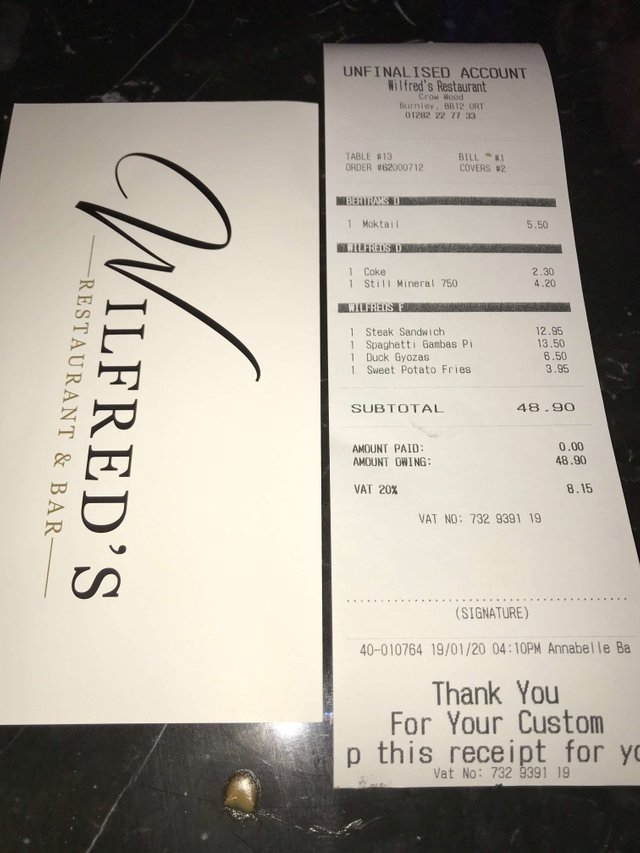 At least the bill is not pink. I took it outside for this shot. I'm sure you're all tired of my pink images by now, but just before I finish... here's another!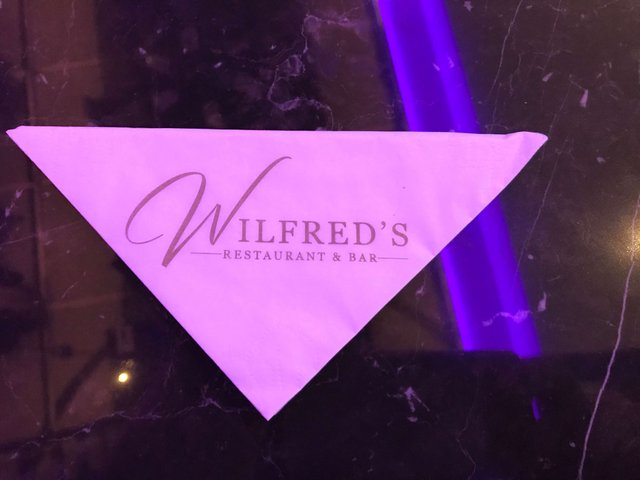 Go there for your Valentines' date if you dare, but expect to have deep pockets and leave the steak butty alone!
---
Restaurant Information

Wilfred's Restaurant



Holme Rd, Burnley BB12 0RT, UK
---
Wilfred's - A Valentine's Tasteem Review
This post participated in the Tasteem contest Be my Valentines ❤️