I had not seen my sister-in-law (late husband's sister)
@doana
in a while, although we talk on the phone every day or two. She was traveling from Tennessee down to North Carolina (in the US) recently to purchase some things she needed at a specialty store, and we decided to meet for lunch. Her destination was Asheville, which is about an hour-and-a-half from where I am currently, so we decided to meet for lunch.
She has become vegetarian in recent years, so I searched online to find a spot that would be suitable for both of us. Rosetta's Kitchen was not in existence during the twenty-four years I lived in Asheville, but seemed to fit the bill. Their online menu indicated a good variety and there was also an availability of parking nearby.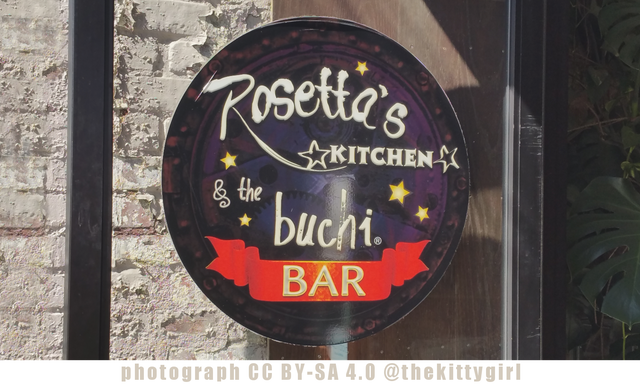 Hanging above the front widow and visible from the sidewalk was a large piece of driftwood, draped with miniature "fairy lights." Hanging from the driftwood were some charming dreamcatchers which were fashioned from old sawblades — or large gears of some kind, not sure what they are — and I thought the mix of fabricated-metal and natural materials was fascinating. I have been a fan of recycling even before it became the "thing" it is today, and this is a perfect way to recycle something old into something new!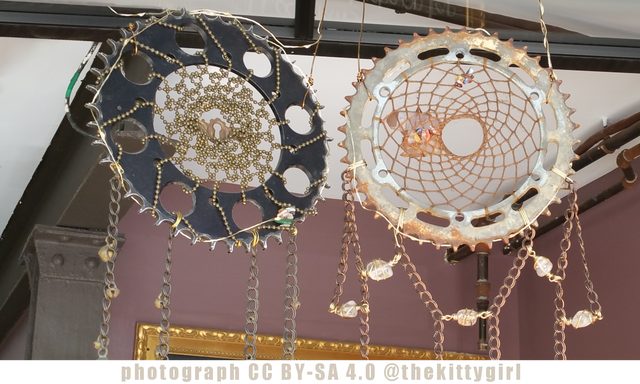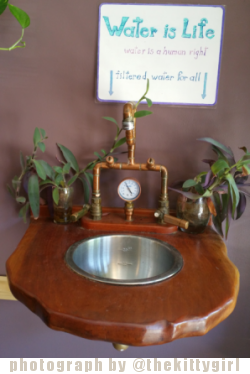 Although this is a restaurant, their vision of sustainability, eco-friendliness, and compassion are obvious as soon as someone walks in the front door. On the wall to the right is a quaint little water faucet Above it is a sign that reads:
"Water is Life. Water is a human right. Filtered water for all."
 Anyone who is thirsty is invited to drink, fill their glasses or water bottles, which is a wonderful thing!
Also, at the bottom of their menu is a message that says "Everybody Eats" and offers a meal on a "sliding-price" scale, where folks can order a nutritious meal of "organic long-grain brown rice and organic pinto beans served with your choice of tortilla chips or sweet southern-style slaw"  and may pay for it as they are able. I think this is a fantastic and compassionate option, and am very impressed that they are doing this!
Rosetta's Kitchen serves no meat, but only vegetarian and vegan fare. Most (if not all) of the food appears to be either: organic, fair-trade, eco-friendly, or locally-sourced. They have a wide variety of appetizers, entrées, soups, salads, sandwiches, sides, and desserts.
When I met my sister-in-law there, she brought along a friend of hers, and that friend brought along another friend... so there were four women having a wonderful time together! We sat in a cozy, corner-booth with a round table and it was perfect. My sister-in-law ordered the vegan "HEARTY CHILI" with a side of homemade cornbread, and said it was the closest thing to her late-father's chili that she ever had in a restaurant. Her friend ordered the chili and pronounced it equally tasty. My choice was the "PORTOBELLO PLATE" which the menu describes thusly:
An entire portobello mushroom cap marinated and grilled, served with sautéed kale, and your choice of either smashed potatoes or organic rice with gravy. Topped with grilled red onions.
I have cooked that very thing before, for a vegetarian friend who came to dinner a few years ago! It was so good that I have done it several times since, even though I am not strictly a vegetarian. Rosetta's Kitchen did a fantastic job with it! Their smashed potatoes were wonderful, the mushroom was great, and the kale was superb! I would not hesitate to order that same meal again! For drinks, we tried the Sparkling Lemonade, with was delicious.
The service was excellent! I especially appreciate the bartender/waiter's assisting with change for the parking meter! He was very patient with us as he took our orders and was always friendly and courteous. He definitely helped make our visit memorable!
While we ate and chatted, we enjoyed the wonderful atmosphere of the place. The lights were dimmed, and some fabulous chill music was playing softly. Very eclectic surprises awaited in every corner, from the lovely Sweet Shrub flower on the table to the "No Street Girls or Sailors" sign above the bottled-drink cooler. 😂

After the four of us finished out meal, my sister-in-law's friend and her friend departed for a shopping excursion at some of the nearby shops and boutiques, giving my sister-in-law and me a chance to visit more privately. We ordered desserts from their bakery upstairs. @doana had a Chocolate Chip Cookie with a hint of ginger in it; the cookie was enormous and she reported that it was very good. I had a slice of Blueberry Coconut Cake that was divine!

There was a saltwater aquarium across from the booth which was soothing to watch. There were beautiful fish in there —and seahorses!  I'd never actually seen a live seahorse, and they were fascinating to watch!
This is definitely a place I would enjoy visiting again! For anyone who is in the Asheville, NC, area of the US, here is the details of the place:
Rosetta's Kitchen
116 N. Lexington Ave
Asheville, NC 28801

phone: 828-232-0738
website: https://www.rosettaskitchen.com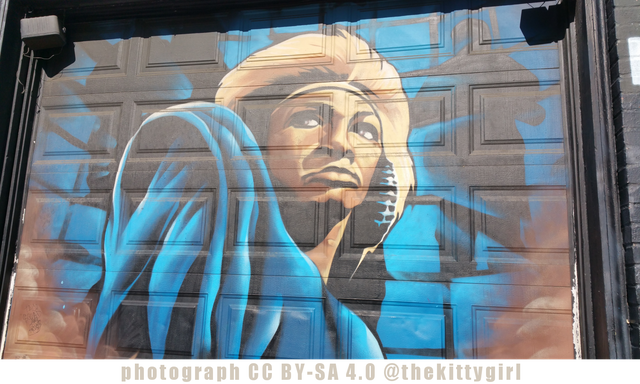 The above mural was painted on a wall a few doors up from Rosetta's Kitchen.

 😊
!steemitworldmap 34.598727 lat -82.553989 long Rosetta's Kitchen, Asheville, NC D3SCR




31-Aug-2019