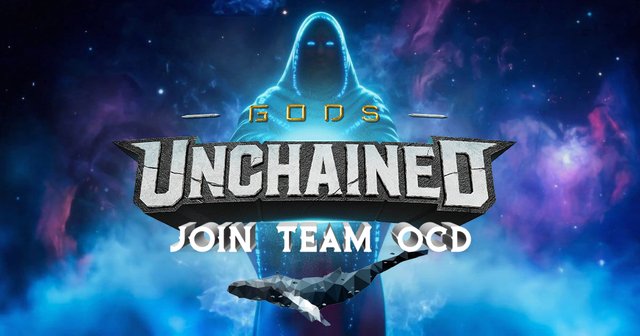 Source
Gods Unchained

Think about Magic: The Gathering and Hearthstone. Now imagine if those two awesome games had a baby that was FREE TO PLAY, combined crypto currency and the blockchain, made it so you own your cards and had the ability to trade and sell them for money, and you have Gods Unchained.
I played a TON of Magic and Hearthstone back in the day and when I saw the gameplay of GU, I knew I was going to fall in love with this game.

Source
There are 6 Gods that each have their own special abilities and decks. When you first start off, there are prebuilt starter decks to use to get you used to the different cards and abilities.
I have mainly been using the War God as I have been learning to play. The game plays much like Magic and Hearthstone, so it is a very familiar method of play. There is a lot of strategy involved, which I love about these types of games. I have been in matches where I was winning by about 15 and then my opponent plays a card that destroys all of my players and turns the whole match in their favor. It is refreshing to have a challenging game like this to play again.
Community Involvement

One of the great things about GU is that the community is involved in a lot of the future changes that are happening with the game. Each time that you purchase a Genesis pack, you vote on what changes you want implemented in the game.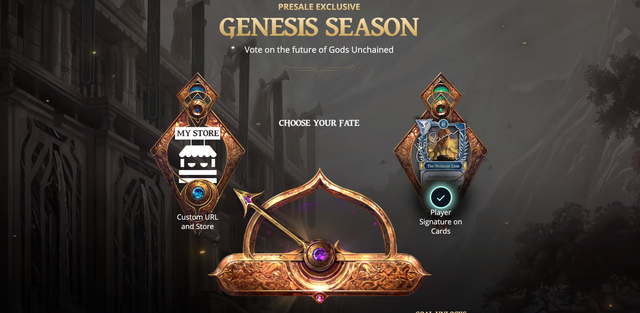 Source
Once a certain amount of ETH has been spent on packs, the votes are tallied and the changes are locked in for what the community wanted. I think this is a pretty awesome way to get the members of the community that are helping to support the game feel that they have a voice in shaping the future of the game.
The game is essentially free to play, and as you level up by playing matches against people, you get packs that you can open in your Temple. The packs you get from leveling are Core Cards that are parts of the base deck. When you first start out, you have a limited amount of cards to build your deck with, but overtime, you unlock cards to build a more powerful deck.
Right now, when you purchase cards with ETH, you buy Genesis packs. These packs can contain more powerful cards than the normal Core cards, and they can even be auctioned off for money.
I have gotten a few pretty cool cards in the packs that I have opened up so far.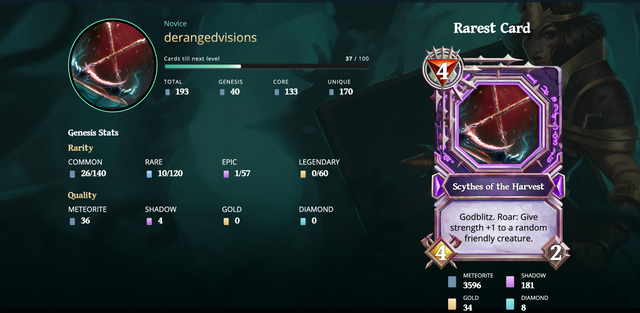 Source
The Scythes of the Harvest is my rarest card. When I opened it, it said it was one of like 74 cards in existence. So that means it is probably worth like 10 million bucks or something. I think it is more rare because it is an Epic and a Shadow Quality card. I am still trying to find out what all of the different qualities mean and if they even matter.
Join Team OCD

If you are a gamer and interested in being a part of the Gods Unchained team here on Steemit, we have formed Gods Unchained Team OCD. Right now the game is still in beta, so you will need a beta invite to take part. Here is the Team OCD Beta Invite. Using the beta invite for the team will give you access to the game, but also give the team more raffle tokens that can be used to support team activities.
I am going to be supporting the team with a portion of my @c0ff33a witness funds each month for team prizes. I want to do what I can to support our team and make it a fun experience for everyone to take part in.
I hope to see you in game. Join us in the OCD Discord as well. We have Gods Unchained channels where all of us nerds gather.
Thanks for stopping by. You are awesome!