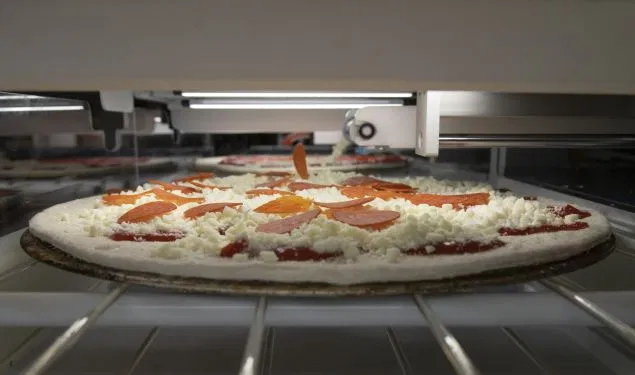 Source
Many talk about automation like it is in the future. The fact of the matter is that we are seeing it crop up all around us. Machines are doing more things than they ever did before. Human labor is being squeezed as technology starts to expand its reach.
The traditional pizza maker was an art in many parts of the world. Everyone loves a good pizza. Even in this industry, we are seeing a shift towards robotics. Automated pizza makers might be coming to a locations here you.
T-Mobile park is already put the automated pizza maker to test. During the month of September, Mariner fans were able to order pizza from this robotic pizza maker.
While there are still humans involved in the process, this is just another step forward in the race towards an automated world. As robots get "smarter", we are going to see them encroach upon more activities that humans perform. This is going to provide some discomfort as jobs are eliminated.
Of course, not all is dire. The fact that many boring, repetitive jobs are being replaced is not the end of the world. Since most people do not find much value in their work, according to surveys, it might be best if these jobs were automated away. Society will have to figure out a way to deal with the ramifications of the loss of employment but it might be time.
For decades, futurists have promised a day when we would have to work less since most of our basic needs would be provided for us. That day seems elusive. It is strange when you consider the fact that our productivity shot through the roof due to automation yet people still have to work an average of more than 40 hours a week to make ends meet.
Perhaps the fallout will cause society, as a whole, to look at our system and why we operate the way we do. As I step back, I see no need to have someone do a job that is pretty pointless if a robot can do it better and for less money. Of course, I am also against people starving to death so there has to be something else in place.
Personally, I feel Web 3.0 and cryptocurrency will be that replacement. Nevertheless, it is slow to develop so I hope there is time before the massive job losses start being incurred.
---
If you found this article informative, please give an upvote and resteem.