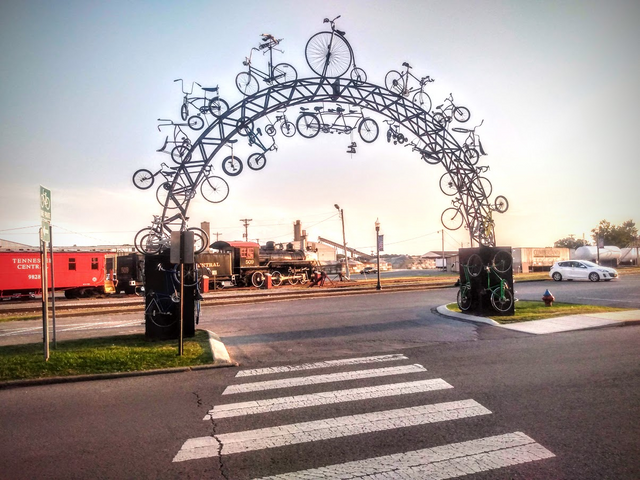 My Wednesday Bit
Some of you are aware of
@tattoodjay
's
#wednesdaywalk
he encourages people to do, right? Well, I had told Jay a while back about these bikes that made the entrance to the Train Depot and that one of these days, I'd take a few pictures of the artwork. So, that is my walk for the day. Not a long walk, mind you, but it takes a bit to get there and there was other walking involved lol! Here is a sort of panorama - I tried to do on my phone, but couldn't get it to work right, of the whole arch :P
Some Were Really Cool!
I found that some of these, probably most, were a vintage or antique variety. If you look at the top, there was even an old 'big wheel' one from the stone age. I really liked the 'Mellow Yellow' one and this blue one on the bottom that said 'Free Spirit'. Check 'em out!
Yellow & Blue Make Green
LMAO! Wasn't intentional up there, but kind of cool how that turned out. One bike really brought back a few memories. It was an old banana seat Buckaroo! My uncle had one of those and it was the second bike I had ever rode on around 7 years old. Anyone else remember those?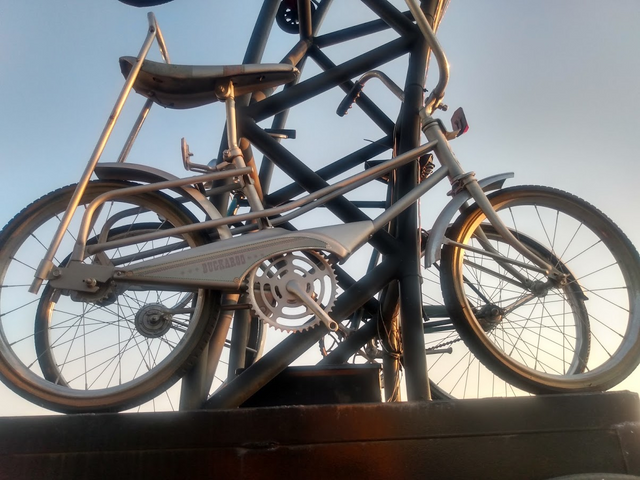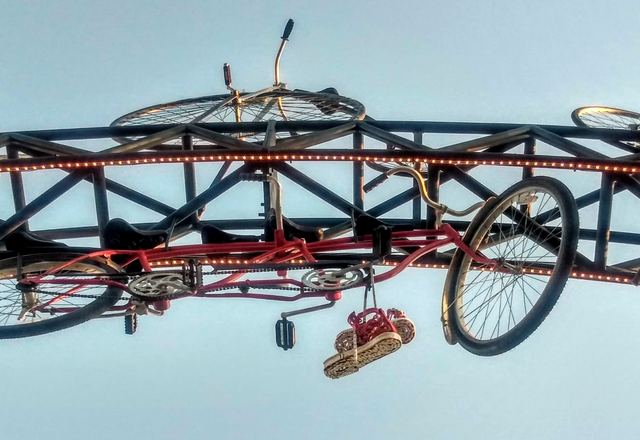 Check Out Those Shoes!
I know right? We used to throw our shoes up over power lines to kind of signify our 'territory' when I was growing up. Like, eh, yo, this our street man. Not just any shoes though, ones people recognized that we had worn. Anyway, if you look at these ones, they are actually made out of bike parts! I love the laces. I also made it a point to come back by that evening and try for a few pictures of the lights, but they didn't come out as well as I wanted. I show 'em to ya anyway though with some crappy editing.
Have A Great Day!
Love going to that place. Both rounds of my kids have enjoyed it too and when the boys were little, those bikes weren't there. Those were added right about the same time Luna was born. Makes it all the more nostalgic I suppose. But, whatever you may do out there, REMEMBER TO BE YOU! I always am, even when biking down memory lane.

🧠Zombie Tip #5 from @thealliance
Want to join us? Please read this first.
Want to support the fam too?
Join #thealliance curation trail!
Delegate to and use our caring bot - @alliedforces!
10SP - 20SP - 50SP - 100SP - 250SP - 500SP - 1000SP - 5000SP

Is Voting WITNESSES difficult?
Let me do it for you!
Set me as your PROXY VOTER!

@snook made this badass gif