I have been away from home for nine months already. I miss my family and my fur-babies. Yes! I am a fur-momma. While I was away, I had lost my adopted dog and three of my pups. And yesterday, August 1, 2020, I lost another pup. Five days ago, his sister died because of Parvo. It is a common illness for dogs. And now, he went after with his sister. From 12, my furbabies are down to 10—eight dogs, a cat and a kitten.
My Fur-babies
---
Since it was Saturday, I maintained my typical routine of waking very late. I woke up seven minutes to 1:00 PM. I messaged my sister right away and asked her about the condition of Dazai. I instructed her to buy this and that and on things she must do. Then, I cooked our meal. After cooking and eating, I had a love talk with my housemate. We were talking about her past suitors and it lasted for two hours. When I checked my phone, my sister messaged at 1:44 PM that Dazai died and I had read it at 3:29 PM.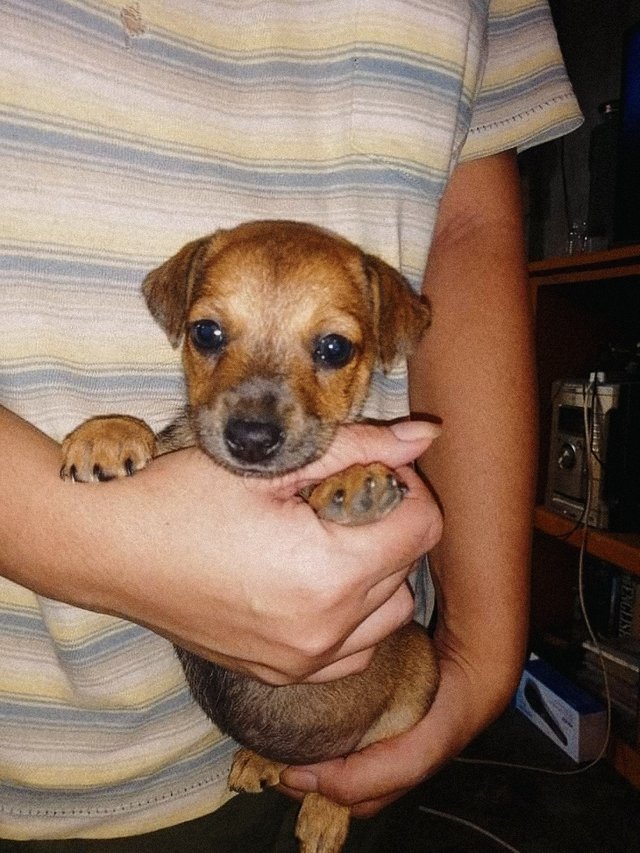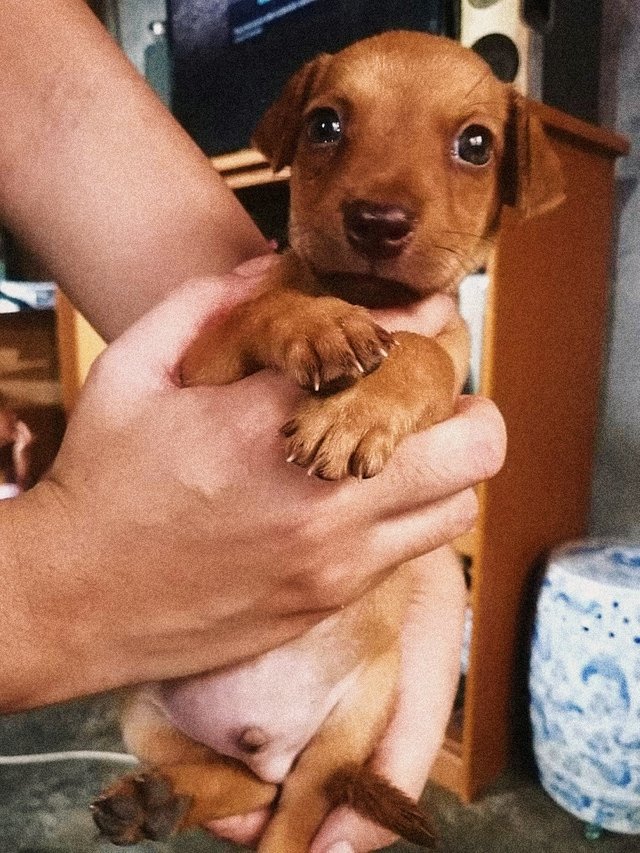 The left one was Yona and on the right was Dazai. They were the pups of my two doggos, Haru and Migi. They died because of Parvo. It happened so fast.


I cried. I had a great time while my baby was suffering. I thought he would survive because we had a video call a day before his death. I was hoping to meet Dazai and even Yona who passed away first when I go home later this year or maybe next year. I was scrolling through the pictures my sisters had sent on Messenger and Instagram. They were just two-months-old, and they had gone too soon. I was gloomy for the whole afternoon, thence decided to compose a poem dedicated to my two pups—Yona and Dazai.
Adoring this little star
Even when living from afar.
But this little one
Who I solely met online,
Decided to say goodbye
On the twenty-seventh day of July.
His brother was striving--
Enduring.
Five days later
His hazel-eyed brother
Went after her.
Siblings forever
Crossing the rainbow bridge
Together.
Korean Food
---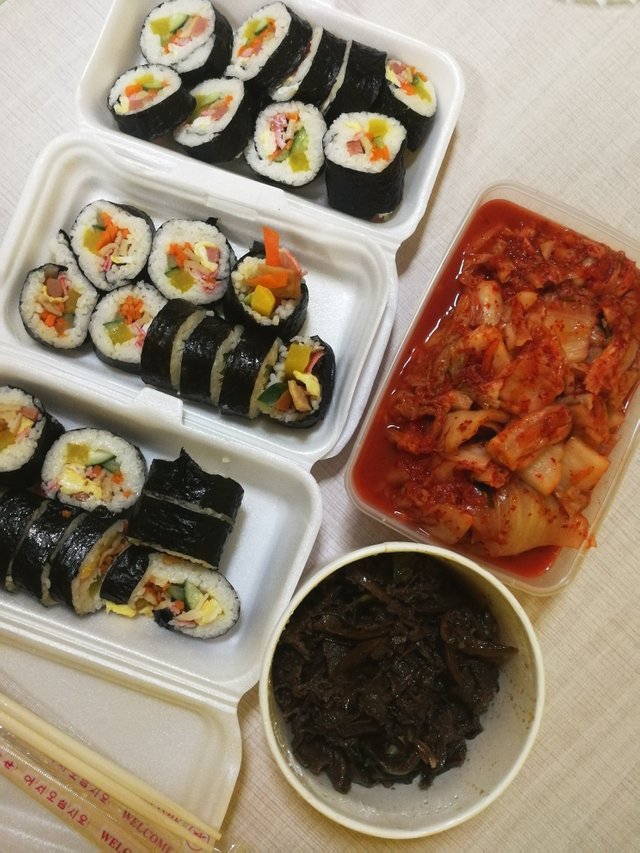 I've been craving Kimbap since June but I didn't order because I have to save money. But this time,I had to order because I needed it.


After that, I ordered Korean food — my comfort food. I ordered one kilo of Kimchi, three sets of Kimbap, and a Bulgogi. I scheduled it for delivery by 6:00 PM when it starting raining so hard. I was thinking that the sky is lamenting with me. Several minutes passed, the seller messaged me that the driver was stranded because the area was inundated. Subsequently, the driver returned the foods to the seller. Argine asked me if we should prepare noodles instead, but I was very hopeful and said that we should wait for the orders. The seller was nice. She told me that she would deliver the food when the rain subsides. Unluckily, it kept raining. She sent a screenshot to notify me that she booked a special delivery with a fee of Php 212 shouldered by her alone. I replied that it was too expensive, and we should divide the expenses. But she insisted because I had availed the Free Delivery promo. She even gave a tip for the driver.
My day was blue, and I needed to eat something delicious. It was already 8:00 PM and my stomach was already growling. I munched four slices of bread to ease my hungry stomach. By 8:27 PM, the driver called, and I couldn't be happier. I gave him a tip even though the seller had given him already. I was extremely grateful that the food was delivered amid the heavy rain. I messaged and thanked the seller.


Fire
---
While I was preparing our food, we overheard voices. We thought that there was a party going on, not until we heard the fire truck. The voices became screams. There was a fire amid the weather. It was two-house away from our apartment. And the neighboring establishments of that house were a gasoline station and an LPG store. There was turmoil. Firetrucks kept on coming. Thankfully, the fire didn't last long.
We had a feast while there was a fire going on. We filled our empty stomach with delicious foods. If anything happens, at least we can run with a full stomach, right?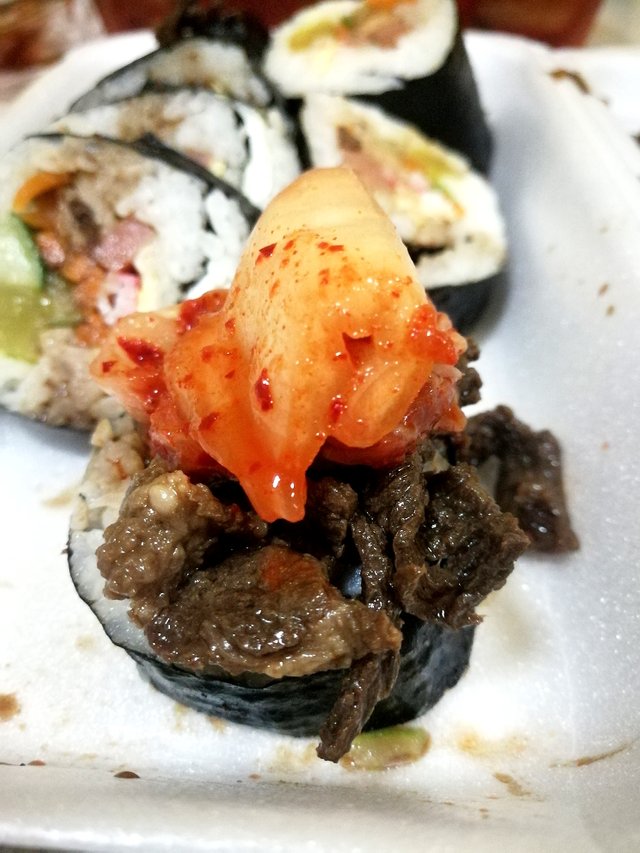 I put Bulgogi and Kimchi on top of Kimbap. I also had an extra rice paired with Kimchi and Bulgogi, too.
My August first had been a turmoil, both in mental, emotional and physical aspects. The comfort food may not be able to wash away the pain of my dog passing but it surely consoles me. I just hope my 12 dogs in heaven are now running free with no sufferings from a disease.
---
This is my entry to THE DIARY GAME. Thank you for the great initiative @steemitblog.

I have been cross-posting before this challenge started, photography and travels. As I have read the challenge and the rules over and over again, I decided to partake as it would be a great way to share my daily activities and other stuff. I am looking forward to being more active here and if I missed a day, as per instructed, I can publish twice the following day.

To know me better, you can check my introductory post: Hello Again, Steemit!
Writing should be fun and healing. Let's have some fun writing our open diary.
---
K N E E L Y R A C