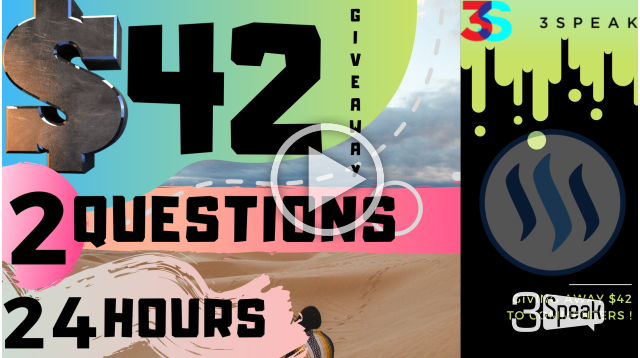 ---
Hey Guys !
I'm back here with another video for you all and this one is really an interesting one as today is my turn of using the 3Speak's staked votes :)
Firstly I would like to thank @threespeak for giving me this amazing opportunity to reward people for their efforts for adding value to STEEM and helpin me grow my audience with engagements :)
SO now what you need to do to get the votes from me ...
Well I do have $42 to giveaway on comments and the max I can give at each comment is exactly $4 .
In order to make your effort count you just need to answer 2 questions as a comment below this video only :)
Here are the questions -
Q1 - What Are Your Feelings Regarding 3Speak ?

Q2 - Give Some Suggestions For 3Speak
( PLEASE WATCH THE VIDEO FOR DETAILED INFO. )
---
Please take your time towards writing your thought, don't hurry :)
I will be going all the way up to the $4 votes :)
I am really very curious to hear from your side :)
In addition to that, I'm gonna give atleast $1 to every relevant comment !
Thanks For Stopping by :)
I'll be back very soon :)
---
▶️ 3Speak