Reward Your Followers
Every day one of the top 30 creators on @threespeak will have the privilege of taking control of the @threespeak's account in order to reward their best followers.
See the Leaderboard for the users who can use 3Speak's voting power. In order to win this opportunity, you have to consistently create valuable content of high quality that is widely viewed to make it into the top 30 creators. The idea behind this is to make sure that creators, especially those with followings outside of Steem are incentivised to ask their followers to come accross to Steem and comment on their blogs.
This works on @threespeak since we have implemented a proxy account commenting system whereby users do not need a Steem account in order to comment on @threespeak!!
First Run
We recently had the first run of this feature. @Exyle was selected as the first month's winner and he has made the best use of it. Let's find out how:
He asked people about what they think of 3Speak as a video sharing platform. Have a look at the video below: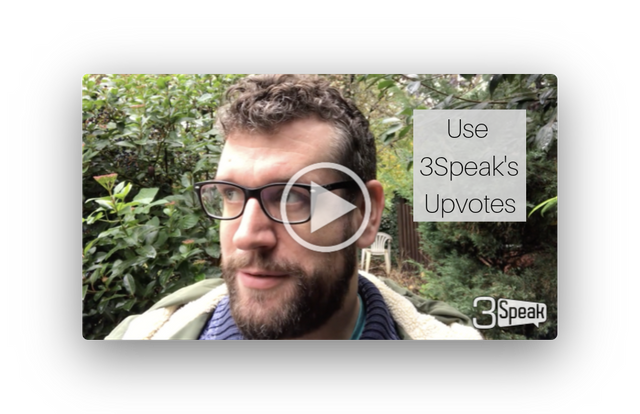 ?? Watch on 3Speak
This post has got 108 comments in total with upvotes worth more than $50 by @threespeak, @exyle and other Steemians. Check out the top 5 comments: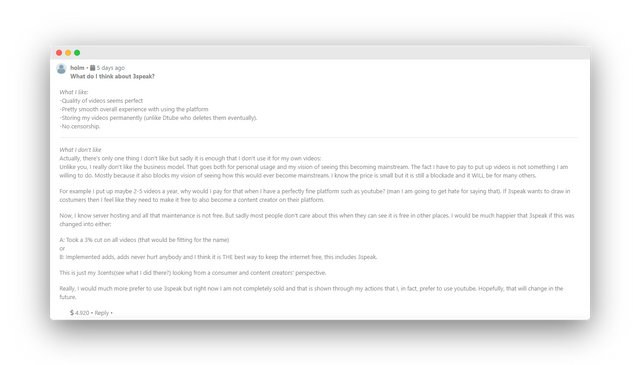 by @holm

by @gillianpearce

by @flauwy

by @eltrompetista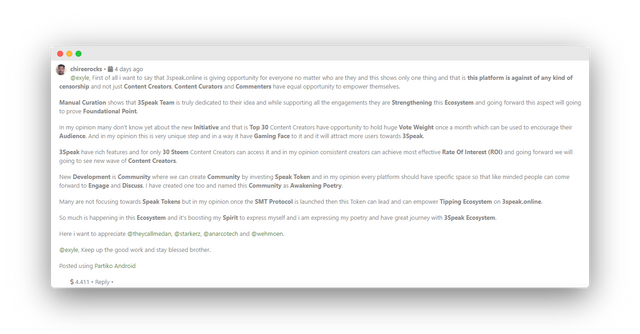 by @chireerocks
Special thanks to @exyle for utilizing this opportunity and everyone who provided their valuable comments on the video. Our aim was to improve engagement and that's what happened. On top of all this, we got great feedback. We are happy to see everyone pouring their heart out & setting the right expectations from the platform. If not all, we will try to add as many features as you guys have asked. Good thing is that our devs are already working on some of them. ;)
How to Use
This featured can be used (not limited to) for the following ways:
To get exclusive feedback from top users and customers.
To reward your most active followers.
To attract new viewership due to greater visibility.
To boost video views and overall watch time.
---
We will continue to release new features and updates on 3Speak. Keep the Feedback coming and keep creating. ;)
---
---
Discord
Rate Us Here
Dapp.com - https://www.dapp.com/dapp/3speak
State of the Dapps - https://www.dapp.com/dapp/3speak
Follow Us On Twitter
https://twitter.com/3speakonline