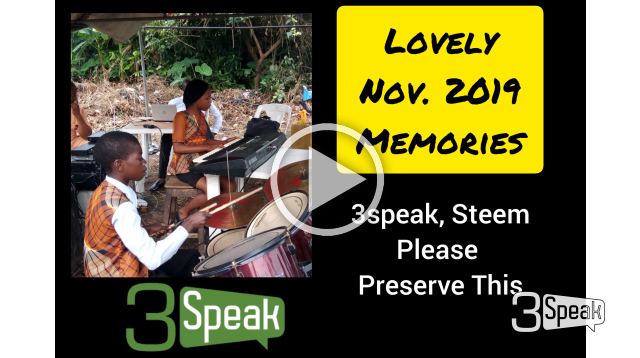 ---
November 2019 was awesome though challenging. However, there are awesome memories that keep thrilling my heart each time I remember.
Between 15th and 17th November, I spent the weekend in Rivers State for a gospel city wide crusade. It was an awesome experience with much thrilling and heart Warming testimonies.
There was a mighy move of God and families, marriages were restored to God's glory.
One unique thing about that visit was these young hearts that are given to dedication and did performed skillfully on the musical instruments.
Having directed a Choir for about 10 years, it gladdens my heart to see children take up a challenge to be skillful.
Certainly, they may not be at their best at the moment, but a time cometh when they will grow and gaining these skills at this young age is an added advantage.
Watching the young girl on the keyboard and the young man in the drums set was thrilling. I couldn't help but had a shot of this and I'm glad to store it on 3speak and Steem.
Memories stored on Steem Blockchain are worth the keep because apart from the value we draw immediately, #freespeech and #nocensorship helps us keep these memories alive as long as the blockchain remains.
I'll be glad to use the link to this video share to encourage and challenge other young minds to stardom each time I have the opportunity to do so.
I remember the words of Yang that "we need to prepare a great future for our children".
I imagine these ones grow up to see how much they were celebrated. This would actually spur them for more greatness.
I will also try my best to raise supports for these young minds in their education and to further their Skilling on these musical instruments.
Trust me, they'll own a steem account each soon and you will be thrilled to have a view of their shares to inspire the world.
Always remember, our contents are not just mere words, they are pieces of our lives.
Please subscribe to my 3speak channel and watch other thrilling videos.
Something BIG is cooking for those who engage my videos. Another bunch of rewards are coming in few days.
---
▶️ 3Speak