Up The 101 HWY N: Mystic Meyer's Creek Beach and Cape Sebastian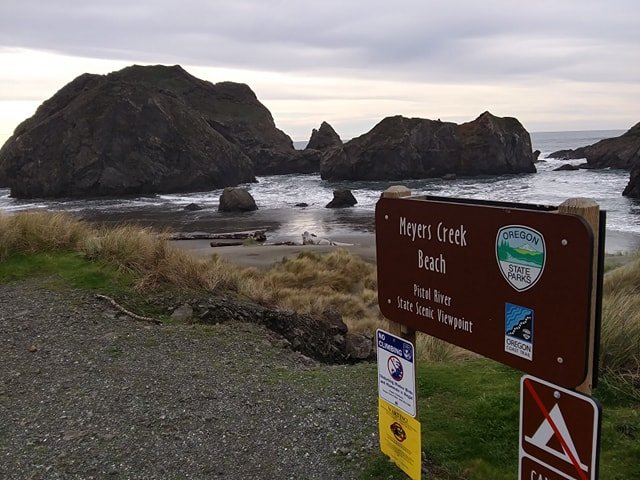 I want to take you on a journey, traveler and nomad. I want to inject you onto the map at the location of my choosing. I want to do this by sharing photographs of locations that I visit and writing a little bit about them. This will be a combination of personally visited locations captured in photography, and descriptive/creative writing. The over-all goal, is to have fun, and see the immaculate design of the planet on which we live. So embark with me, and hopefully we can have some fun!
You can really see the landscape in this photo. Keep an eye on the rock formations that stand, with prestige, similar in shape to some of the red-rock formations that one could find in Utah.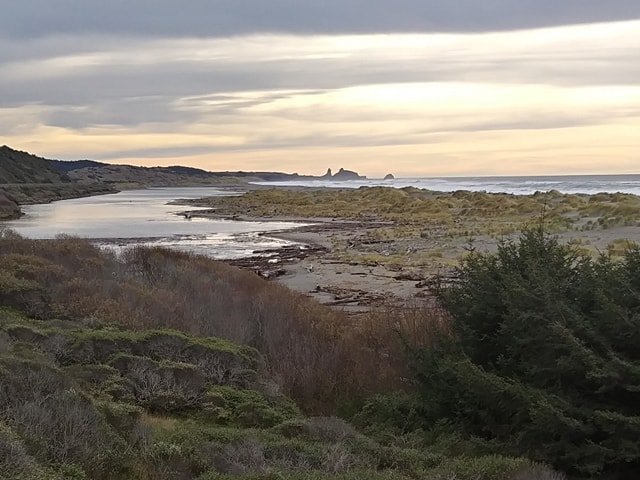 Back up the Pacific Coast we went! We take this trip once a week, from Coos Bay, Oregon to Brookings, Oregon, and then we drive back. It is about 130 miles, on the Coastal HWY 101, Oregon. We were pressed for time, I was able to capture some really great photos of the majestic Pacific.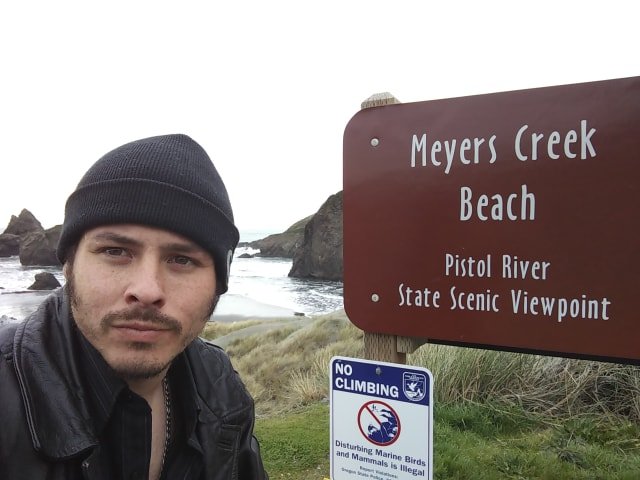 Welcome to Meyer's Creek Beach. Meyers Creek Beach sits in Pistol River, Oregon, between the small coastal cities of Brookings and Gold Beach. The area is tremendously beautiful and the ocean is prestigious and magnificent. Don't be fooled, though! The Pacific Ocean, is perilously dangerous and cold. The locals here (including myself from time to time ;P) swim in these frigid waters, and surf. One of my favorite things to see in Pistol River are the windsurfers.
This, next photo, was taken just a little further north going down the highway. If you look closely, you can still see the same rock formations, jutting from the ocean in the distance.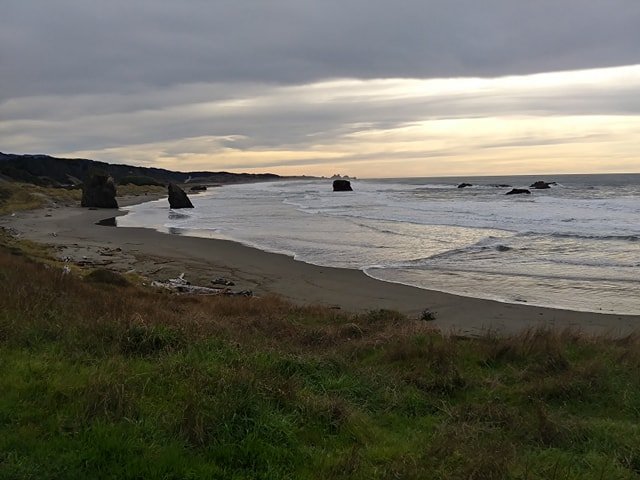 Windsurfing, is like surfing, if you attached rocket-engines to your surfboard and rode it standing up. The surfboard, has a sail on it, similar to a sailboat, that captures the power of the wind. The forces of nature propel the windsurfing daredevils up to incredible speeds.
On a windy day, as you are driving by, you will see little two legged-seals, standing on these boards in their wet-suits, skipping at 60 MPH across the top of the waves! It is incredible!
After stopping at a few locations to snap photos, I went up to a high point, called Cape Sebastian. The pictures I have don't do the site justice, but I tried to capture it the best I could. Just know, that we are hundreds and hundreds of feet above the beach. Once again, if you look closely, through the layers of water suspended in the air, you can still see the same rock formations, sticking up into the southern Pacific sky.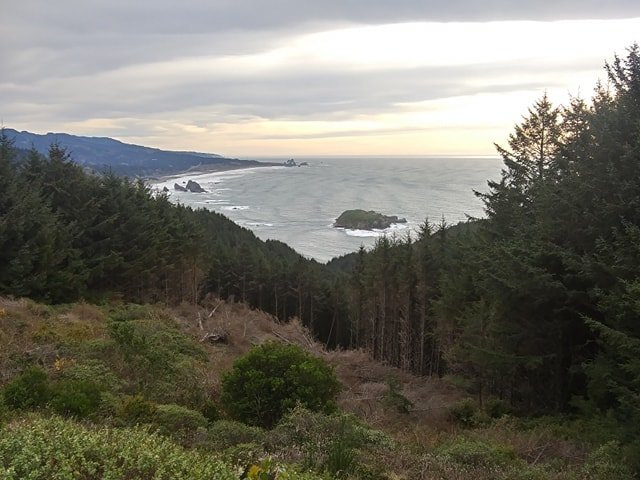 The eyes can not help but drink in the landscape. From this height, a person can analyze miles and miles of water as it sloshes like Zeus' giant bathtub. I want to draw this, with a giant Poseidon, rising wrathfully with a colossal title wave in his wake.
To finish this article off, here is a photo, taken facing north (the direction we were headed) rather than south (as in the other photos, previously displayed). This one is also from the top of Cape Sebastian. It better captures the height of this location, and also shows the northern surf.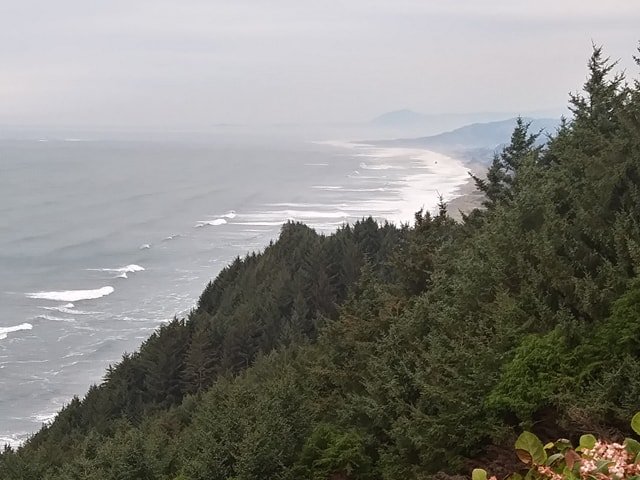 I imagine that Zeus had added some Lore'al bubble bath to his bath-water and that Poseidon got home from a long day tormenting ships and such, wanting to relax. When he found Zeus, playing with a rubber ducky, giggling to himself. Poseidon was MAD and began splashing at Zeus, who got up and left, but, not before the bubble bath had turned to suds and fluffed up the entire north side of our bluff!!!
I know, that whole last bit was reaching, but it's what went through my head, so you either liked my take of Greek mythology, or you didn't. If you didn't, I will not be inviting you to my next visit to the Spa & Bath, which will happen NEVER, so I guess no one really loses, right?
OH YA!!! HERE'S SOME MORE ROCKS, SO, ON YOUR WAY OUT OF MY POST, GIVE ME A FOLLOW, AND THEN KICK'EM!!!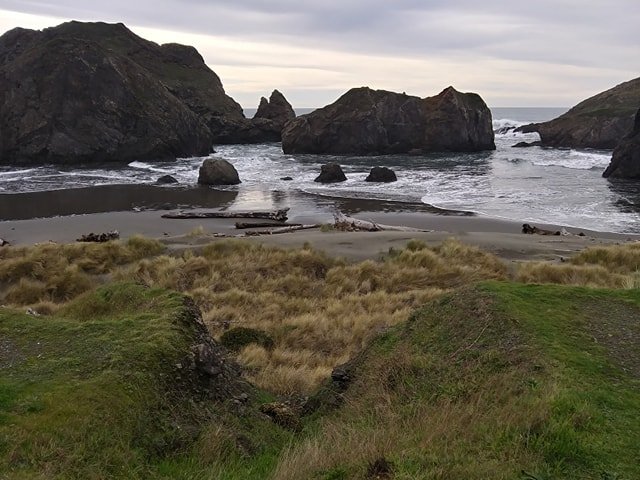 I hope you enjoyed.
-Article by Jonathan Caleb Williams @badseedalchemist
---
View this post on TravelFeed for the best experience.