Brief History of Wat Arun
Our first stop from today's hop-on-hop-off tour was a monumental landmark here in Bangkok, Thailand. Wat Arun, also commonly referred to as "The Temple of Dawn," is a Buddhist temple (wat) in Bangkok's Yai district, located on Thonburi's west bank of the Chao Phraya River. The temple derives its name from the Hindu god Aruna, often personified as radiations from the morning sun. Wat Arun is among Thailand's best known landmarks. The first light of the early morning sunrise is said to reflect off the surface of the temple, creating a pearly iridescence. Although the temple has existed from the 17th century, its distinctive prang (spires) were renovated in the early 19th century under the reign of King Rama II.
Over 300 years old, the ancient temple dates back to the period of the Ayutthaya Kingdom when the capital of Bangkok was located on the west side of the Chao Phraya River. The architecture of the temple and its accompanying pagodas are considered one of the greatest and most beautiful stupas of Thailand's historical Buddhist relics, resembling the countries Buddhist upbringings under various King's during the 17th, 18th and 19th centuries.
Pictures From Today's Excursion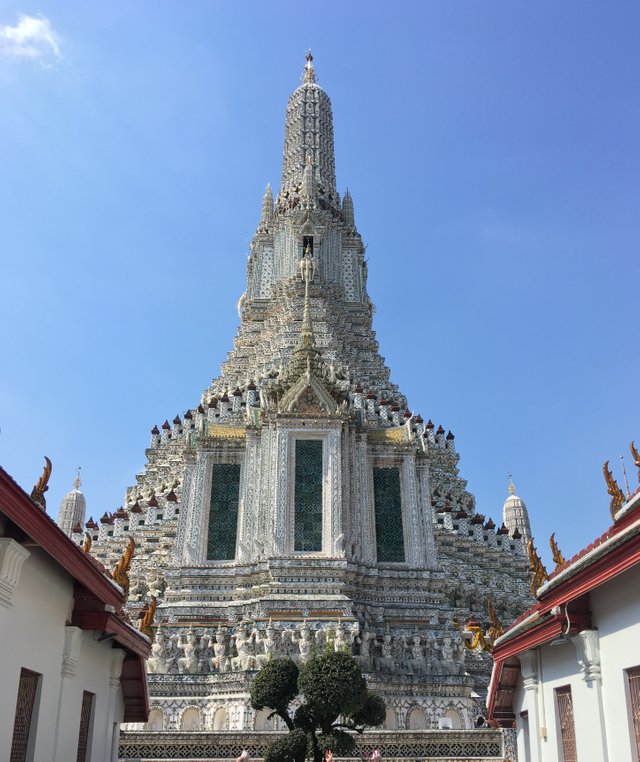 View of the Temple upon entry (50 Bhat)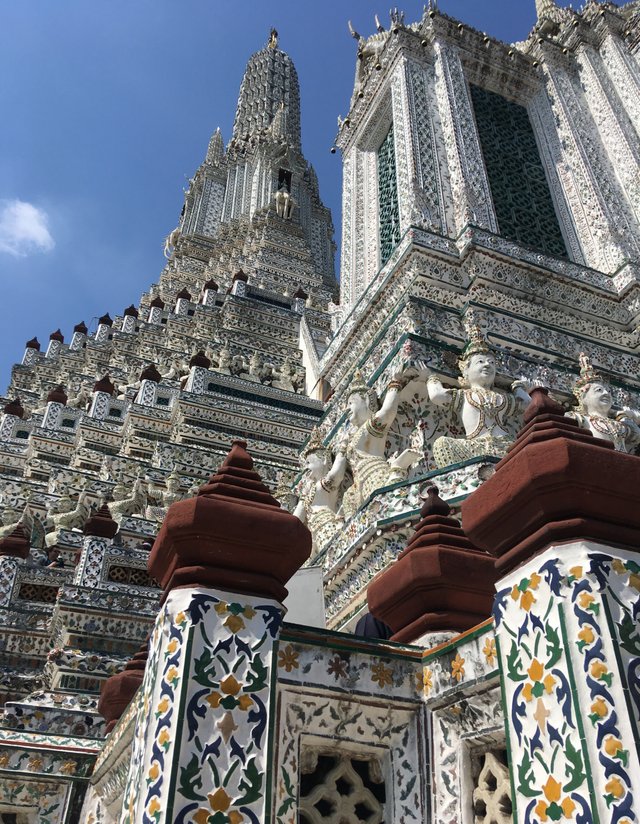 Close up of the main pagoda - Temple of the Dawn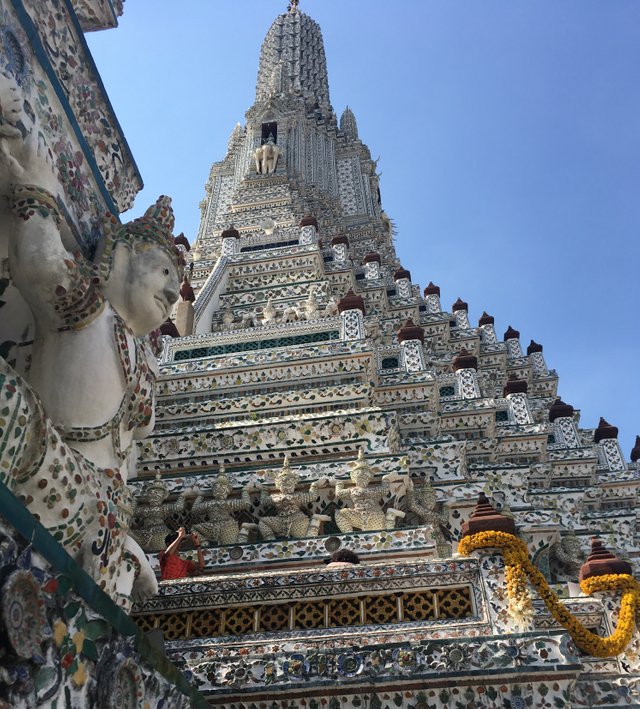 Side angle view of the main pagoda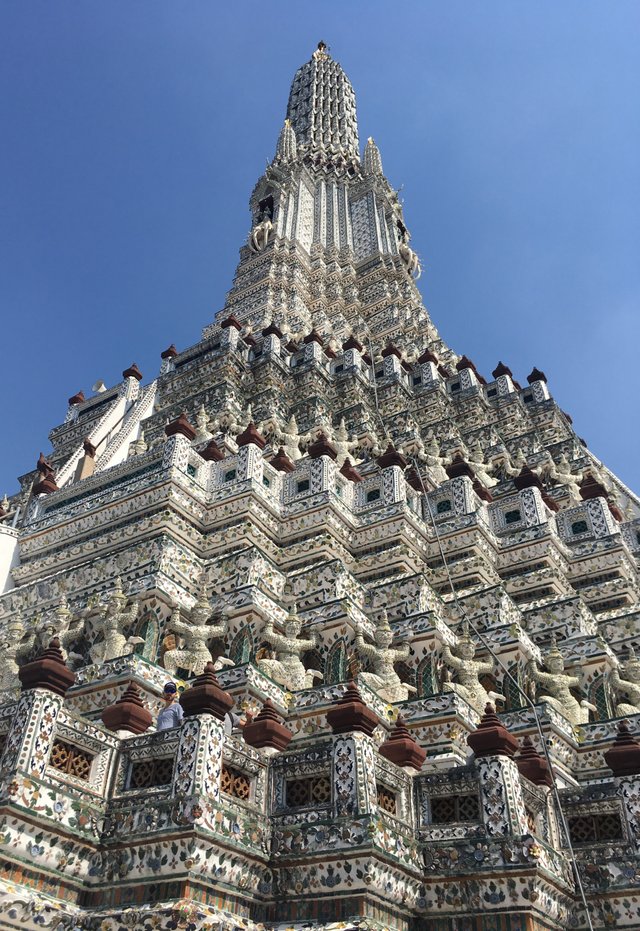 View toward the top - don't strain your neck!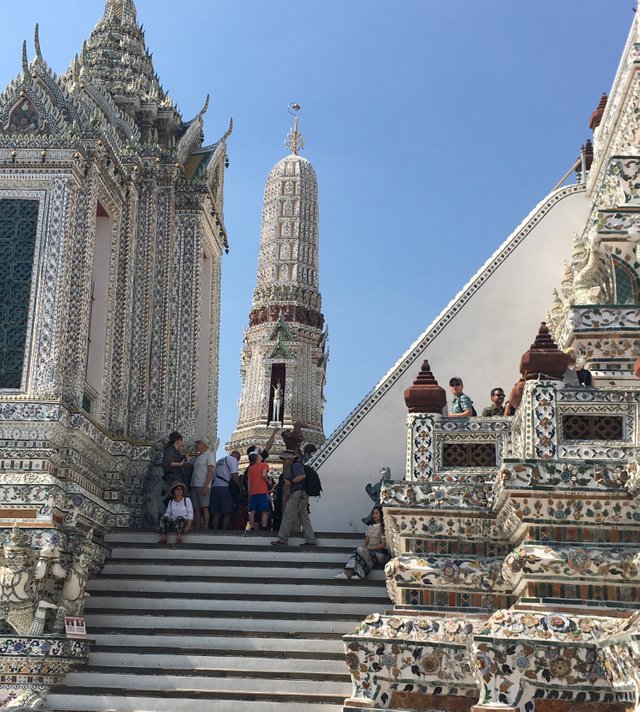 One of the smaller pagodas in the background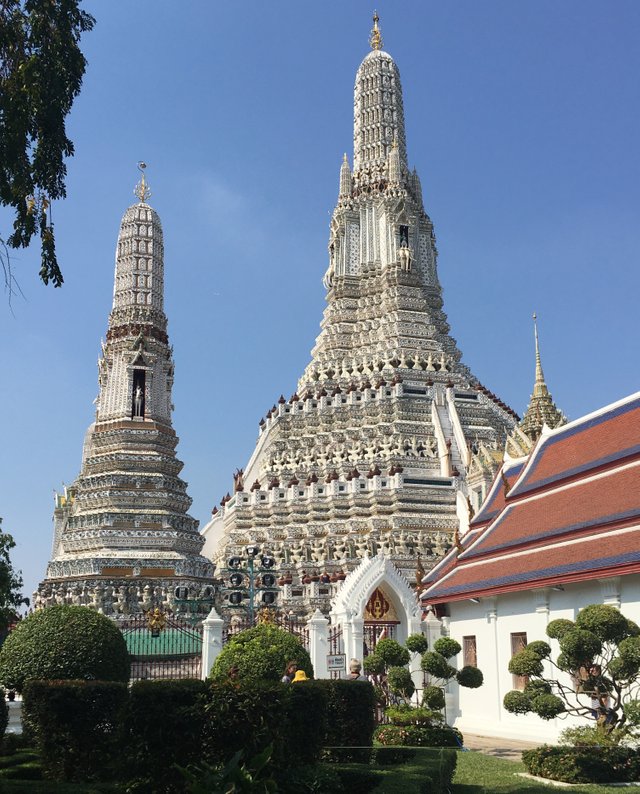 View from outside the ticket entry gate
Thailand's Most Popular Attraction
According to the Thai lady at our hotel, Wat Arun is the signature monument Bangkok is most well known for. I don't know if this is accurate or not because there are plenty of other temples, monuments, Buddhas, etc. The Grand and Golden Palaces are also located in Bangkok's old town as well. There are so many attractions here it is truly unbelievable, making it difficult to rank them from 'least to greatest.'
Getting to actually see the Temple of the Dawn up close and personal with my own two eyes was an extraordinary experience. The intricacies of the spires were immaculate and seemed to get more and more intricate the higher up the 82 m ornate structure you looked. Truly remarkable the number of monuments that are in the most random places walking through the streets and alleys of Bangkok.
Stay tuned for part 3 of this 3-part series where I will discuss further our trip to Chinatown from earlier today.
P.S. - If you look closely in one of the photos, you will be able to see me. Have you spotted me yet?
Let me know in the comments once you do!