In this post, I continue yesterday's Chao Phraya hop-on-hop-off 3-part boat tour series discussing our adventures through Bangkok's Chinatown, commonly referred to in Thailand as Yaowarat. Before I continue, post one of this series may be found here while post number two may also be found here.
Post one was just a brief overview of the Chao Phraya River tour, also highlighting the upcoming posts in the series to follow
Post two detailed our visit to Thailand's monumental Temple of the Dawn, locally referred to as Wat Arun
Brief Overview of Yaowarat
This area, located in Bangkok's Samphanthawong District, is heavily populated by Chinese-Thai people, mainly originating from the Chinese Teochew immigrant population. This trade area, which is one of the largest Chinatown's in the entire world, has been around for more than a century, serving as a business district to Thai and tourists alike. The area offers copious shops such as gold shops, small retail vendor shops, numerous street and restaurant food options, and more. Yaowarat Road is also known as the road that never sleeps because it is filled with a wide variety of shops and delicious restaurants open late into the night, especially on the weekends.
Our hop-off at Chinatown
We started at Wat Arun and ventured our way back on to one of the five hop-on-hop-off ferries leaving from each of the nine piers every 30-minutes. A short wait, and we found our way back on the water taking in scenic views of Bangkok's downtown business district such as the one featured below.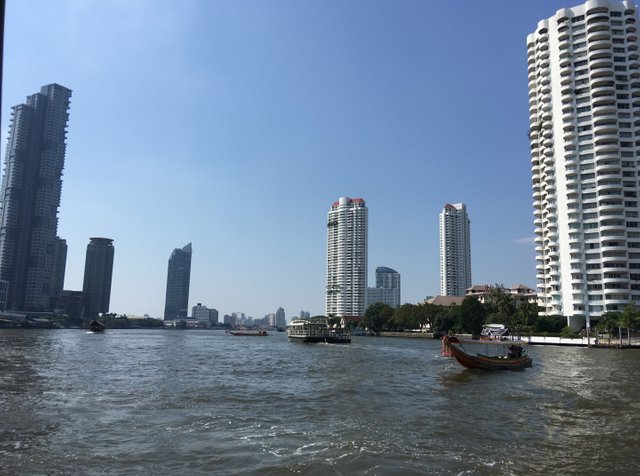 View from the Chao Phraya aboard the hop-on-hop-off ferry
When it was time to hop-off the boat, we exited at Ratchawongse Pier. We took a short tuk tuk ride into town and then got off to walk around for a bit. We stumbled off the main road, getting away from heavy traffic and countless bike tours taking place throughout the city streets. We found ourselves a nice little back alley way which consisted of people's homes, small local restaurant joints, and small local businesses with Ltd. credentials.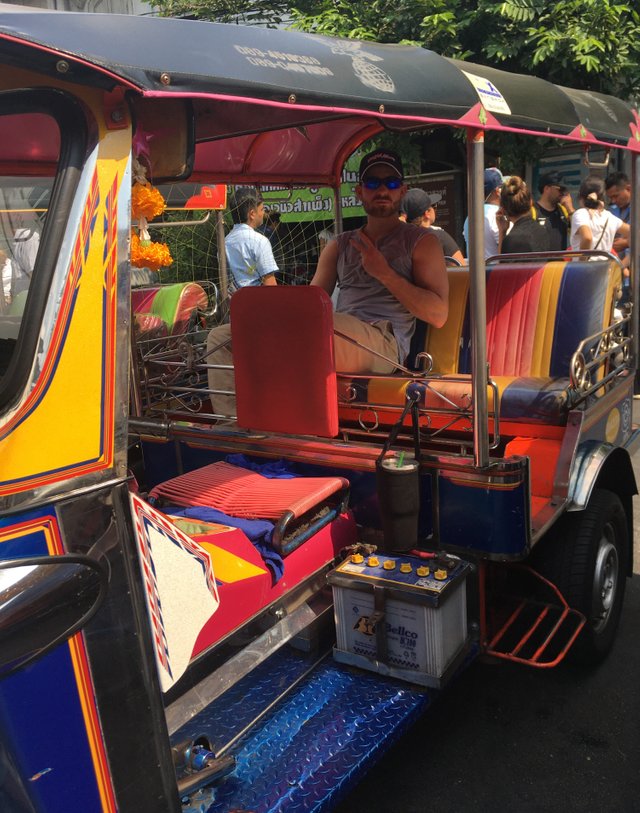 Chillin' in the back of the tuk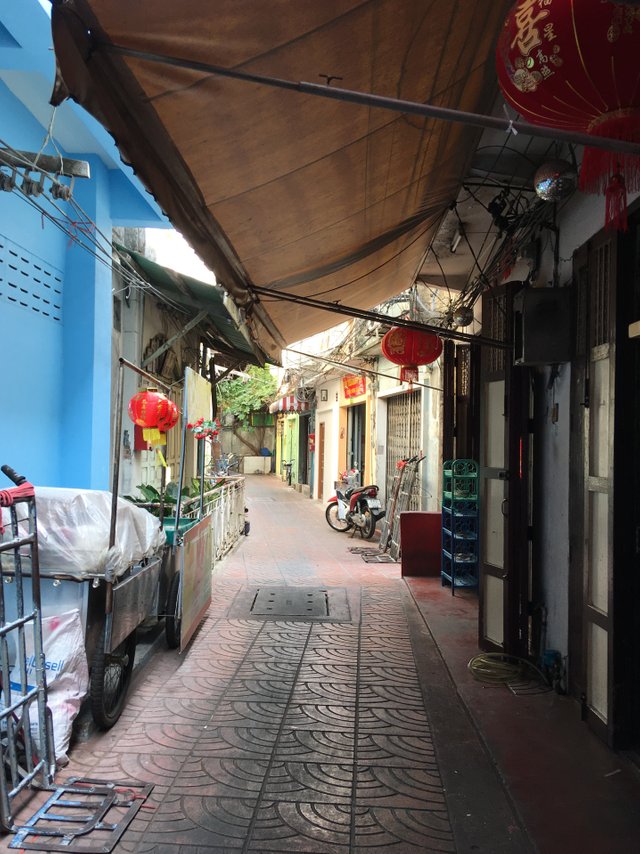 Entering the quiet backstreet away from heavy traffic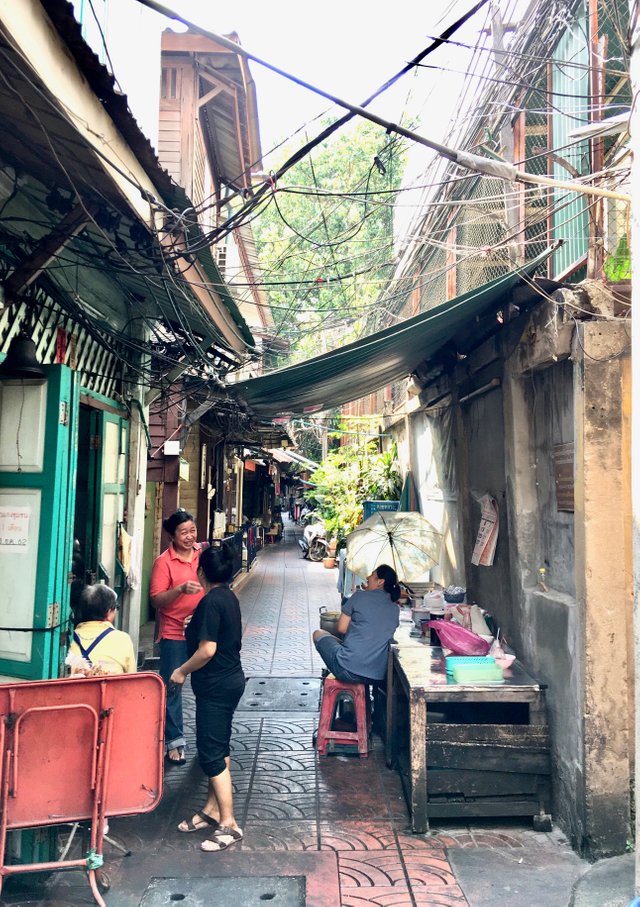 Local restaurant owners chatting it up outside their shops
The alley was narrow, yet motor bikes still zoomed their way through. The alley way was full of cultural essence. Passing by numerous doorways, I often found myself peering into people's homes as they sat and enjoyed their lunch, watched television in their open living rooms, or prepared a meal in a traditional manner. Many times I didn't know what I was even looking at, but I took everything in as I passed by, stopping from time to time to take a more in-depth look at something that caught my eye.
We continued walking the backstreets for some time looking for a place to eat. We ended up stumbling into a market area. Each row of the market had its own unique niche. One row was dedicated to solely shoes, another was for hats, etc. It was definitely the retail area, and not quite what we were looking for. We were hungry by this time, as it was already going on 2 pm. We found ourselves to the main drag after fighting our way through a sea of people.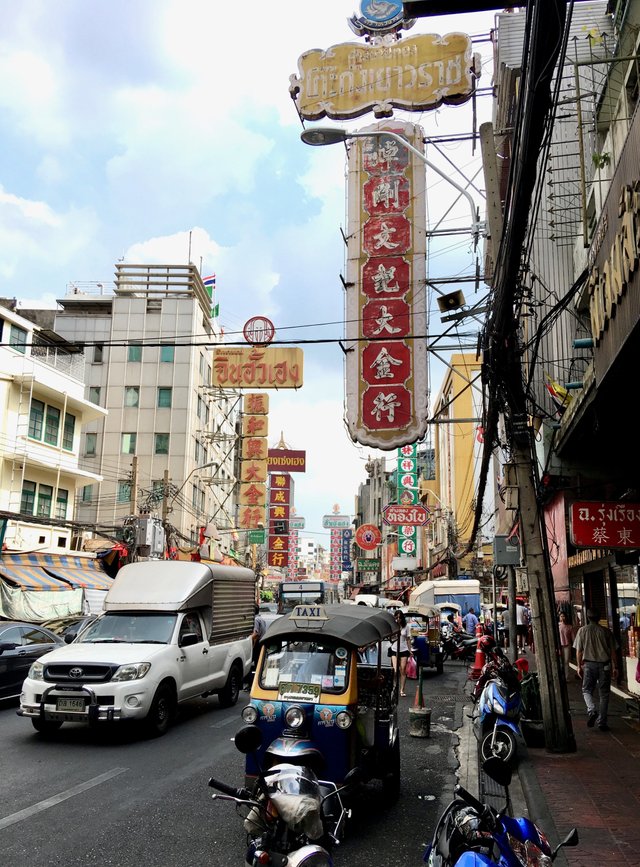 Thai Chinatown, Yaowarat Road
We ended up finding a place along the main road. It was very busy, filled with many locals, but also some tourists, too. The restaurant was inside and off the road, plus it was also air-conditioned. We decided to sit down. The temperature outside yesterday was in the low 90s. Hot, hot, hot.
We ordered some food and a couple local Thai beers.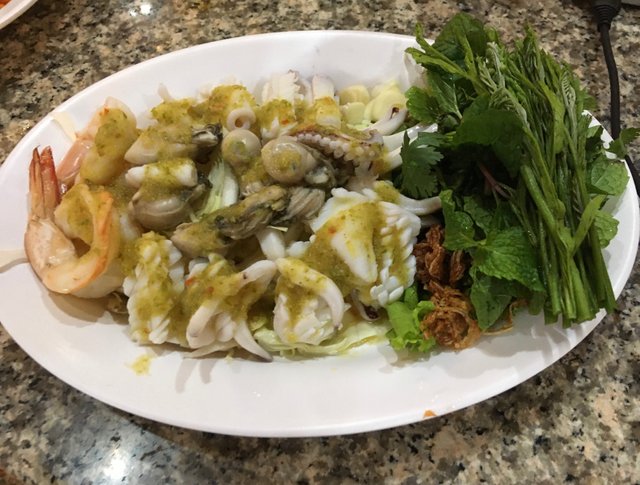 Shrimp, squid, oyster salad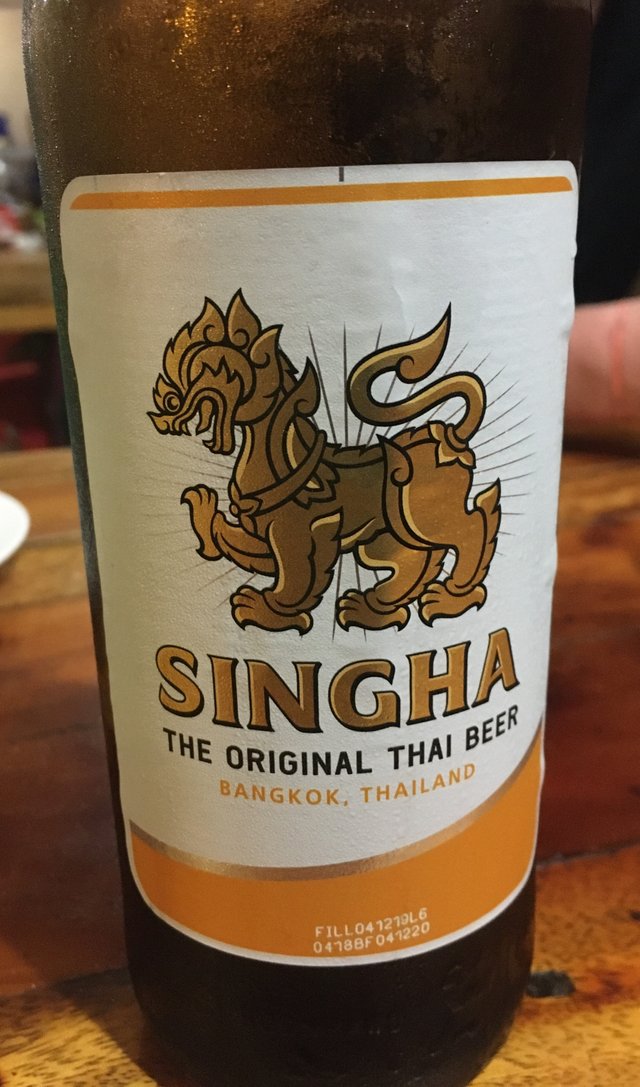 Singha local Thai beer, Bangkok, Thailand
I hope you enjoyed this short, 3-part travel series. If so, then please do upvote and resteem to help spread the word out about my current travels through SE Asia.
Thanks for reading & see you next time!