Read "Two Lover's Point- Guam" on TravelFeed.io for the best experience
---
Here is one tourist spot at Guam called Two Lovers Point or Puntan Dos Amantes. Our family friend decided to bring me here when I traveled to Guam to take an exam. The park admission is 3 USD.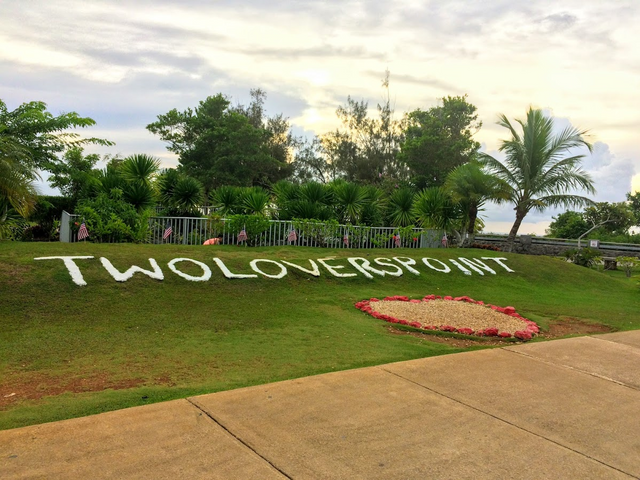 Here's the Legend
"Long ago, in the time when Spain ruled Guam, there was a proud family living in Hagatña, the capital city. The father was a wealthy Spanish aristocrat and the mother was the daughter of a great Chamorro chief. The family owned land and were held in high esteem by all, Chamorro and Spanish alike.
Their daughter was a beautiful girl, admired by all for her honesty, modesty, and perfectly natural charm. Her beauty bestowed the greatest pride and dignity unto her family.
One day, the girl's father arranged for her to take a powerful Spanish captain as her husband. When the girl discovered this, she was so distraught that she ran from Hagåtña all the way to the north of Guam until she found a secluded and peaceful shore.
There, on the moonlit shore, she met and fell in love with a young warrior from a very modest Chamorro family. He was gentle, with a strong build, and had eyes that searched for meaning in the stars.
When the girl's father learned of the two lovers, he grew angry and demanded that she marry the Spanish captain at once. That day at sundown, she stole away to the same high point along the shore and once again met her Chamorro lover.
Her father, along with the captain, and all the Spanish soldiers pursued the lovers up to the high cliff above Tumon Bay. The lovers found themselves trapped between the edge of the cliff and the approaching soldiers. All the young warrior could do was warn them to stay back, and the father ordered the soldiers to halt.
The lovers tied their long black hair into a single knot. Acting as if they were entirely alone, they looked deeply into each other's eyes and kissed for the final time. Then, they leaped over the long, deep cliff into the roaring waters below.
The girl's father and all who remained rushed to the edge to stare in great anguish.
Since that day, Chamorros have looked to the jutting peak above Tumon Bay with reverence. The two lovers remain a symbol of true love–a love in which two souls are entwined forever in life and in death. Thereafter, the high point on the cliff was known as Puntan Dos Amantes, or Two Lovers Point."
This was taken from puntandosmantes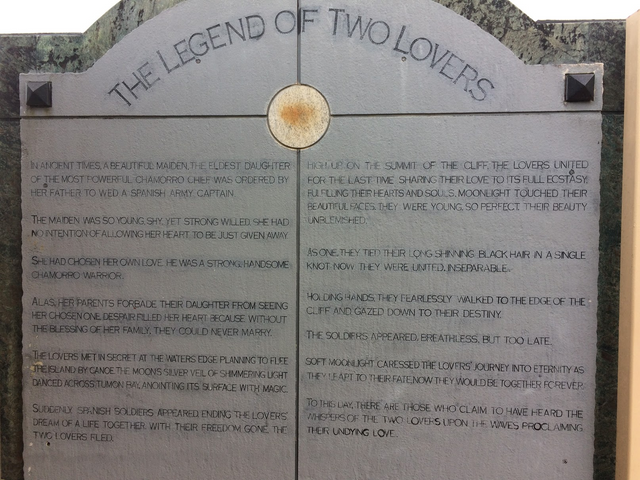 As soon as you enter you would see this wall of art that summarizes the legend and it says FORBIDDEN, DEVOTION, DESPAIR, TRAGEDY and FOREVER. I had a photo bomber when I took the photo, I hope that you find it.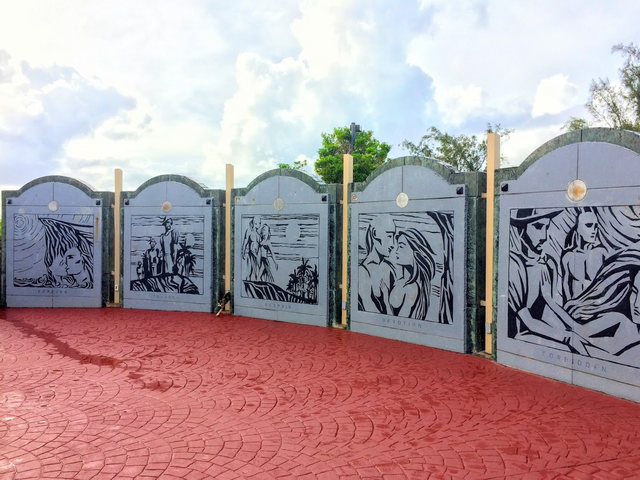 Going through this place made me fall in love with it.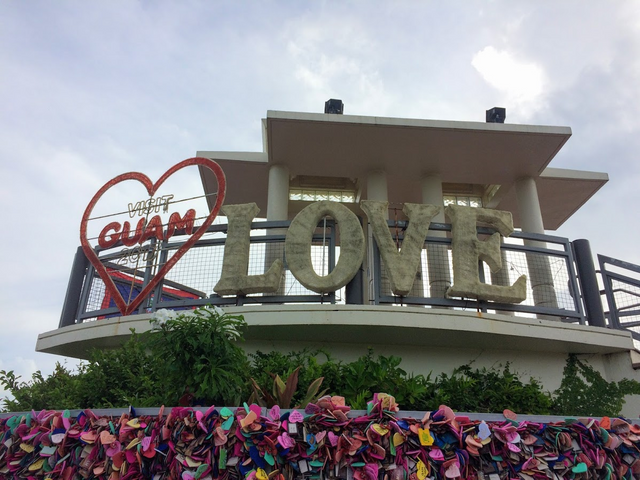 I noticed that there were a lot of love locks at this attraction wherein every where I went there was a love lock attached to something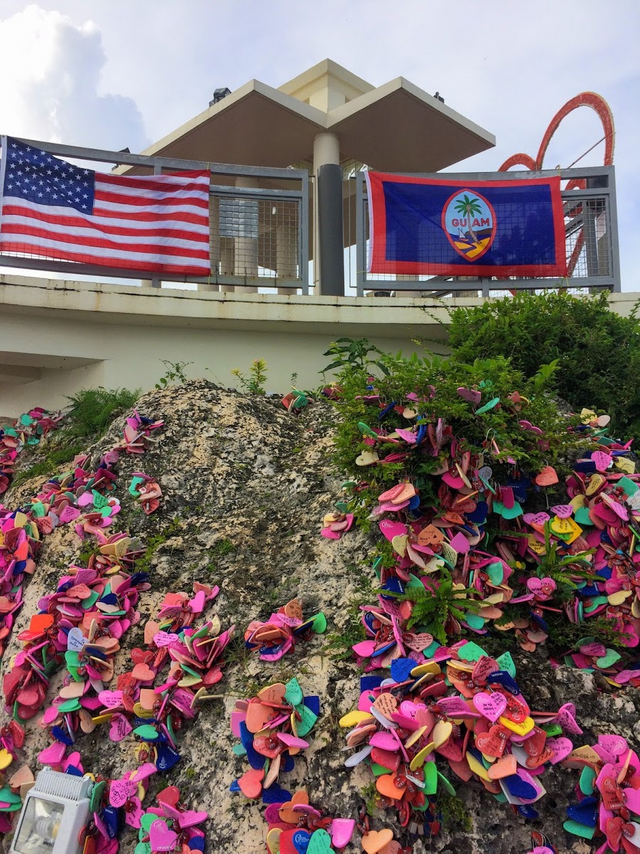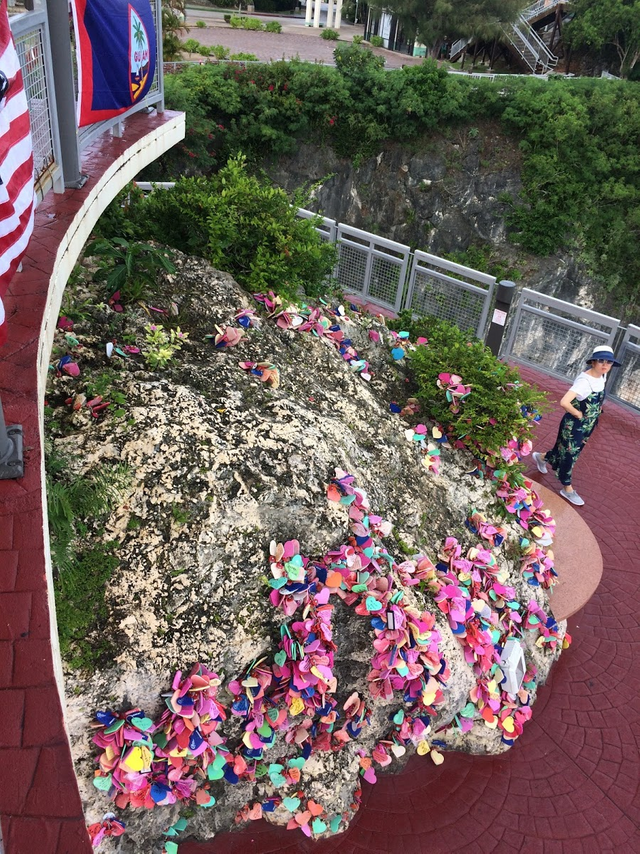 I was reading some of the love lock and I noticed that most of the writings were in Japanese. My friend told me that the Japanese go to Guam often to take a vacation.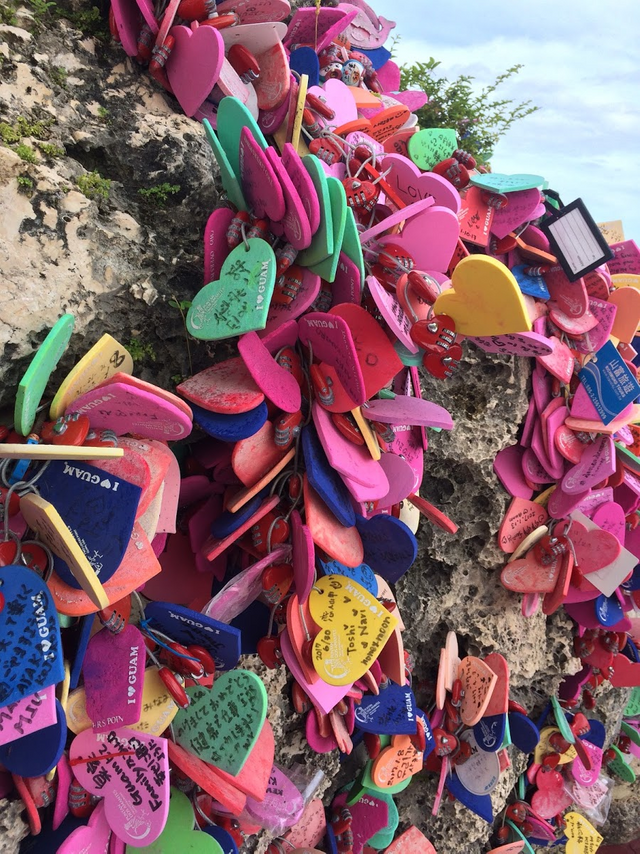 This was the view that overlooks the Philippine sea. I really had bad timing when I took a photo it was very gloomy. It makes me think what lies beyond the sea.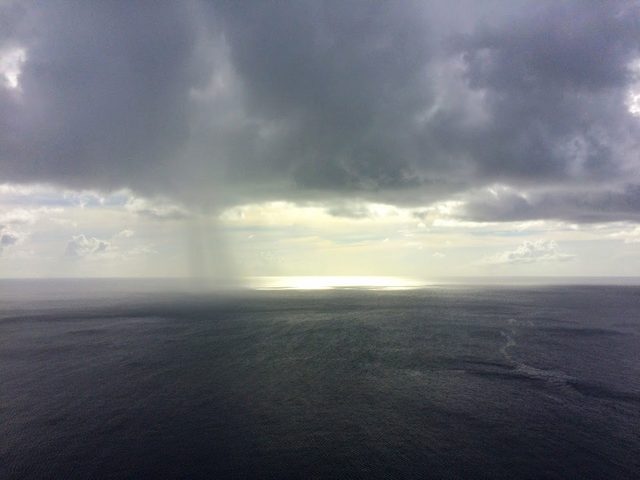 This was the view below the park. I just loved how colorful it looked and the color of the sand and the rocks.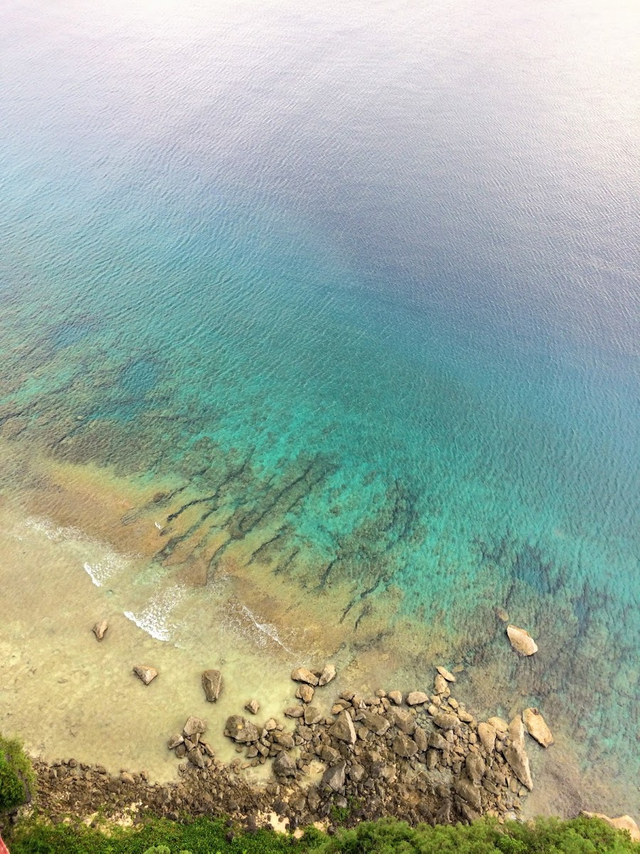 The water was very clear that day. I wonder what would it feel like to swim there.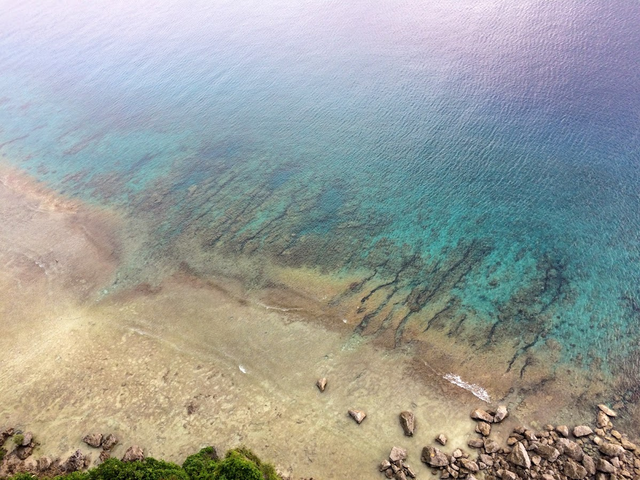 While I was taking photos with my phone I was holding it so tight because I didn't want to say good bye to my phone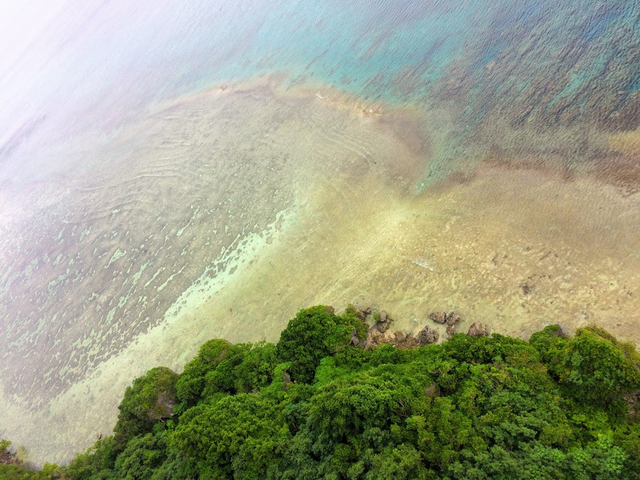 On top of that cliff was a restaurant called Terraza Cafe and Gril . And we went there afterwards.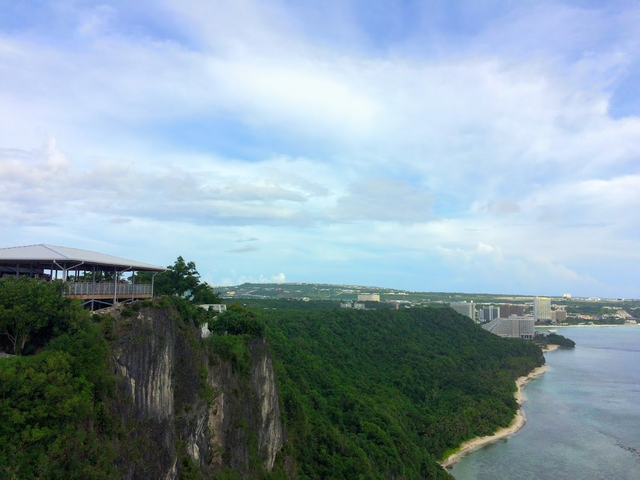 Here's a photo of myself with the view of Tumon Bay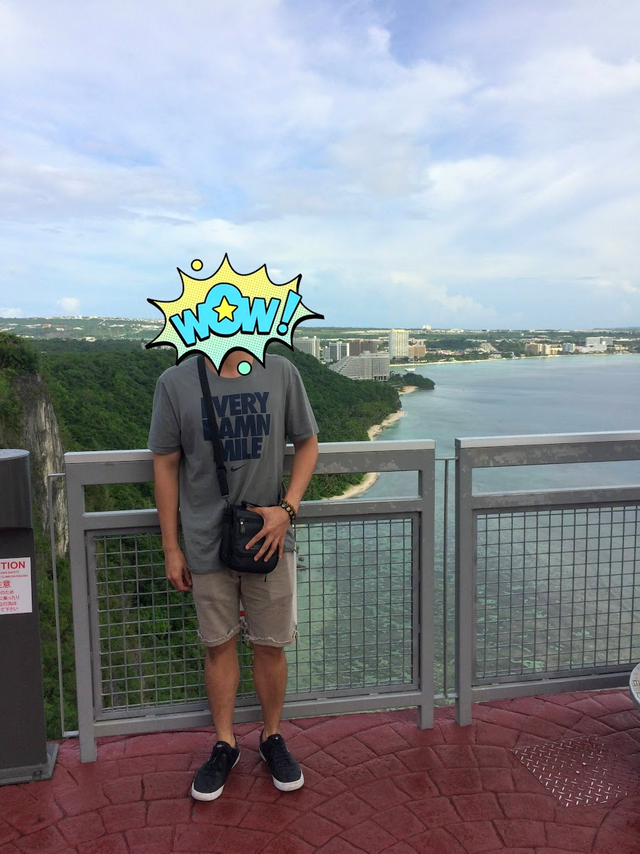 My sister told me to bring her 2×2 Picture and take photos of it and wherever I went.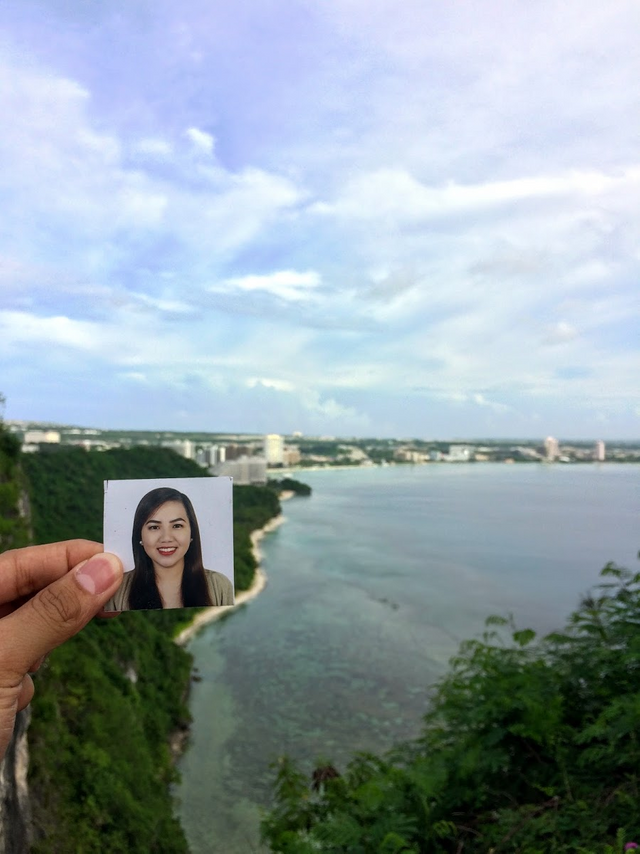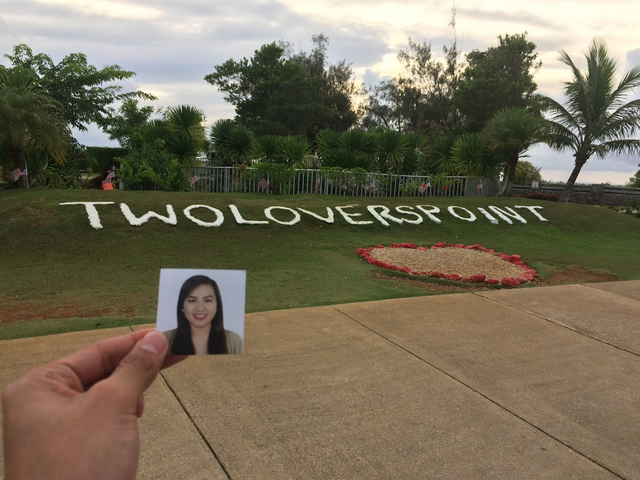 So, how's a better way to enjoy this scenic view and the sunset?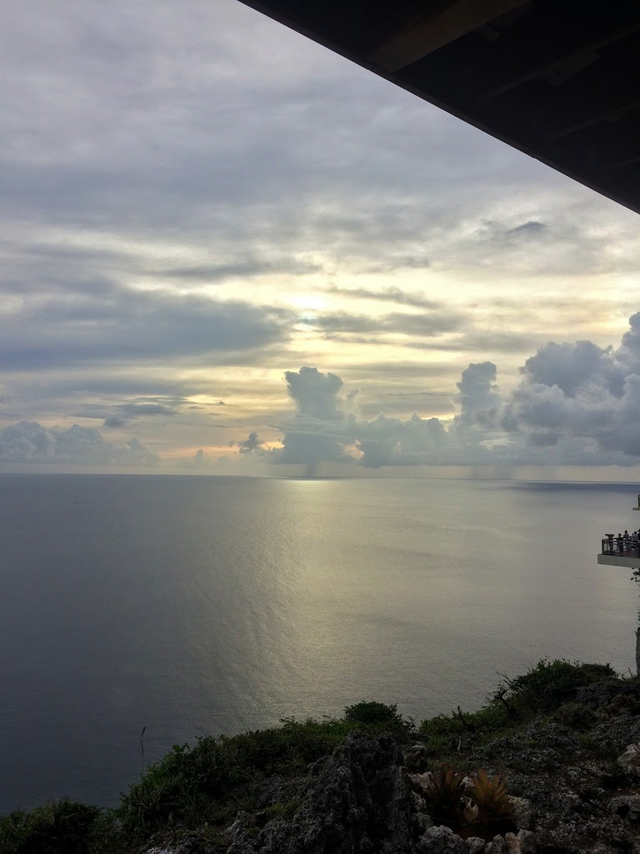 By drinking an iced cold beer!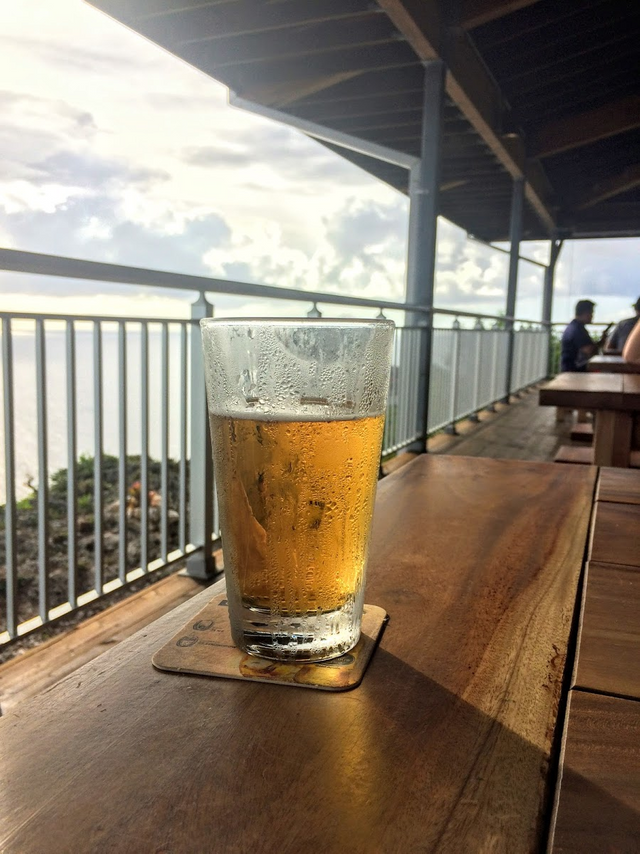 I'm so thankful to the family that brought me here and showed me their hospitality. This was one great experience that I will never forget.
Let me end my experience with this quote
"Beauty is in the eye of the beer holder."~Kinky Friedman
EARN BITCOIN CASH BY CREATING AN ACCOUNT HERE AND POSTING

Animation by @zord189



Please also support @thekitchenfairy as a witness by voting her at https://steemit.com/~witnesses and type in "thekitchenfairy" at the first search box.

Please support @surpassinggoogle as a witness by voting him at https://steemit.com/~witnesses and type in "steemgigs" at the first search box.

You can also give him witness voting decisions on your behalf, visit https://steemit.com/~witnesses again and type in "surpassinggoogle" in the second box as a proxy.

I also want to thank @atongis, @jackramsey, @plankton.token @rynow, @otom,@blocktrades ,@jaynie, @bayanihan, @veryspider, @ocdb @steemitbloggers and @dynamicsteemians
for all your support

---
Buy/Trade Cyrptocurrency:
KUCOIN
Binance
BitMex- Leverage Trading
Need something transcribed or want to become a transcriber click on the banner





Join Plankton token for daily rewards and curation
gif created by @gerber
---
View this post on TravelFeed for the best experience.