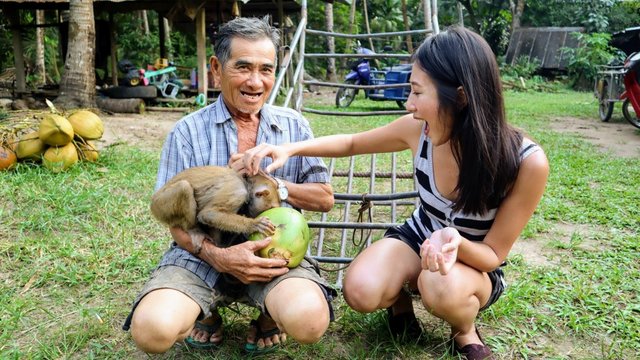 Read "We had a good time at this UNDERRATED Southern Thai Province" on TravelFeed.io for the best experience
---
---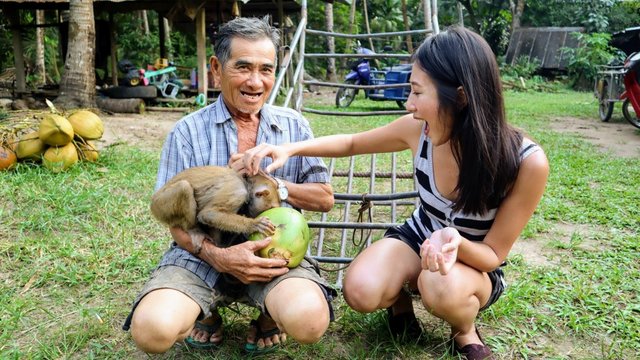 ---
We had a chance to go down south of Thailand for a few weeks last year. Somehow, instead of going to those touristic spots like Koh Tao, Koh Chang, Koh Samui and many other Kohs (islands), we chose to go explore this underrated province called Chumphon. Oh my! We're so dang glad! The way it's not too chaotic, the delicious weird Thai food that even I had never had!, the kind people and some hidden local spots we had a chance to visit and hey, we loved it!
Chumphon, Thailand
The door to the south of Thailand', we call it. The first province to get to the southern provinces from the central one. Also, Chumphon city, is a gateway to tropical islands including the popular Ko Tao, part of Surat Thani province.
We started in Chumphon city hanging out, checking out the area and eating new food! It's just funny how the same type of food would be made so differently when you're in the different part of the country. We had one of the funny combination Pad Thai, pork soup with pineapples in it and every meal, believe it or not, free fresh vegetables and chili sauce! It's Thai southern style.
In the meantime, we asked around for fun spots to visit. Secret beaches, a monkey school, weasel coffee, local fisherman village and much more.
☺ Delicious Thai Food in Chumphon City
Street food at Thanon Krumluang Chumphon
First night we arrived, we're already so excited and happy. This hostel we booked was just so close to the food street! On Krumluang Chumphon Road. Usually, we had Pad Thai with shrimps or chicken but there, we had one of the best Pad Thai with red marinated pork served on the banana leaves. I had never seen that combination in life but it was real good.
Papaya salad, noodle soup, porridge (we have that for breakfast and dinner), grilled pork, dessert and all the goodnesses together in that one locally busy spot.
Though, if you feel more like a restaurant, this halal place 'Farida Roti Mataba' has the I-would-die-for beef curry along with roti mataba and chicken briyani.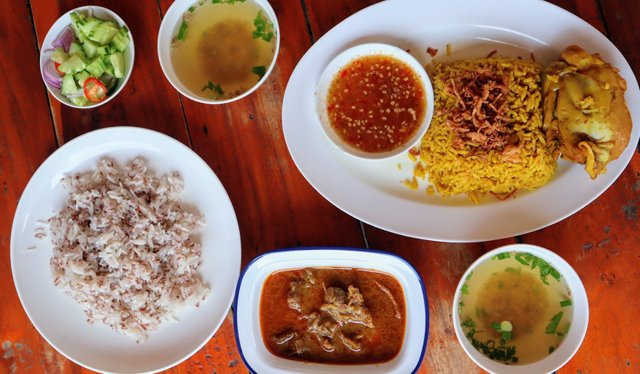 It's a small family-run restaurant with pre-cooked food. The owner of the hostel we're staying at recommend this place for its flavorful taste and reasonable price. We picked a few stir-fried dishes on rice and this weird combination of soup 'Pork bones and pineapple'. Honestly, it's quite a funny taste because of the pineapple. I'm used to the fruit in curry but not really in a clear broth though, not bad!
Free veggies culture is a thing! In most restaurants not just in Chumphon but most of the provinces down south offer you free vegetables and chili sauce. How kind! The whole thing we had was more or less 120THB or $4... What???!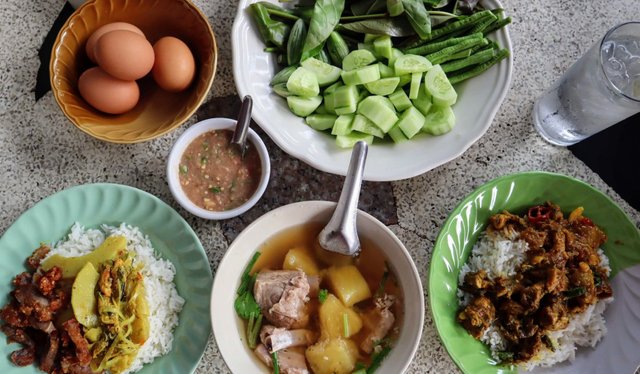 There are more delicious spots we have tried around in Chumphon City. The local food market offer load tons of deliciousness. You just need to have your eyes widely opened. Like, last time going out of town and we just randomly came across this street stall selling Thai style coconut rice custard. We're even invited to see the process of how they make it. Love them kind Chumphon people!
☺ Beaches and islands in Chumphon
A secret beach!
Talking about beaches in Chumphon, people would think of Hat Sai Ri or Thung Wua Lan first I'm sure. We went there and no, they're not bad of the beaches at all but if you prefer a bit less people then follow us to this secret beach an hour ride from the Chumphon city. We're literally the only people there so almost feels like it's our private beach or something. Be warned, it's quite hard to find/get to!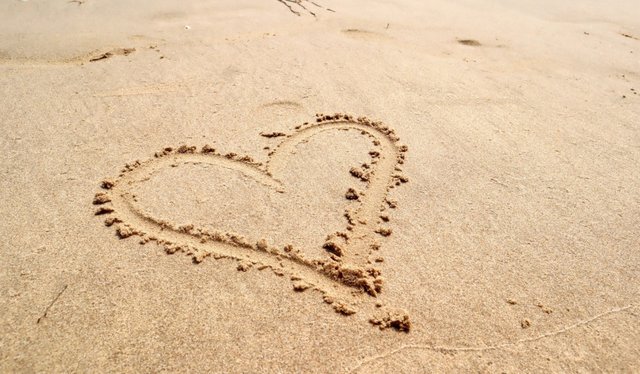 Koh Phitak
On the other side of the province, we rode all the way to Bang Nam Chuet district and took a small short boat ride to Koh Phitak, a truly authentic fisherman village where you can really enjoy the nature, the sounds of the sea and learn about the interesting lifestyles of fishermen. We even had a chance to see how they make shrimp paste from scratch just right on the beach! I was so thrilled.
Stay a night or two and have a quiet time at one of the Thai local homestays, eat the real fresh seafood caught daily. If you're lucky enough to visit during the squid season, you can go squidding at night and eat the freshest squid you would ever have in life on a boat right after you catch some!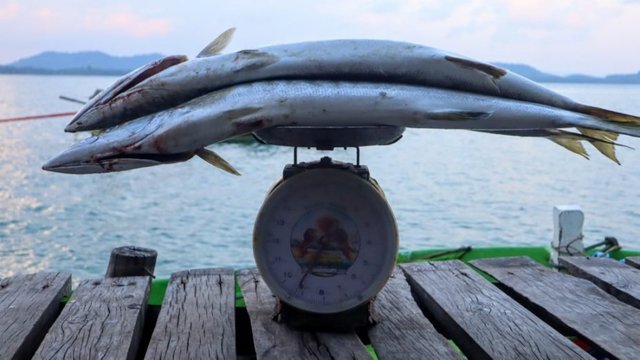 Arunothai Beach and Pak Nam Tako
This is by far the least underrated beach in Chumphon. Arunothai beach is so clean and has that local vibes to it. No tourist, not even one. Well, except us at the time I suppose. Best Popeyes-chicken-is-nothing-to-me fried chickens and a few street food stalls.
We liked it a lot so that we ended up finding a place to stay for a night. Not many not-fancy places around but lucky enough we found Cottage by the river. Beautiful view, kind host, epic breakfast and even some very fresh oysters right off the dock!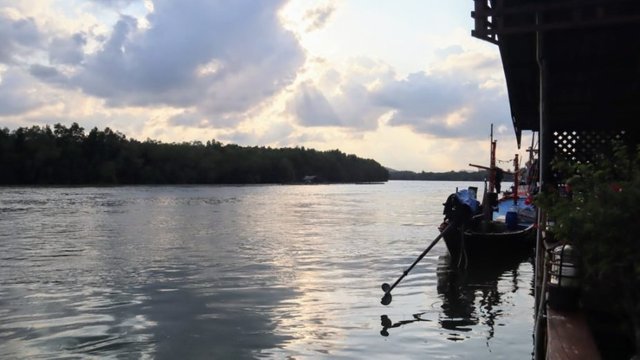 Too bad we didn't have so much time. We would totally have visited Mu Ko Chumphon National Park, a group of islands in the Gulf of Thailand off the coast of, and part of, Chumphon Province. Nearly 40 islands have long beaches, white sand, and clear water. There are also many colorful coral reefs that are attractive for swimming, snorkeling, and scuba diving. Two of the islands are swiftlets' habitats, the birds' nests being used in birds' nest soup. Sounds so good to me so maybe next time!
☺ Hang out with monkeys!
Yes, you saw that right, monkeys! At this monkey school in Chumphon, pet monkeys that are trained to work, pick coconuts, and to be friends with humans. They're quite friendly yet a bit aggressive. Depends who you are and how much they're used to you.
Visiting the place, having some refreshing coconut water and play around with those adorable monkeys are totally free but some donation would be muchly appreciated. Though, I actually recommend bringing a pack or two of drinking yogurts as a donation. Monkeys would love you more!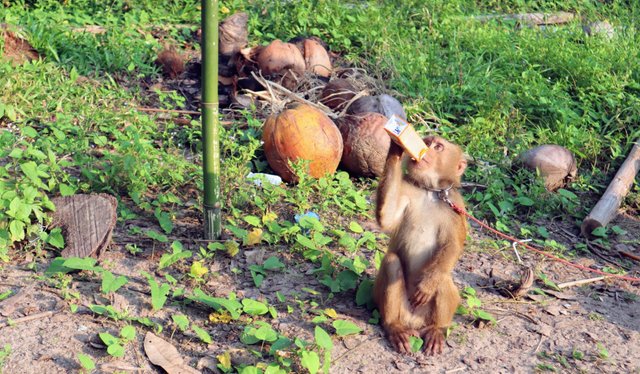 ☺ The most expensive coffee in Chumphon
It used to be the most expensive coffee in the world so I would suppose it's now the most expensive coffee in Chumphon as well. We're talking poop here 'Weasel coffee' and how cool is it, this Weasel coffee, Chumphon (กาแฟขี้ชะมด ชุมพร) has the whole entire weasel crew!
Quite sad to see them in cages but probably better to let them be killed by all the restaurants. The owner of the place bought all these weasels from hunters and started this weasel coffee farm for us to enjoy a great cup of coffee.
It's a fun and interesting experience to go there and learn about the processes of making such a kind of coffee.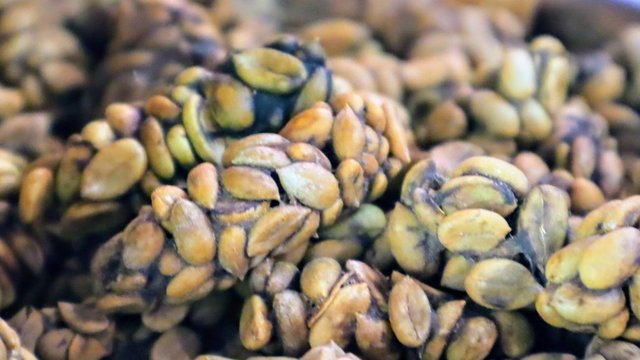 ☺ Chumphon's most famous tropical fruits
Chumphon is actually well known for its Durian. Though, while we're there, it's not a durian season, too bad! We had a chance to try other different tropical fruits though. Believe it or not, the cheapest pineapple in my life found here! 5THB, that's 0.16 USD youuuu!
Though, if you go there during the durian season, here's a big durian lesson I have learned a few weeks back. MUST KNOW!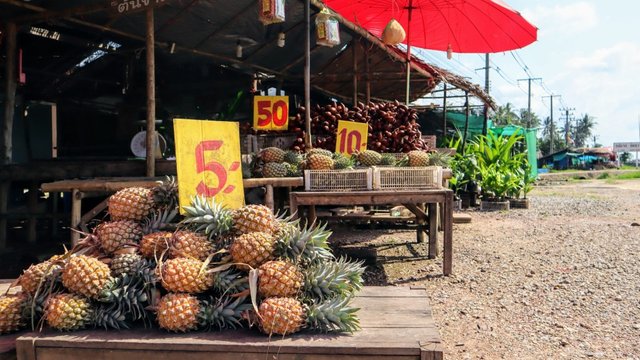 Our visit to Chumphon province was epic! We enjoyed it a lot and hope a lot more people would visit it too. It's so underrated for how much it has to offer.
We had such a great stay at this hostel where the owner was kind and helpful. It's right on the same street as that street food night market too. Yum!
㋡ Get $55 off your first adventure on Airbnb
㋡ Internet's BEST discount codes
㋡ Get Paid to Google Search
㋡ Block Ads & Earn crypto while browsing
🎥 Check out all my gear » https://www.waybeyondpadthai.com/resources/
🖤 SUPPORT DIRECTLY » http://bit.ly/waybeyondpatreon
---
All copy and photos are original content by me.




TO SUPPORT WITH LOVE 💙 PLEASE SUBSCRIBE!!! TO MY SUPER DUPER AWESOME YOUTUBE CHANNEL :)
---
View this post on TravelFeed for the best experience.