I would say yes - but who knows
For today's Disco Tuesday some tunes from one of the most controversary and provocative lady in pop - Lady Gaga was the legitimate successor of Madonna for Dance Music and controversy, who remembers the days when the huge discussion was on if she is really a girl or a boy - the social networks were full of rumours and photography where people saw some male indications on her body lol. She "introduced" these super high Platform Heels to the "normal" society which was usually only linked to the adult industry - still a challenge to walk, right lol - take care Miss Gaga.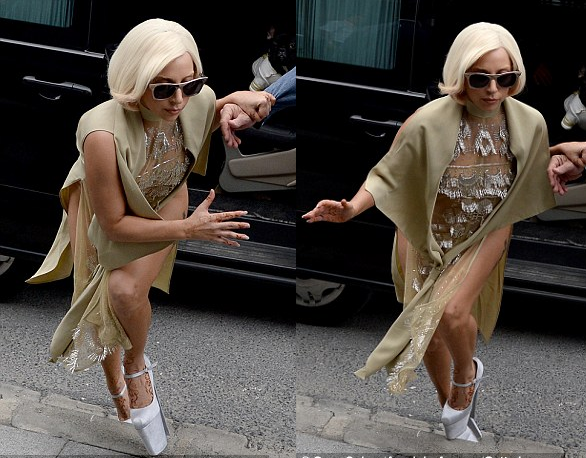 But we cover Music here - so as a musician she had a fast and steep road to success. She is known for excellent produced music that makes you dance - believe it or not, like it or not - you have to move listening to her songs. Madonna never was famous for a fantastic voice but for her charismatic presence - Lady Gaga is similar and she also keeps things a mystery - this is what makes a superstar I think.
About Lady Gaga
Let us also get over some facts from Wikipedia on the Lady who hit the music industry by storm some years ago.
Lady Gaga was born as Stefani Joanne Angelina Germanotta and is 32 years old now. Apart from singing she also writes her songs and worked as actress. She is known for her unconventionality and provocative work as well as visual experimentation.
Gaga began her musical career performing songs at open mic nights and school plays. She studied at Collaborative Arts Project 21 (CAP21) through New York University's Tisch School of the Arts before dropping out to become a professional musician. After Def Jam Recordings canceled her contract, Gaga worked as a songwriter for Sony/ATV Music Publishing, where Akon helped her sign a joint deal with Interscope Records and his own label KonLive Distribution in 2007. She rose to prominence the following year with her debut album, a dance-pop and electropop record titled The Fame, and its chart-topping singles "Just Dance" and "Poker Face". A follow-up EP, The Fame Monster (2009), featuring the singles "Bad Romance", "Telephone", and "Alejandro", also proved successful.
Gaga's second full-length album Born This Way (2011) explored electronic rock and techno. The album topped the US Billboard 200 and sold more than one million copies in the country during its first week. Its title track became the fastest selling song on the iTunes Store with over a million downloads in less than a week. Gaga ventured into R&B and disco with her third album Artpop (2013), which topped the US charts and included the single "Applause". In 2014, she released a jazz album with Tony Bennett titled Cheek to Cheek, her third consecutive number one album in the US. For her acting work in the television series American Horror Story: Hotel (2015–2016), Gaga won a Golden Globe Award for Best Actress in 2016. Her fifth studio album, Joanne (2016), incorporated genres such as country and pop, and she became the first woman to have four US number one albums in the 2010s when it topped the country's charts. In February 2017, Gaga performed the Super Bowl LI halftime show, which was met with critical acclaim.
Having sold 27 million albums and 146 million singles as of January 2016, Gaga is one of the best-selling music artists in history. Her achievements include several Guinness World Records, three Brit Awards, six Grammy Awards, and awards from the Songwriters Hall of Fame and the Council of Fashion Designers of America. Gaga has been declared Billboard's Artist of the Year and included among Forbes's power and earnings rankings. She was ranked at number four on VH1's Greatest Women in Music in 2012, finished second on Time's 2011 readers' poll of the most influential people of the past ten years, and was named Billboard's Woman of the Year in 2015. She is known for her philanthropic work and social activism, including LGBT rights, and for her non-profit organization, the Born This Way Foundation, which focuses on promoting youth empowerment and combating bullying.
Sources: Blogs Vila, Wikipedia, YouTube