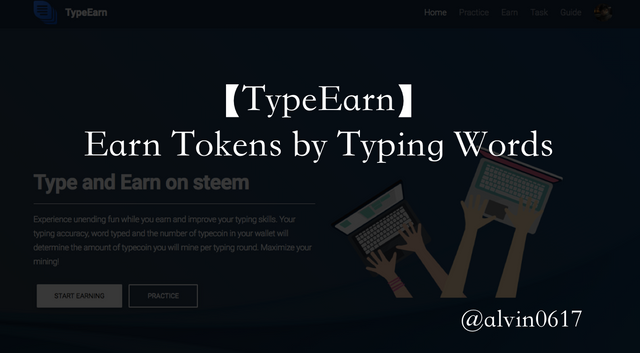 Hi Steemians, Long time no see! I've been disappeared for about 2 months since I started my 4-months long military service journey...
Now I'm enjoying my "four-day holiday" and say hi to all my friends on Steem in case you forget me lol.
Today I'm gonna introduce you a new dapp developed for people can practice typing words and earn your tokens simultaneously, sounds interesting right?
---
Project Background and Products comparison
Now know if everyone knows "typing test websites" in advance? You can test your WPM (Words per Minute) by typing articles created randomly in a minute or a limited time, let me simply list some websites for reference :) :
TypingTest.com :

A classic website for you to practice typing in one minute, 3 minutes or even 5 minutes, there are also have other sections like Typing games and TypeTastic for schools and so on.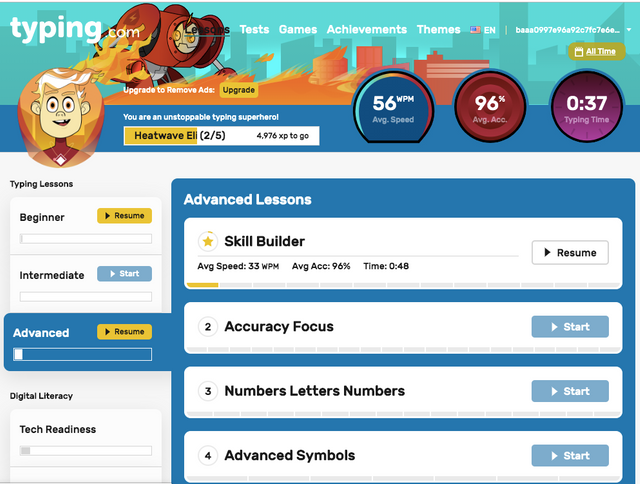 "This is the most interesting website I've met for you to practice typing"
Actually typing.com had a brand new upgrade a few months ago, before the newest version, I've already been fond of this website for some functions they provide.
Different levels (normal and difficult, now there are Beginner, Intermediate, Advanced ) for you to choose then increase your WPM step by step
Online competition for you to compete with users from all over the world.
New Features they provide :
Typing.com provides different themes for personalizing your user interface
Achievements: When you finish missions, you can earn more exp then level up your character
TypeEarn introduction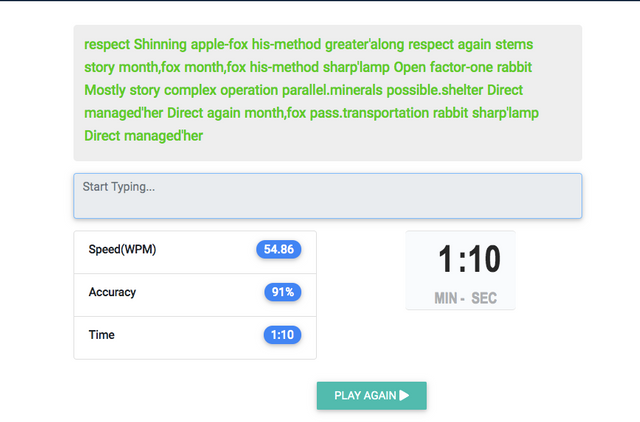 The same as other typing training websites, you need to type the words provided above, trying your best as fast as possible, after you finish typing all the words, TypeEarn will show you the Speed and the time you spent each time.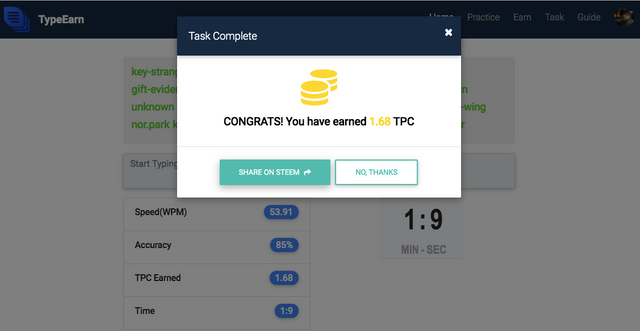 Congrats ! You can also earn TPC tokens after finishing typing test.
Remember : You need to buy 20 TPC token in Steem Engine market first before you start to type.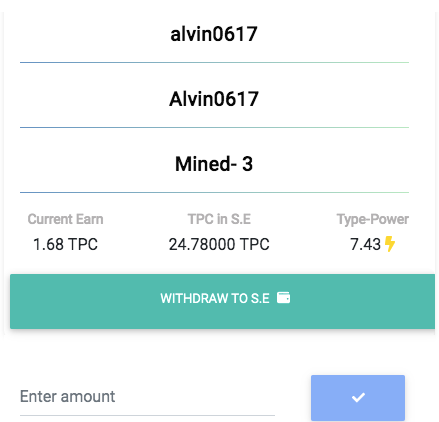 After each test, you can withdraw TPC you earned last time to "TPC in S.E" to increase your Type-Power (like SP), to help you earn more TPC next time.
Some Suggestions
Most of my typing test before are all composed of the entire article, while TypeEarn provides scattered words which increase the difficulty of tests.
Delay may happen when I just withdraw TPC to S.E, if this issue can be solved, user experience may increase a lot I think.
When I reload the "earn" page of TypeEarn to check the balance of TPC, I'll lose one chance of daily mining ( 5 times per day ), this may be a problem for some newbie users.
---
Conclusion
As a habit to keep practicing my typing skill in my leisure time, my WPM has improved from nearly 30-40 WPM to 55-60 WPM now for about 2 years.
Though my speed may not so fast compared to other native English speaker, I'm sure that I can keep breaking my records as time goes by 🤪
If you want to train your typing speed and earn cryptocurrency at the same time, don't miss out this opportunity!
Join TypeEarn :)
---
感謝你讀完此篇文章
THANKS FOR READING
持續追蹤我看看各種有關區塊鏈與加密貨幣的知識分享吧
Keep following me @alvin0617 for Blockchain & Cryptocurrency technology sharing news !