Hello, and welcome to my page, eh!
I have several things to talk about in this post, but I don't think that any of them would make a good post by themselves so I'm going to just cram them into one post.
First, I've been continuing to can tomatoes as they get ripe. This last batch was done using my ugly tomatoes. These are the Black Krimm and Brandywine heirloom tomatoes. These tomato plants have been hit with blight this year, but they get blight every year when I grow them because they're not resistant to it. I think I shared this picture in my last garden post, but here it is again.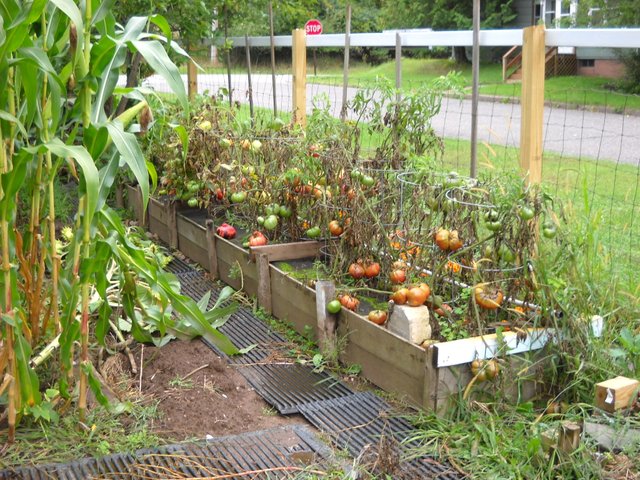 These tomatoes get pretty large, but they're lumpy tomatoes, with ridges and weird bottoms. Also, they sometimes crack as they grow, and can get rot spots, or completely rotten before they're ripe. That makes them harder to process, you have to cut out all the spots as you're processing them.
These are a few of the nicer Black Krimm tomatoes, these are not quite ripe yet. The shoulders seem to stay green after the rest of the tomato gets ripe, so I cut them out of the tomatoes as I process them.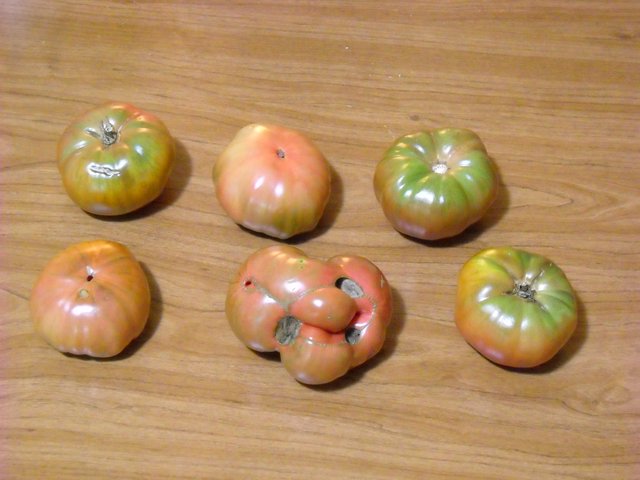 They're not very pretty after you get them peeled either. The last batch of tomatoes gave me a pretty nice stockpot full to fill jars with.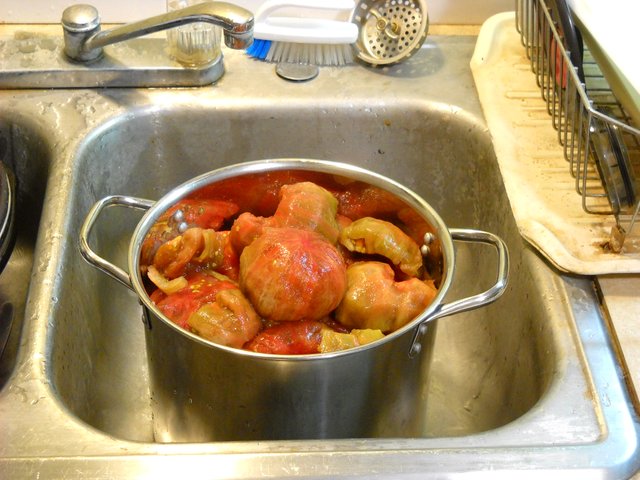 I fill the jars with unheated tomatoes, so I have to heat them up in the jars before I can put them in the hot water in the canner. If you put cold jars full in the hot water in the canner, they can crack or break from the temperature difference, and that makes a big mess in the canner, as well as losing the jar and the food in it. While I'm heating up the jars in a big pot, I also heat up the jar lids to soften the seal material for a better fit on the jar rim.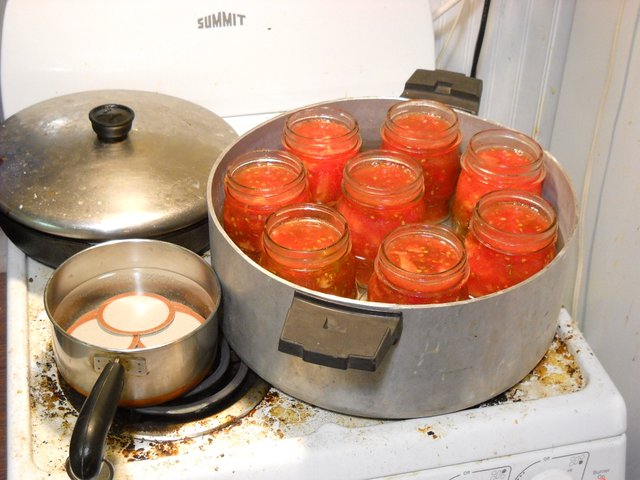 A few weeks ago, I bought a used chipper/shredder to use for the garden. This is an older 5 hp Craftsman shredder, it's not real powerful, but it works. I've tried it with a few different things now. It doesn't handle branches very well if they're much bigger than about an inch and a half diameter. It does handle corn stalks pretty well though, which is good because that's part of why I bought it. I've run branches through it and it shreds them well enough as long as I don't feed too much at once. It also shreds straw really well. This will be really useful for turning the corn stalks and maple leaves into garden mulch.
Here it is, sitting by the garden, waiting to get used again. I've had it covered in a tarp because of all the rain lately.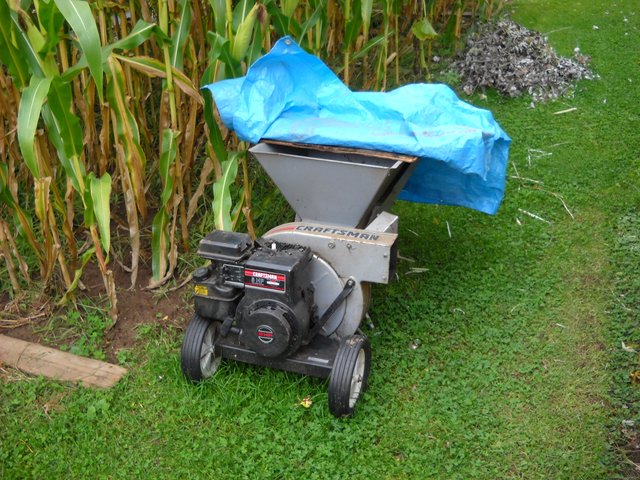 One more thing for this post. A couple of weeks ago, we had a tree removal company come in and remove a tree that was too close to the house, with branches hanging over the roof. I had to move all the stuff that was stored up by the house in that area so that they would have a place to drop the branches and chunks without hitting stuff. I had removed some of the track for my 7-1/2 inch gauge railroad as part of that process. I didn't want any chunks of wood dropped on the rails and damaging them or the ties. After all that was done, I had to start putting it back together again. I also rebuilt the end of the rail bed that's by the house. I still need more gravel for the rail bed.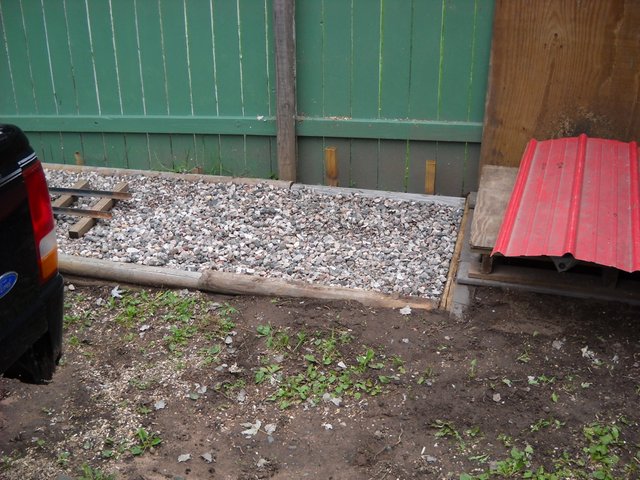 The rest of the railroad is still covered with stuff because that's where we put a lot of it to get it out of the way for the tree removal truck to get to the tree.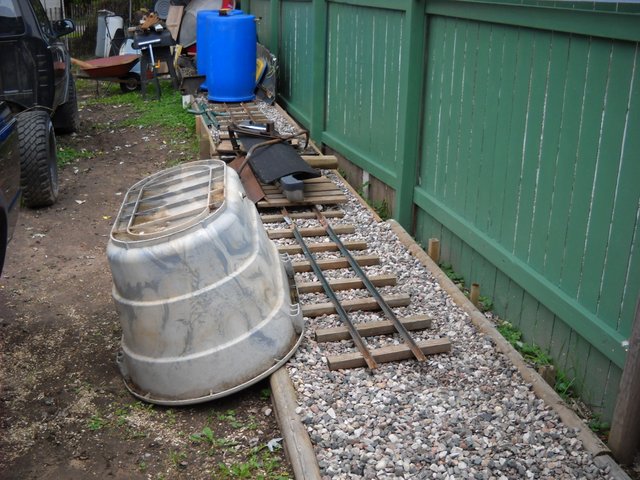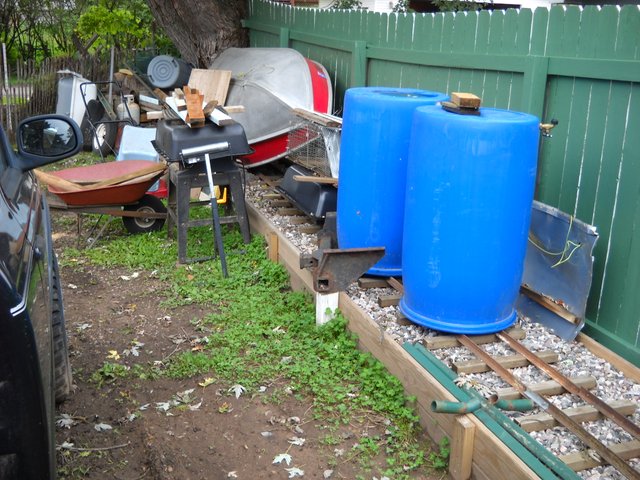 Eventually I'll get all the stuff off the track, but it's lower on the priority list than some of the other projects that I have going, such as the camper, and the pickup truck frame cleanup and repaint. Most of this coming week is supposed to be decent weather, so hopefully I can make progress on those projects. We've had a lot of rainy days in the last couple of weeks which isn't helpful when you don't have a garage to work in.
Well, that's all I have for this Ulog, thanks for stopping by to check it out!