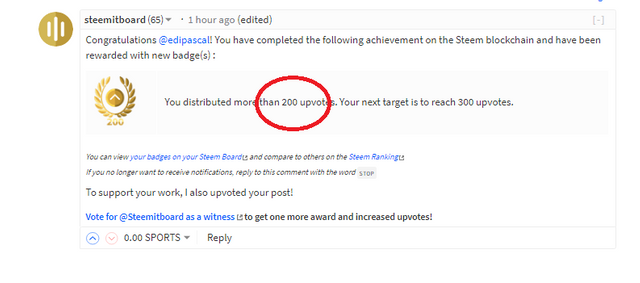 Just few minutes after I doled out this post on my intention to grow my SPORTS stake from 75 k to 90 k, I got an inspiring comment from @steemitboard.
---
Thank you @Steemitboard for noticing my curation Efforts
---
Though my Steem account is as old as four months or thereabout, however, my active days on this platform began 21 days ago when I invested in SPORTS with an initial purchase of 70,000 SPORTS.
Over these days of my activities on Steem, I have been dedicated to few blogs , rather concentrated my efforts to curate #sportstalk posts.
I never made a tally of these curation efforts until I received the above captured comment from Steemitboard that I have given out more than 200 upvotes. This to me sounds so bid that within these 21 days, I have been able to upvote blogs for about 200 times.
My curation efforts have been dedicated to #sportstalk content as this is the only tribe of Steem that I am holding a reasonable stake.
I am inspired to curate more and hope that by the end of the month, I should be able to reach a 1000 upvote mark.
While I may not be very savvy in reporting sports though I love sports, I would love to promote #sportstalk and SPORTS at least to be able to secure my SPORTS investment.
---
I think there is a need for #promo-sportstalk or what do you think?
---
Let's keep the fun coming!
Final Words
Anything worth doing is worth doing well. I hope you have a great day!
I am @Edipascal