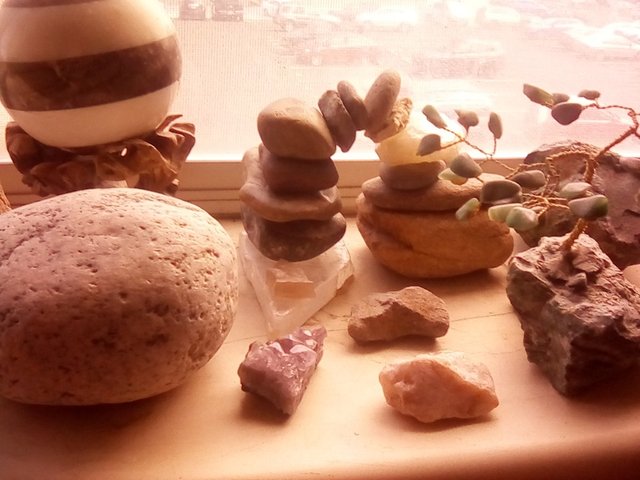 Mornin', Steem fam, how are y'all today? Just a little ulog to show that I'm still alive and kicking. Not been super functional, but alive! ;)
The photo above is of a stone arch I made on my windowsill last week. I've had to fix it a couple of times - once when a military plane roared by, and another when I slammed the window shut. I did that again last night and have to fix it again, but I haven't yet, lol. The hazards of doing it on the sill, I guess. I still like it. It looks cool in the sun. :)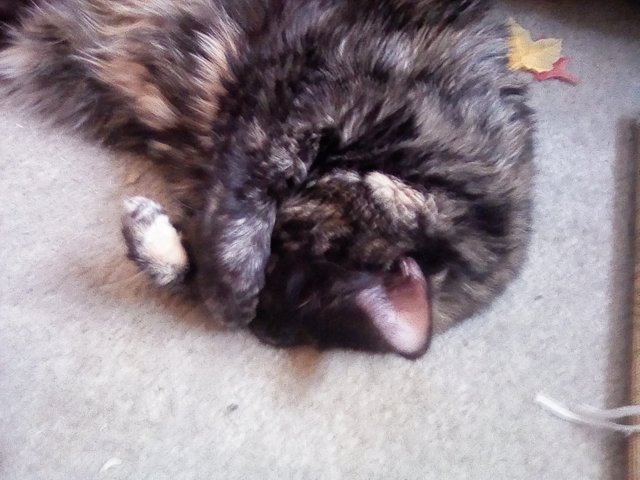 My lady has been very snuggly and adorable of late, and also using the front door as her litterbox again. I woke up to stinky poo smells driving me out of bed this morning and went to go pick it up. The poo I don't mind as much as the pee though, as I am actually allergic to their pee and have had to take antihistamines after choking from the smell more than once. I had this setup trying to deter her from going there: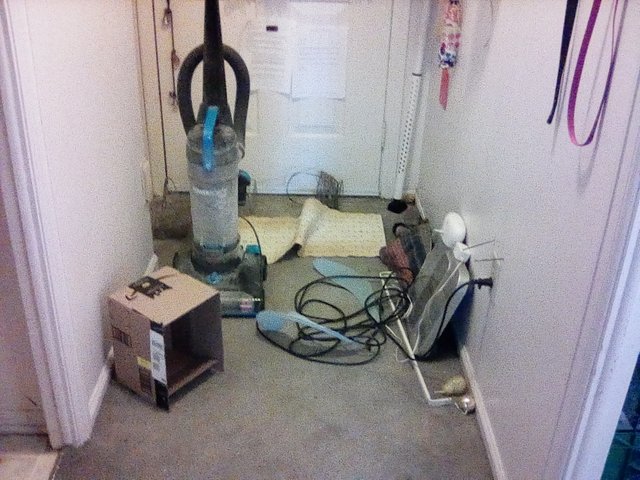 ...and still she went back there. Even the VACUUM didn't deter her! >.<
Hopefully we figure out a solution soon. She's not ill, it's just that territories have shifted and so I've been trying to find a new litterbox configuration that she feels safe with now because Little Brother makes her nervous.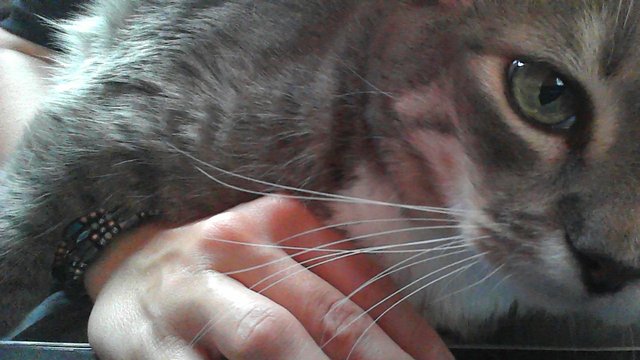 I am a jealous man.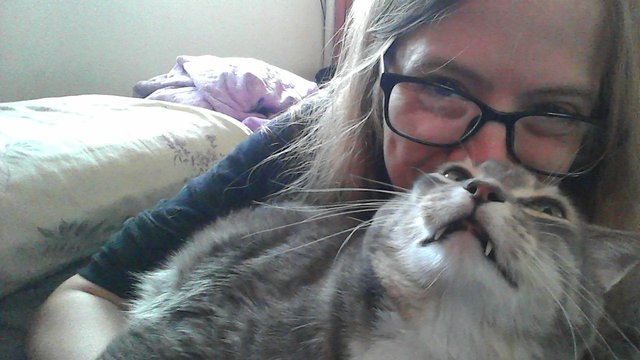 My hooman.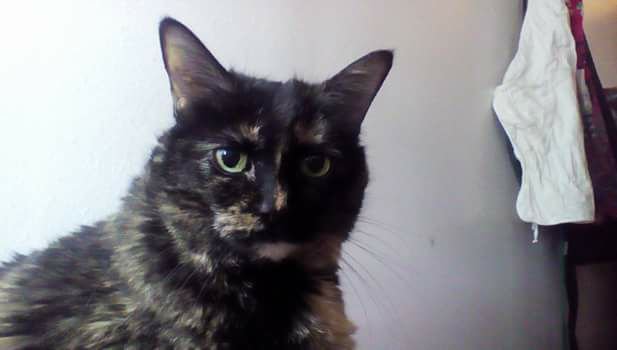 I was here first, mancat!!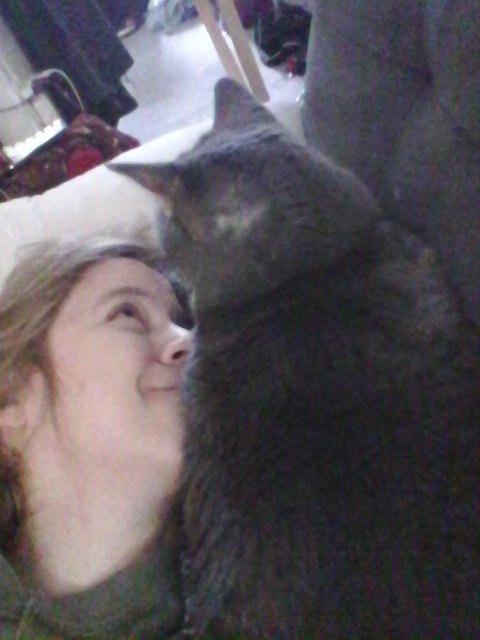 Mine.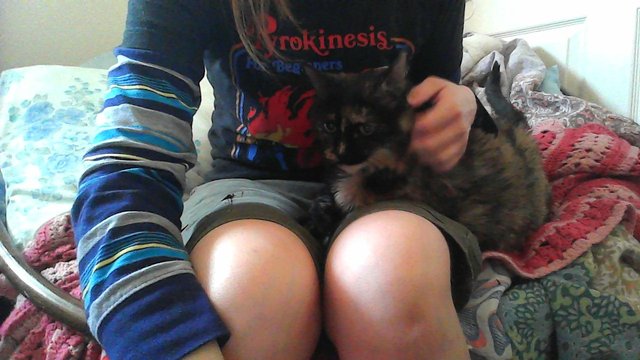 No, mine.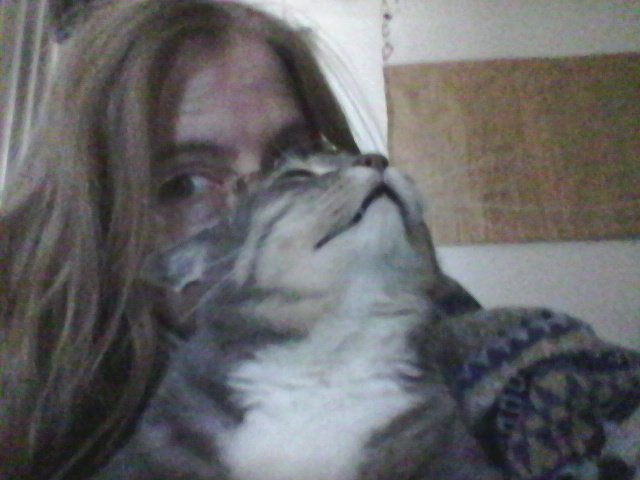 Miiiiiiiine.
I feel loved. <3
So the other day when I went to the store I saw that the big red crane that has been down the block for like two years or something had a mate: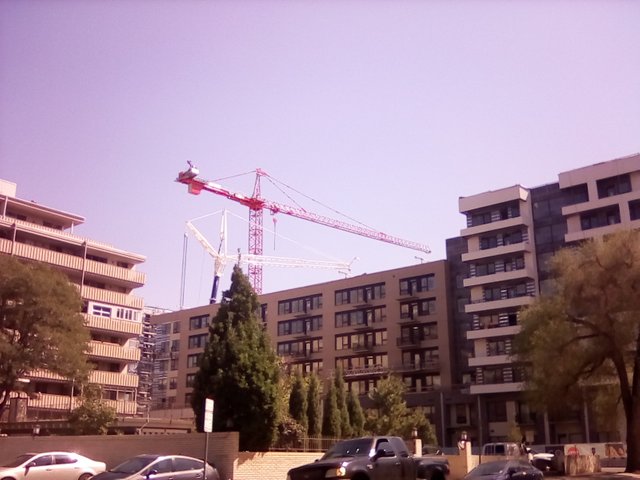 But now they are both GONE! So I guess the white crane was actually a Crane Remover. That makes me excited though, because perhaps it means the noisiest parts of the construction that I've been living with for like half a decade is over? Please and thank you?? I am tired of living in a construction zone!
This morning I just ordered some more of the currently-hard-to-find allergy-safe wet food for the kitties (because Yuan has food allergies too) that is out of stock nearly everywhere except Amazon (and possibly Chewy, but free shipping on Chewy is more than one case and I don't usually have enough money at one time to do that... ). This has happened before, because it seems they can only get so much rabbit meat and make so much food - but what annoys me is that the NON-allergy safe rabbit meat varieties never run out so they're using up the limited supply of rabbit meat to make "just for funsies and noms" rabbit meat food that has other meats in it, and running out of the allergy-safe rabbit meat food with only one animal protein. Why don't they prioritize the allergy-safe one first for all the allergy kitties who don't have many options at all??! :/ But I digress. Anyway, so while I ordered that I also ordered a small bag of clover seed to do a little guerilla gardening. :D Late summer is apparently a good time to put it down, so that's what I'm gonna do. But I discovered a sneaky-sneaky thing on Amazon's part: I was ordering through my ibotta app to get a % back (cough my referral code: ptonkkp; You'll get a $10 welcome bonus and I'll get a referral bonus: https://ibotta.com/rebates cough) but I had the page open on the laptop to make sure I got the seeds I had been looking at (I hate shopping on my phone. Tiny screen and fat fingering, just ick. But in order to get the ibotta rebate, you have to put it in your cart IN the app). On my laptop, I was directed to the cheapest price: $5.99, but on ibotta I was directed to $6.49 and had to go find the 50 cent cheaper one. It turns out the more expensive one was fulfilled by Amazon, and the cheaper one was fulfilled by the manufacturer. Hmmm, pay 50 cents more for Amazon to torture some workers in the warehouse? No, thanks. I made the switch. But it just goes to show you have to pay attention! They were trying to like, undo my rebate or some shit. Fuck that.
This post writing was interrupted by cleaning up more Maggie pee on the carpet (I saw her do The Suspicious Run out of the front hall as I typed), and cleaning my air conditioner filter. Apparently we've got some wildfires in state again, and though the EPA site says the air quality is "moderate" right now, I used my a/c for one day after hearing about the wildfires and the "clean filter" light comes on? I'm gonna say it was maybe worse than "moderate" at some point this week. Oh, air pollution and smoke. Wheee.
Anyway, that's about it for this edition of Super Exciting Phe Time Ulog. What have y'all been up to this week? Is anyone doing anything during the climate strike starting this Friday? Be good, Steem fam!
My Ko-fi:

Plant a tree for free:
http://onetreeplanted.refr.cc/wrenpaasch
Earn free Stellar Lumens with Coinbase Earn: