Hey there beautiful people, especially my fellow Uloggers... :) <3
It's been a while since I wrote a ULOG post.

I have been busy in a good way and to be honest there are a lot of things that I want to share and talk about, but let's try to take it slowly. lol

Around a week or so ago, I often went out with my parents... that's also the reason why I couldn't write anything. However, now that I'm back to work, I have more time to write. Isn't it ironic? hahaha

Well, that's the case for me. Somehow, if I'm at work I face the computer most of the time and that allows me to insert blogging in my daily routine. Whereas when I'm out somewhere, I just enjoy every little thing. Also when I get home, I feel exhausted and would be lazy to write. sorry about that

Anyway, let me share to you a couple of picture with my family. <3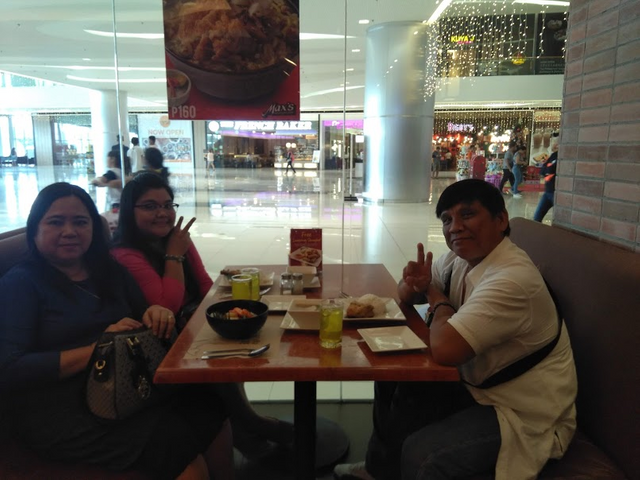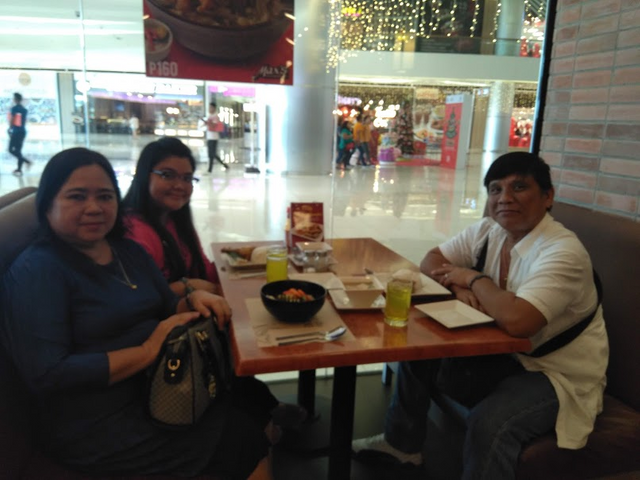 Sorry if the pictures are a bit blurry. I don't know why but my phone usually looks for its owner. hahaha I mean, when somebody else uses it to take a picture, they often have a hard time trying to find the right timing for it to focus. Well, that's also the reason why I don't have decent photos of myself unless I take a selfie. lol I guess, I'm more suited to be behind the camera. <3

We took this photo in one of the restaurants in SM Seaside. My father had to renew some documents in one of the government offices situated inside the mall, so mama and I accompanied him. Lucky for us because papa treated us to lunch. Their chicken and their mushroom soup are my favorite. <3

I didn't take pictures of the food because... you know, m stomach was already shouting. Yep, I was already starving. haha

Well, in the end we had a great time. Food definitely tastes better when you share it with people who are dear to you.

The mall already has Christmas decorations. I'll share it with you soon as I still have to edit the photos. See you again and thanks for reading!
---
Posted via Marlians.com