This is the last of my SteemFest 4 content and is a little different than the normal stuff we have been seeing.
@for91days passed some information on to me about an abandoned shopping mall within the city and so I hunted down the location and was pleased to find it just 2 or 3 miles from the Prince Palace Hotel.
After some deliberation we met up in the lobby with @jpphotography and @wanderein joining in, jumped in a taxi and found the location quite easily.
From what I can gather the mall has been closed and abandoned for the best part of 20 years. It is now home to swathes of tropical fish that swim around in the lower flooded areas.
The information I mention came from this blogpost which handily details how to find it, and what's more, how to get in.

...'Team STEEM Urbex, all ready to go'...
It appears the locals have taken advantage of this 'tourist destination' as bags of fish food can be purchased at the entrance for 10 BHAT according to the same blog.
I spotted the Krungthai bank and the taxi screeched to a halt. Having paid, we found the alley quickly and noticed a subtle but unwelcome change.

Source
...'what it used to look like, see the big door gap on the right?'


…'the opening that used to be wide and gaping now advertises NesCafe, I never did like that crappy coffee'…

Well what a bummer. We tried to talk to the old lady at the entrance but she spoke not a word of English, or Spanish either I guess!
From her wild hysterics we are not the first lot of Urban explores to ask her about the locked gate. I wonder if she was the old fish food vendor?
That's one line of business that's now vanished so she may have a reason to be angry.
We meandered through dark alleys looking for an alternative access point but there seemed to be no other way in.
Even if I could slip down this 3 inch gap, I would have just met some bloke's playing cards on the other side. This was not an alternate entrance.
On the other side of the dark brooding pathway of dirt and grime, we found a multi-story car park and climbed to the roof to see if we could spot anything of interest.
There were plenty of outside wall views of the New World Mall but little else.
Through the dirty and sometimes broken windows we could see escalators and other artefacts of interest.
…'a zipline would have been very handy, once on that platform we would have had full access. Getting out would have been a different story and may have involved jumping and breaking legs'…
After walking around the car park for 15 minutes or so we had to concede defeat at least from this angle.
@for91days explained to me that the top levels of multi-story car parks are ideal for urban photography. They were all making the most of a bad day.
…'people around here don't half have strange places to hang their laundry. You can see from @jpphotography's confused expression that it wasn't just me'…
After descending and thinking, 'is this another way in' we enquired only to be met with a thai bloke wildly failing his hands and looking a little angry.
Perhaps this evil vibes of this mall were having a negative effects on people's psyches?
I would have settled for a small bribe if he had the key. If only we could speak the language.
In the end we had to settle for coconut coffee and the last real coconut this nearby street vendor had left. It wasn't all in vain after all.

All images are my own unless cited.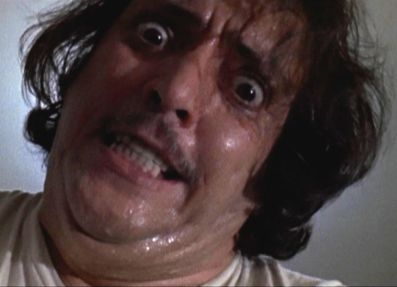 If you found this article so invigorating that you are now a positively googly-eyed, drooling lunatic with dripping saliva or even if you liked it just a bit, then please upvote, comment, resteem, engage me or all of these things.