You might call it luck but it's been some time since I have marked an Urbex attempt as a failure.
It happened more when I first started but the more I do, the more daring I become which can turn a fail into a success.
Not so with Jubilee Mill, but I do have a story to tell.
Like most mills, the local council is attempting to tear it down in order for new houses to be built.
Not being able to find any reports about it should have told me something. Either it's off the radar or it's sealed up.
Knowing just how difficult it is to seal up something so large, we set out to the Shaw area which is just outside Oldham in Greater Manchester in search of bricks, decay, rubble, and overgrown weeds.
An overhead view coupled with a Google maps street view told me there was an easy way to the entrance that looked suspiciously like a public right of way.
We were right, finding the location proved comparatively simple and we found ourselves in front of a rather ugly looking overgrown building.
I noticed a few houses close by and always not wanting to attract attention I hushed @goblinknackers into silence.
First impressions told me that even though the front appears to be sealed there would likely be a way in around the back.
Some signs were suggesting that security was in place, but the sign and the camera far up the wall looked in bad shape and I guessed inactive.
@goblinknackers was a little reluctant to climb up this weed infested track but followed me after a few minutes as I seemed to vanish into the dense jungle without a trace.
Getting around to the back of the mill proved a little challenging as I didn't have my portable machete to cut back all the undergrowth, but I have been to worse places.
This was a roof, and I crawled on to it and hastily backtracked after seeing the big holes and the 8 feet drop below. This was a way in but would maybe yield me a broken leg to boot.
Urbex can be a typical after work hobby for the British Businessman. We need to look our best branding the finest suits while on the job.
The back was not well-trodden and @goblinknackers was making full use of the trees to stabilise his movements.
Concrete slabs had been placed on each window from the inside. There was no way in from this angle.
We tried to dislodge this machinery in hope of hopping over this wall, but it just wouldn't budge. There was too much sticky shit there anyway!
See all that black stuff on the wall? That's sticky horrible tar. The owner has gone to great lengths to deter explorers going into his decrepit mill.
Even the trees had this horrible black shit stuck all over them. I got my hands covered in this stuff at one point. What a twat!
There's an opening in the corrugated iron here, but guess what? There's a concrete wall behind it.
Some of the outer buildings were covered in graffiti. Not the good stuff though, just non-talented artists spraying mindless writings.
Now, this was a way in. Peering down the hole we could see light, and not some murky death trap with no bottom.
It was a little too small for us to get through and had sharp edges which would nicely rip our clothes up.
See the tar-covered trees? I call it tree violence, and these were not the only ones.
Sulking, we reluctantly conceded defeat and left via the opposite entrance.
Passing a little more graffiti we may return to Jubilee Mill in hope that the sledgehammer crew has paid a visit.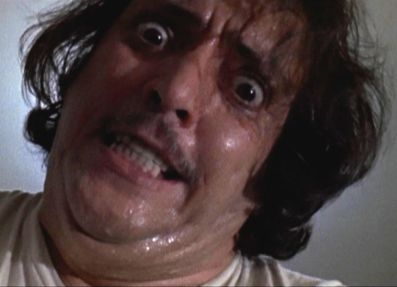 If you found this article so invigorating that you are now a positively googly-eyed, drooling lunatic with dripping saliva or even if you liked it just a bit, then please upvote, comment, resteem, engage me or all of these things.