Some days are better than others when it comes to the life of the Urban Explorer.
Take the day we visited Jubilee Mill (my last post on this topic). It would seem that it was a crappy trip and a failure.
What I failed to mention is that in close to proximity to 'the mill', we noticed a pub in a rather sorry state. It was also named 'The Jubilee', I just wonder who came up with the name first, pub or mill?
The Jubilee, unlike its Mill counterpart, has just one recorded visit in the past several years and I didn't notice until we had been there and done our investigation.
There is pressure to demolish The Jubilee and I now know the building is 140 years old; so built in 1840! I'm willing to bet both mill and pub were built at roughly the same time.
The mill workers would work their 17-hour shifts and then get pissed. That's what they did then, isn't it?
I tried to find some other information about The Jubilee and here's what I found. Permission has been granted to demolish the building and it was de-licensed in July 2015. It is not a listed building so why is it still hanging around?
Here's a picture of the pub in better times. I estimate it was abandoned sometime in 2015 judging by its state in 2016 and this report.
The Jubilee is still an impressive looking building despite the bad condition it is currently in.
There are not many houses close the 'The Jubiliee' so we parked up right outside the place. It's not something I usually do but there was literally nowhere else to park.
No, that's not my car!
Some anti-climbing fencing had been erected, but as usual, covered only part of the property.
Getting around the back was as simple as walking around this barbed wire that was strategically positioned to take ones eye out.
While I won't reveal the entry point of 'The Jubilee', I will say that it wasn't particularly difficult.
We needed my huge torch for the interior. It was seriously dark inside and quite creepy. The first thing I noticed was the bar.
Two pints of beer, please? Apologies if we can't serve it in glasses.
There was a distinct lack of bar if anything, though you can see where the bottles of spirits were once held in place.
Nature was taking over everywhere we looked, even in the downstairs part of the building.
The stairs looked distinctively creaky. We left them to check out more of the ground floor first.
I think this is the pump room where the beer barrels used to live. It's in what looks like a garage and the not cellar as we expected.
Someone is clearly done with baths, well they are a little '90s aren't they?
These seats used to be of the finest quality publican upholstery. I resisted trying them for comfort.
Here's a food menu. It's a little hard to read but the prices are maybe a little cheaper than what would be offered today.
Is this another clue to when the place was closed? I wouldn't call this food gourmet though there is always a market for cheap pub food.
The hand dryer looks quite new. I'm sure I've used this brand somewhere before.
A vision of the roof from the ground floor shows several holes in the ceiling. It was time to head to the stairs and have a further look.
The stairs were fun. I mean the first flight was simple, but when it came to the landing area where we had to turn 180% for the second flight there was a problem.
The floor was completely collapsed though this photograph hardly does it justice. Take it from me that there's a 7-foot drop with wood shards ready to impale the footloose.
We both had to shimmy across reaching out to the far wall for balance to get to the second flight. Fantastic! This is what it's all about!
A fireplace was the only remarkable thing in this room, besides fallen beams from the attic.
Christmas décor? Was it December 2014 when the evacuation proceedings started?
Some of the boards were missing from the upper floor. Some colour and light at last! Bars at the window meant no escape.
This was the view of the attic. @goblinknackers still wanted to go up there and have a mooch about. There's a line that I just won't cross.
Other rooms I also won't cross, just like this one.
He insisted on checking out the attic, even with this crappy ladder. Note the break on it. Thankfully it held and I persuaded him NOT to go up there.
Descending to the base floor involved more climbing across the remnants of the landing area. I took several photographs of this but none of them look like what my eyes saw.
Back down again there was just one more room to check out. This must have been one of those open fireplaces to keep the drinkers warm.
I'm really not sure what the thing is.
Credit cards are.. er... were accepted here.
Yes, we did survive. Someone has been watching 'Saw – The Movie' I think.
How much longer will the Jubilee be with us?
Who knows, but it was a fun exploration and made the trip to the failed mill worthwhile.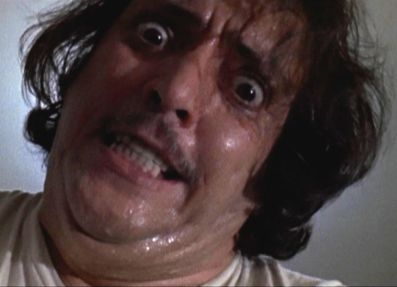 If you found this article so invigorating that you are now a positively googly-eyed, drooling lunatic with dripping saliva or even if you liked it just a bit, then please upvote, comment, resteem, engage me or all of these things.