It's been a while since I've bored you all with some charts, a little inspiration from @crokkon today, and the fact that i need to pay arcange soon for the monthly subscription to @steemsql. I use it most days so cannot complain, but 40 SBD a month is 204 STEEM right now - ouch!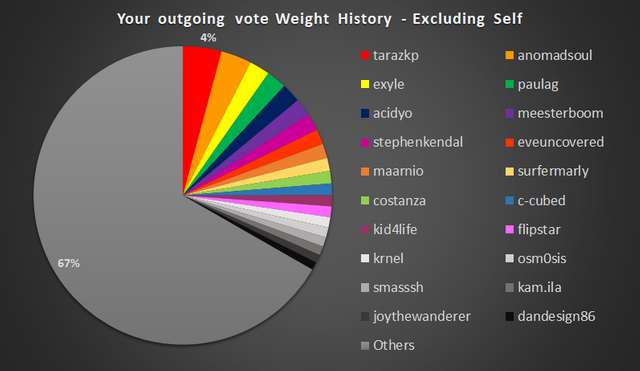 ---
That's my chart above, and is for the lifetime of my account, up-votes only, and without self-votes. I figure I might get a couple more punters if I don't include the selfies.
I'm pretty happy with the 67% going out to people outside of the top 20 votes, 2/3rds of stake seems reasonable.
Out of the 20, most are at least dolphin status but seeing as the majority have been active for a years now, that is to be expected isn't it?
Another stat, I've met 7 of those names (and no, none are my alt accounts).
A prize for the person with the prettiest chart, which today is highest % of votes outside of their top 20 voted for.
Cheers!
Asher