Home Alone
prompt by @zeldacroft
An inky air crept through the twilight hours, and now pressed against the windows of the house. Inside, Nathan aimlessly flipped through the TV channels, the living room calmly lit. He was getting impatient.
A thump, thump down the stairs made him jump, but he managed to keep his composure. His mom hurried into the room. Her oversized coat and mittens signaled she was ready for the autumn chill outside.
"Alright, I'm heading out," she said. "I'll probably be gone for a few hours, so call me if you need anything. Remember there's leftovers in the fridge, and try not to just watch TV. You know that book from—"
"Mom," he interrupted.
"Yes?"
"You're going to be late."
"I am, aren't I?" She agreed, but ran over to kiss his forehead anyway. "I'll lock up, be sure to stay safe."
"Yes, Mom." He rolled his eyes. Their corner of suburbia had always felt like the most boring. Nothing bad could happen here.
As soon as Nathan heard the front door close, he leapt up and looked out the window. The streetlights cast heavy shadows on his mom's car as she drove away. When she was out of sight, he whipped out his phone and texted his best friend, Mark. "It's time."
Mark had gotten his hands on some horror games, including the much coveted Bloodhunter 4, but his family wouldn't let him play.
Nathan wasn't allowed to either, so tonight was finally their chance. Impatience turned to excitement as he switched the TV to his Xbox. Mark lived on the same street, so it wouldn't take long for him to get there. After gathering soda and snacks from the kitchen, he heard a sharp knock on the door.
Source
... And my ending starts from here.
He ran to meet his friend and got a surprise, Mark had not come alone, he was accompanied by another boy, somewhat older than them two.
"Who is he?" asked Nathan in surprise.
"Oh, this is Eric, he helped me get the Bloodhunter," explained Mark, while Eric showed him the cover of the game.
"I thought you would come alone," Nathan reproached him.
"I never said I'd come alone, why did you think so?"
"My mom will be back in a few hours so..." Nathan tried to make an excuse not to let them in.
"Let's just play ok, don't worry" Mark interrupted bluntly.
"All right" Nathan let his guard down "Ok, come on in" Nathan finally agreed to let them in, not because of Mark's words, but because of the game Eric had in his hands, the bloody cover seduced him. They would just play for a while and then go home, he thought, everything would be fine.
The boys enjoyed themselves at the cost of the excessive violence that the screen projected on their retinas, Eric was a little less surprised, maybe he was bored of playing the game? Anyway, Nathan was having a great time so he didn't give it any importance.
Then Eric took a cigarette out of his jacket and lit it.
"Hey dude, what are you doing?" asked Nathan, surprised and angry.
"Smoking" answered Eric unconcerned.
"It's just a cigarette Nathan, don't be a pussy" Mark jumped out of his seat defending Eric.
"Use this" Nathan extended a container for him to use as an ashtray, after finishing this game I'll tell them to go he thought shit, I'll have to open the windows to make the smell of cigarette go away, stupid Mark because he had to bring it .
Eric passed the cigarette to Mark and he inhaled it very strongly and then coughed, he couldn't stand the smoke, inhaled again and coughed even more, so he offered the cigarette to Nathan.
"No thanks"
"What? Are you afraid? Are you a little girl?" Mark mocked Nathan.
If there was one thing that Nathan could not control, it was that he was compared to a girl, he would do anything to prove that he could be a man, even smoke a cigarette, despite how much he disliked the scent, but if the wimpy Mark endured it he could too, and in a better way.
Finally, he accepted the cigarette, inhaled a couple of times and didn't cough although he wanted to, Mark looked at him astonished while Eric looked at him with an air of approval, Nathan felt part of the group again and returned the cigarette to Eric to finish it.
"Hey bro, can I borrow your bathroom?" Eric asked after finishing the cigarette.
"The second door in the hallway," Nathan replied without taking his eyes off the screen. Eric got up from his seat and went to the bathroom.
"What's wrong with you?" Nathan asked Mark quietly, "Why are you acting like this and why did you bring him here? You know I have to get the smell out of here before my mom gets here!"
"Don't worry Nathan, Eric is cool, if you could see how many games he has in his house! And he's also the best player I know, I just want to like him to lend me his stuff and teach me some tricks to play better, ok".
"Pliiinn" the sound of a broken jar coming from Nathan's mother's room interrupted them. They ran out to see what was going on.
"What the fuck were you doing in my mother's room?" Nathan shouted to Eric who was leaving the room.
"Sorry, wrong door," Eric had his hands in his pockets like he was hiding something "Is this the next door? No?"
"What's in your pockets?"
"Nothing"
"What do you mean, nothing? Show me your hands!"
"Now calm down, if you want I'll go. Mark, let's go.
Nathan was furious, threw himself at Eric to force his hands out of his pockets and remove what he would have stolen, but Eric defended himself, pushed him towards the wall and then pulled his right hand out of his pocket.
Mark was paralyzed when he saw the glow of Eric's knife blade, and as this glow disappeared when it was covered with blood, the razor went in and out of Nathan's stomach again and again.
"Run Mark, let's go" Eric picked up the jewelry that had fallen to the floor and ran out hoping Mark would follow him.
Nathan had sat on one side of the corridor with a perforated abdomen, Mark finally reacted and fell to the ground crying.

The End.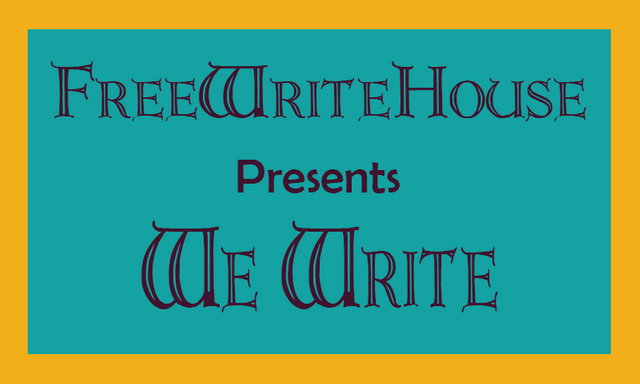 This is my participation for the We-Write #11 from the @freewritehouse. I hope you like it there.

Thank you for reading and do not hesitate to comment.