IT'S WEDNESDAY MEAT TIME !!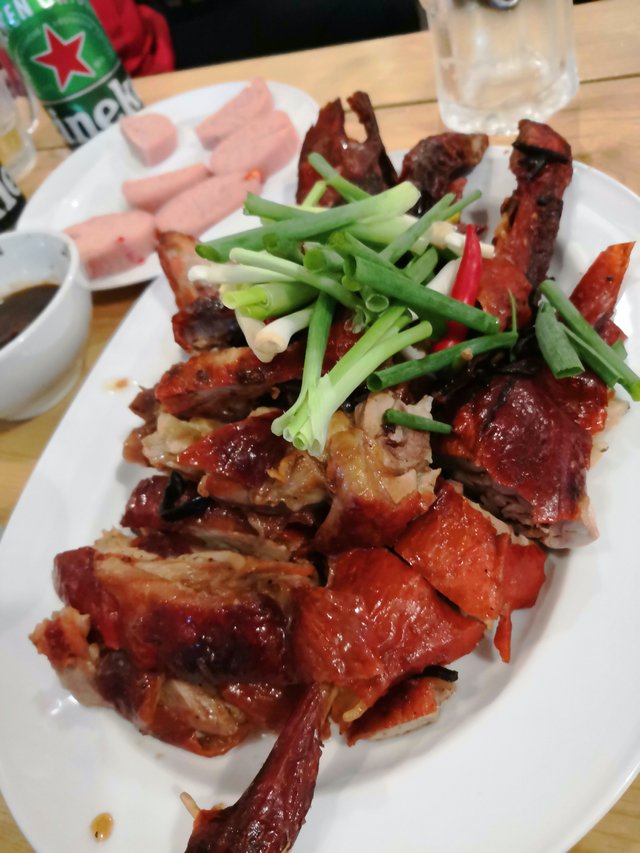 A whole roasted duck doesn't have to be fussy. With just a few hours' roasting and hardly any work at all, you can have a juicy bird with crisp skin—the best of both textures. This duck is delicious with the plum applesauce.
INGREDIENTS
1 (5- to 6-lb) Long Island duck (also known as Pekin)
2 cups boiling-hot water
1 tablespoon kosher salt
1 teaspoon black pepper
PREPARATION
Put oven rack in middle position and preheat oven to 425°F.
Remove and discard excess fat from body cavity and neck, then rinse duck inside and out. Prick skin all over with a sharp fork. Fold neck skin under body, then put duck, breast side up, on a roasting pan and pour boiling-hot water over duck (to tighten skin). Cool duck, then pour out any water from cavity into pan. Pat duck dry inside and out, reserving water in pan, then rub duck inside and out with kosher salt and pepper.
Roast duck, breast side up, 45 minutes, then remove from oven. Turn duck over using 2 wooden spoons, and roast 45 minutes more. Turn duck over again (breast side up), tilting duck to drain any liquid from cavity into pan. Continue to roast duck until skin is brown and crisp, about 45 minutes more (total roasting time: about 2 1/4 hours). Tilt duck to drain any more liquid from cavity into pan. Transfer duck to a cutting board and let stand 15 minutes before carving. Discard liquid in roasting pan.
It looks like lots of work to do but actually it's much simpler than cooking turkey if you as me. So, if I have to choose what's to serve for Thanksgiving or Christmas Eve, I would choose Duck!
I hope you enjoy my photo as it's taken from my Huawei Nova.

Thank you @travelsbyblue owner of THE HOME OF @worldsdailyfood for introducing me to this new world.
Join the fun in #worldsdailyfood photo contest:
MONDAY DRINKS
TUESDAY APPETIZERS and/or SOUP
WEDNESDAY MEAT DISHES
THURSDAY SEAFOODS
FRIDAY PIZZA and/or PASTA
SATURDAY SALAD and/or DESSERT
ANYTHING GOES SUNDAY