"With great power comes great responsibility"
-a proverb popularized by the Spider-Man comic books
Power is quite paradoxical in nature. It is difficult to attain and retain power. We gain power for empathy, kindness, fairness in the society. But often when we climb the ladder of success, we forget those virtues. True power grows with empowering others. When you give away your power, it actually expands.
Competitive altruism is a mechanism of raising power level by cooperation and generosity. It is extremely unconditional. People, who are generous to share power, enjoy escalated power value and higher social esteem. On the other hand, power hoarders or power traders receive much lower social reputation. So many social experiments have proved the outcomes of competitive altruism.
"It is much safer to be feared than loved"
-Niccolo Machiavelli in his 16th century book called 'The Prince'
Machiavelli proposed that immoral behavior was normal and effective in the socio-political structure. Yes, in the society, power can be attained by coercion, manipulation and deception but such power doesn't provide any direction to the society. We need people who can use their power for the greater goodness. Power is a dynamic trait. It is quite like water. It flows fast, accumulates fast, often gets frozen or evaporates. Often power has a short life. This often makes people selfish and aggressive when they accumulate power. People try to reap the benefits of power quickly.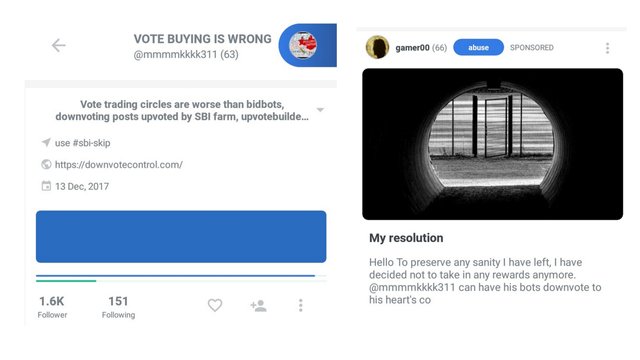 Image Source – Screenshots from Steemit (A downvoting whale and an user frustrated by the downvotes of the whale)
Steemit is democratic in nature. It has a downvote mechanism besides upvotes. Here the users can downvote the contents of the 'bad players' in the 'proof of brain' economy. The users get free downvotes also. Yes, it might be important to keep the platform spam free but the downvotes can be misused too. It is easy to follow the downvote trails of a so called abuse fighter and automate your downvotes. It is also possible to automate downvotes by following upvote trails of a particular user for vengeance. There are professional downvoters in steemit in abundant quantity also. Downvotes can be used to 'witch-hunt'. Sometimes it can lead to war. Due to the decentralized character of Steemit, community members enjoy high power here. Often a newbie may find it difficult to deal with the operational process. If you re-post a socially forwarded 'meme' in Steemit, you may be accused of plagiarism and invite huge downvotes and flagging by abuse crusaders. Steemit works like this. Good enough! But possibly a few warnings can correct the wrongdoings of the users. After all, it takes time to understand that Steemit is not facebook. Leave the new users. Nowadays, we can see downvote battles also in Steemit. @mmmmkkkk311 is one such user, who downvotes all posts upvoted by @steembasicincome as he hates automated upvotes. His downvotes are also followed by his downvoter army. This recent downvote battle created ripples in this platform as many users, who hold nominal SBI shares, started to receive downvotes. Who is right or wrong in this battle? I'm not gonna analyze that. But ultimately severe negativity is getting spread.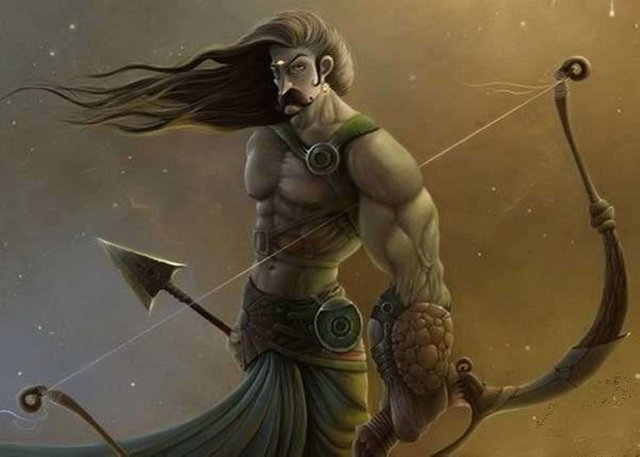 Image Source – 'Barbareek', the greatest warrior from Mahabharata who gave away power for greater goodness
We can draw inspiration from the great mythological story of 'Barbareek' from Mahabharata. 'Barbareek' was so powerful that he could end the war of Mahabharata in one minute if he alone fought it. But he did not join any side in the war as he was the greatest warrior on the battlefield and whichever side he joined, must have made the other side weaker. Eventually he would have oscillated between the two sides and would end up destroying everyone except himself in the planet. This is the era of social media and we have a virtual social life in different social platforms. Steemit is the most popular decentralized social platform. Machiavellian role models are not desired in Steemit. Battles also are not desired here. We need to choose a different power model, which is routed in empathy, compassion and generosity. Steemit should not be a battleground of downvotes. Allow it to spread positivism, not vengeance!