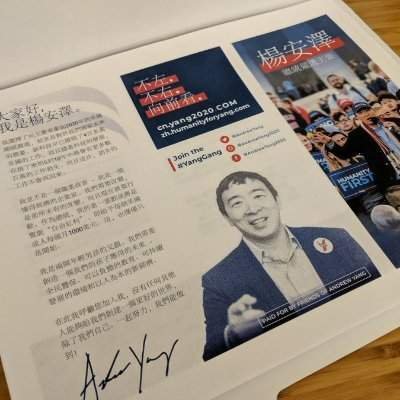 Joe Rogan Experience
Andrew Yang's campaign raised $ million in
The Economist listed Andrew Yang as the Democratic candidate polling at top 5th.
2019-12-04
Dr Jason Johnson, a @msnbc journalist, criticized Andrew Yang for "having a large base of White Supremacist supporters" and "his policies will not help minorities".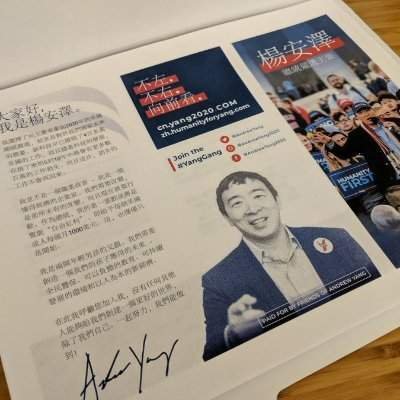 Yangtionary
Yang (v): To convince someone that @AndrewYang is the right person for US President. Continuous tense: yanging. Past tense: yanged.
Yang (numeral): The quantity of 1000.
Yang Gang: People who will definitely vote for @AndrewYang in primaries and Presidential Election.
Yang Ganger: A member of the Yang Gang.
Yang Out: To hang out with members of #YangGang.
Yangphoria: The delightful feeling one experiences when encountering a fellow Yang Ganger in the wild.
Yangsanity (n): The mental state of being obsessed with everything @AndrewYang.
Yangsomnia: The condition of being kept awake by the adrenaline from all the rallies, podcasts, and donation.
Yangtionary: The dictionary of every vocabulary associated with @AndrewYang.

The Economics of Stereotyping
Do NOT work under a woman.
Do NOT rent your house to the Blacks and Hispanics.