Hey Top 3'rs
So we draw close to the end of another year, another 12 months we made it on this planet so its time to down tools, give thanks, be lazy, be overindulgent and enjoy your time off for it will be another 12 months before we wash rinse and repeat the process once again. I'm not big on Christmas because, well I am an adult. But when I was a kid, obviously this was the most hype time of the year, and I have some pretty great memories of the holiday.
You can't get into the consumerism of the Christmas spirit without watching movies themed and set around around this time, and while 99% is pretty bad, there are a few that stand out for me. They're by no means great movies, but they are memorable non the less.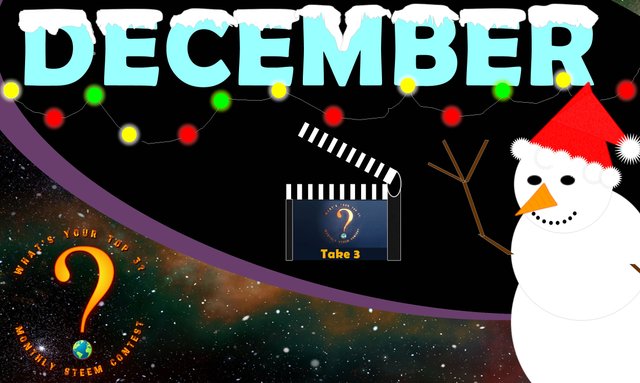 Image source: - @yourtop3

Home Alone
You can't have a holiday movie marathon as a kid without having Home Alone on your list. All about Eight-year-old Kevin who accidentally left behind when his family leaves for France and has to spend the festive season at home unsupervised. If that's not awesome and at the same time scary things take a turn for Kevin At first as thieves try to break into his house, he has to put up a fight.
Some of the antics in this movie are so over the top you have to love it, I'm sure Micheal Jackson did too.

Jack Frost
Singer Jack Frost dies, leaving behind his young son Charlie. The father and son never spent much time together, and hence Charlie grows up to be an unfortunate young man until Jack returns as a snowman. The movie is equal parts comedy and tragedy and leaves you with an overall sense of how important family is at this time of year, I know, I know predictable. However, it's still a fun watch as Michael Keaton delivers a surprisingly emotional performance in this one.

How the Grinch Stole Christmas
Jim Carrey and his overacting were made for the part of Grinch as he brings this children's book character to life. Cindy Lou, a six-year-old girl who believes in the spirit of the festival, sets out to reform the Grinch lives in solitude just outside Whoville. A being who hates the townsfolk and despises Christmas. If you're looking for fan slapstick comedy fit for the whole family this movie is the ideal pick.

Do you like or remember any of these snowy set films? What is your favourite holiday movie? Join in the competition and create a post of your very own
Let's connect
If you liked this post sprinkle it with an upvote or resteem and if you don't already, consider following me @chekohler


---
| Buy & sell STEEM | Donate LikeCoin For Free | Earn Interest On Crypto |
| --- | --- | --- |
| | | |