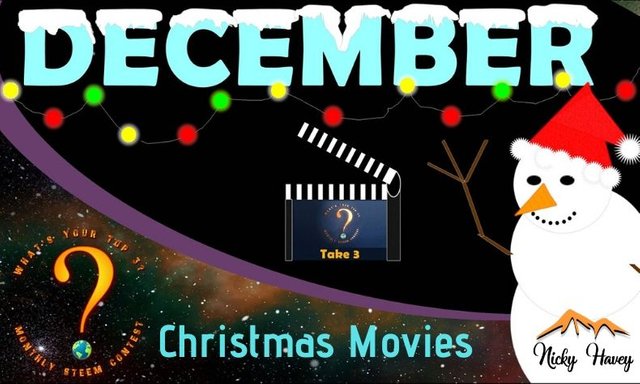 A Jolly Ol' Contest
What's up Steemians?
Complete and utter legend Nicky Havey here writing another awesome post about a fun contest that anyone can get involved with - as long as you have a STEEM account that is!
I am of course talking about the @yourtop3 monthly contest where the STEEM community is challenged to write about their Top 3 favourite things about a specific topic. This month, the topic is:
🎄Festive Movies🎄
Well, it couldn't be anything else could it?! So here's the deal:
How It Works 🔎
You write a STEEM post with a minimum of 250 words telling us about your Top 3 favourite Festive Movies and why you like them - use #yourtop3 as the first tag


When the post pays out after 7 days, you keep the SP earned but send over the liquid STEEM amount to @yourtop3 (check screenshot below for more info) - this is your entry fee to the contest


All nominations from all entries are entered in to a dpoll for the STEEM Community to decide and prizes are dished out to the top 3 finishers.

The liquid post payout is what's in the square brackets from your post payout, which you can see from your steemitwallet

How Big Are The Prizes? 💰
That depends on the post payout and how many of you STEEM beasts enter but we've been averaging between $10-$37 SBD prizes per month and since we launched in April, we've given out over $130 SBD which is pretty awesome! Thanks to our previous months sponsorship from @curie and @appreciator which has helped bolster the prizes!
If you put more effort in to your post, it's more likely (but not guaranteed) to get picked up by a big curation guild such as curie, curangel, ocd, appreciator, c-squared and others so you really have nothing to lose by entering.
With more initiatives planned for 2020, we're really excited to help as many steemians stay active and engaged on the platform with this fun contest and onboarding new members as we will make use of our Twitter profile - give us a follow if you'd be so kind 😀
Still not sure though? Join the Discord and our friendly little angels will welcome you in and answer any questions! 👼

Nicky's Top 3 Festive Movies 🎄🎬
Ok then, now you know how it works and are licking your lips in anticipation, it's time to share with you my Top 3 festive movies. Will you agree? Let's find out!
Please Note: Myself and the other 3 panel members (@plantstoplanks, @foxyspirit and @cheese4ead) will write a post of our top 3 but we are forbidden from entering the contest. These are purely for entertainment purposes and to contribute our liquid post payout to the contest prize pool to make it bigger so YOU can potentially win more if you enter. How's that for a slice of fried gold?

Home Alone
Come on! What an absolute classic of a Christmas film! If you've not seen this because you were too drunk at Christmas time and missed it then here's a little bit of the plot. Macaulay Culkin stars as the 8 year old boy (Kevin McCallister) who somehow gets left behind from a big family Christmas trip away to France. He is literally left... home... alone. However, there's pesky burglars in the neighbourhood looking to scoop up some treasures from the house and it's up to Macaulay Culkin to save his home from these fiends. A must watch!
Why I like it? Well, it's got something for everyone. Great sense of adventure, ingenuity to come up with ways to outfox the burglars and some really funny moments for both kids and adults watching it! I can't believe the film is 1h 45m long as it feels like it's over in an instant. I remember watching it for the first time in the 1990s (as an 8 year old myself at the time) with the family and it's one of those that just stuck with me and captured my imagination.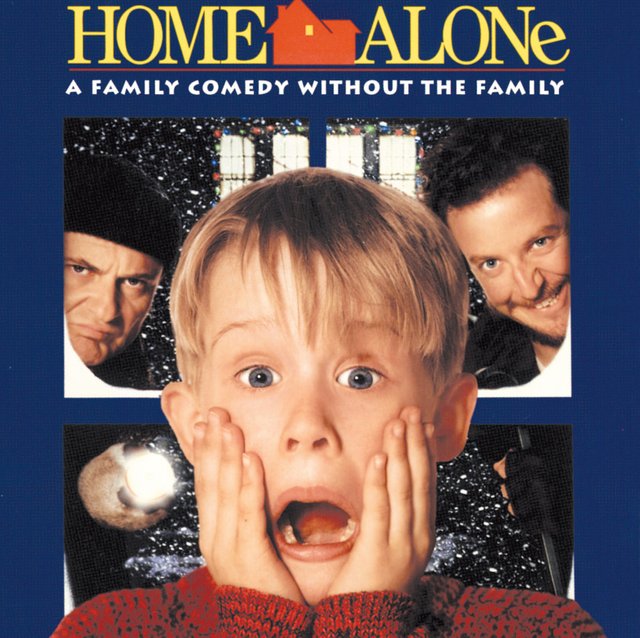 Image Source
In fact, it captured my imagination so much, my parents ended up getting me the Home Alone game on the SNES! It was a bit of a darker game though as you run around as a pixelated Kevin with cannons and weapons to protect yourself against the baddies as the burglars keep spawning and the hotel staff want to strangle you! Funny stuff in a way!

A Muppet's Christmas Carol
Moving on to nomination number 2 then.
I hopped in to our Top 3 Discord chat earlier tonight to see what was going on there before I got to work on this post and, to my heartbreak, A Christmas Carol was getting shunned by the masses! Well, not on my watch!
This is the classic "A Christmas Carol" written by the legend Charles Dickens originally in 1843 but re-imagined in an all-star cast featuring the Muppets and Michael Caine as Ebenezer Scrooge.
The story revolves around Ebenezer who starts off as a greedy, tight fisted man with more money than he needs and not giving to the community that he lives in. Well, that all changes by the end of the movie as he gets some visitors through the night in the form of various different ghosts - Christmas past, present and future. These entities show him a few life changing things that turn him in to a fun loving and generous person at the end who was unrecognisable at the start of the movie.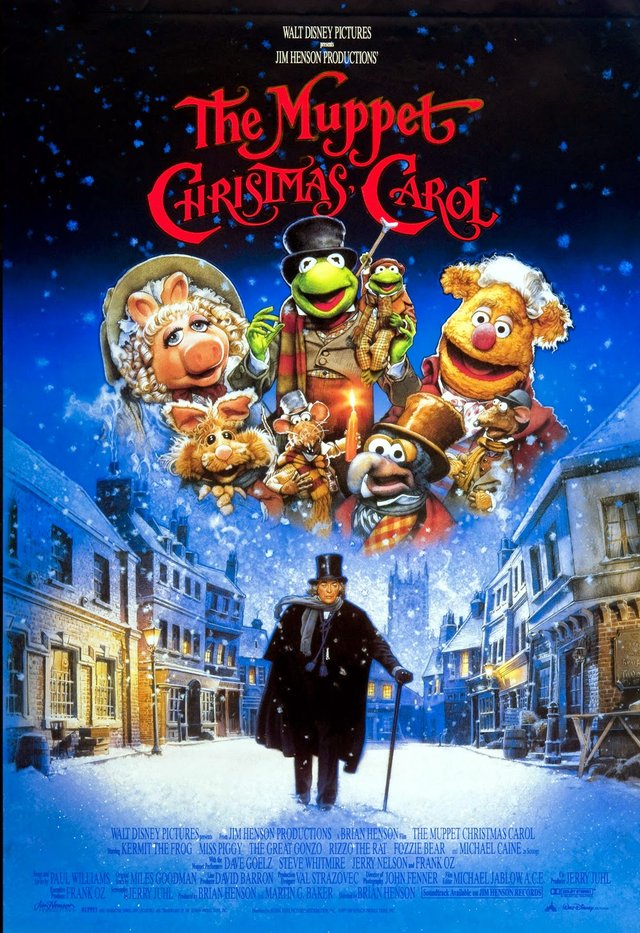 Image Source
There are several variations of A Christmas Carol and I saw the animated one from 2009 most recently which definitely was a lot darker than I thought it would be so I prefer the more light-hearted, furry, friendly and "funny skits" version that we have with the Muppets because, well, I'm a softie! 😜 Again, probably to do with the family fun aspect of it and when I first cast eyes on this film as kid growing up in the 90s, I was hooked on the warm fuzzy feelings.
And you'll never guess what... I did have a computer game of the Muppets on the old Windows 95 PC. For some reason, I can still remember the theme tune that played as I opened up the game up on the computer - "Jim Henson's Muppets and all their names, are trademarks of course, and highly enforced". Can't remember the game, can only remember that. Great one Nicky, great...👍

Die Hard
It's about time we injected some action in to this blog and who else does it better than Bruce Willis in Die Hard? Man I have the quadrilogy on DVD staring me right in the face as I write this so I think I know what I'll be doing over the Christmas holiday - Die Hard binge 😀
Bruce Willis' breakthrough movie sees him play police office John McClane who somehow ends up in a skyscraper during a heist organised by Hans Gruber (Alan Rickman). Plenty of action, explosions, gun battles and great one liners, it certainly got my adrenaline pumping when I watched it but... and this is not even a joke...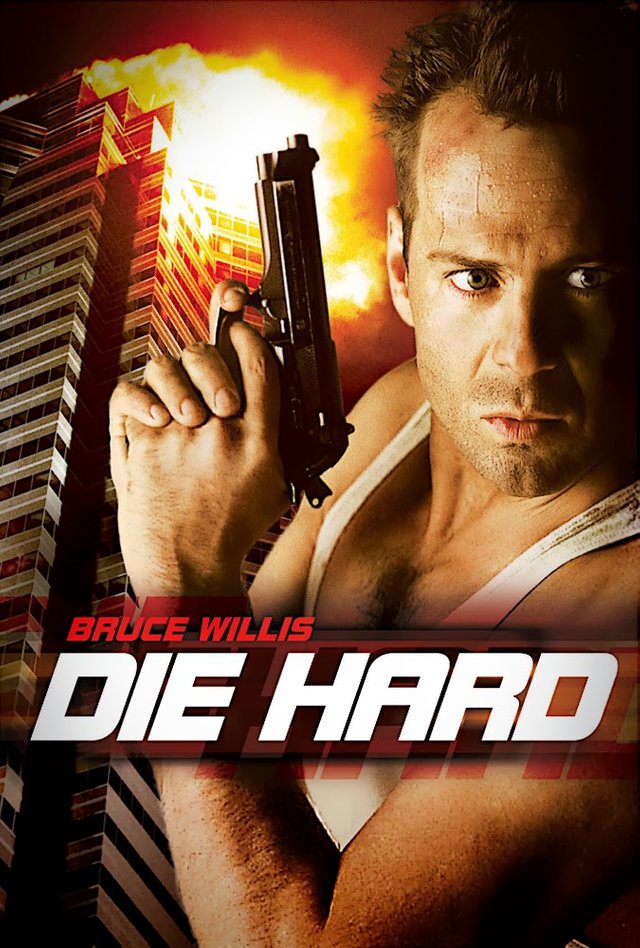 Image Source
... I first heard of Die Hard when I had that trusty SNES as my parents got the game for me!
I couldn't understand what was going on with it because I was probably too young and there were a few complex things to do so I just gave up and went back to Mario Kart and Donkey Kong. Then when I found out there was an actual movie a few years later, well, I just had to watch it! Sadly we had already sold and moved on from the SNES at that point so I never got a chance to go back and play it and see what the actual game was like but I'm sure it was marvellous...maybe? 🤔

Now It's Your Turn!
OK, that's enough of my waffling!
So what are YOUR Top 3 Favourite Festive Movies folks? Write a post about it, let us know and enter the contest!
The full information on how to enter can be found here!
Looking forward to the impending banter 😆
Take it easy
Nicky